2019 Numismatic Auction Roundup - Downie 330, IAG 89 and Noble 120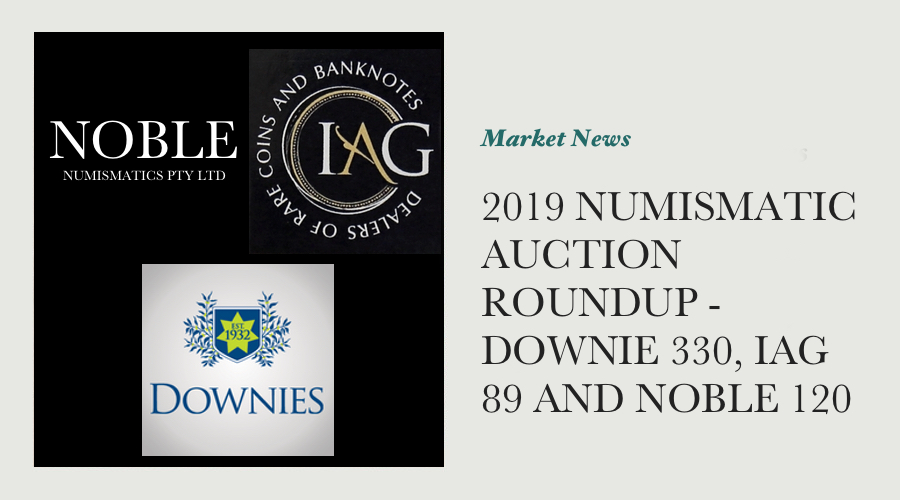 The numismatic year has been well and truly underway for the past month or so, as we have at least two significant numismatic auctions under our belt so far, with a third one not too far away at all.
Downie 330 - New Venue and Online Bidding
Downie 330 was the first sale of the year to take place - this one was held for the first time, at Downie's premises in Mitcham. Having viewing, bidding and lot collection all in one location can certainly make life easier for bidders, and also saves on auction costs no doubt at all. In my experience, collectors are less interested in the experience of buying than they are in the outcome of the buying process, so if their surrounds while bidding in the most recent Downie sale weren't as salubrious as they had been in previous sales, provided they walked away with the goods they were after, I don't think they would have given the surrounds a second thought.
For those that couldn't or wouldn't travel to the "new" premises, they could easily bid live online via the new online bidding facility, introduced with this sale for the first time. This technology can be fraught with problems for the auctioneers - they can be slow, expensive and generally not as simple to use as everyone would like them to be. That didn't seem to be the case with this sale however, the video and audio seemed to work well without posing any untoward delays.
Judging by the numbers, the activity in this sale was certainly in line with previous auctions held by Downie's - the total turnover was just shy of a million dollars when buyer's premium was taken into account, and the clearance rate was a very healthy 86%. An average lot value of around $300 indicates that there was a lot of affordable material on offer.
The early Australian decimal coin and note sessions held a small range of items that were subject to some competitive bidding. The error coins in the decimal coin session were keenly contested - the highest value item was a 10¢ struck on a 2¢ planchet. The decimal note section held a few specimen notes, both notes had been very lightly handled according to the lot descriptions, however despite that they both found new homes.
The next several thousand lots or so were made up of foreign coins and notes, ancient coins as well as a range of other interesting collectible material. There wasn't much in the those areas to interest me I have to say, however the solid overall clearance rate shows that the vast majority of it got away.
The main Australian numismatic session started off with a decent run of convict love tokens. I've handled a few of these previously, however I know it to be a truly specialised field that can be a minefield for buyers that aren't up to speed with who's who in the zoo. The convict love tokens that bring the most money are those that can be unequivocally tied to convicts transported to Australian colonies, and if that documentation is missing or can't be proven, then as interesting as a love token from the late 18th or early 19th century might be, it doesn't have the compelling social history that causes a collector to part with serious dollars.
Just 2 of the 9 lots included in this sale got away, which leads me to believe (in the absence of any knowledge at all I might add), the vendor may have been someone knowledgable that was clearing house. If that wasn't the case, there were some truly inexpensive tokens unsold!
The session then moved onto Australian colonial and gold coins. The single NSW 1813 Dump that was included was fairly "fully" estimated, and didn't find a new home, however the same couldn't be said of the 3 Adelaide Pounds that followed. I didn't view the items but studied the images and prepared bids according to what I saw in them. The activity in the room and via the online bidding eclipsed my estimations, showing there remains strong collector demand for this historic coin across all grades. I thought each coin made higher than current retail values these coins have. This was a great result for the vendors, and no doubt the buyers were pleased with the items they picked up.
The remaining gold coins sold well also - I thought lot 2463 was a really interesting coin to consider. This was a 1921 Melbourne sovereign - truly one of the rarest of all Australia's sovereigns. This particular coin commands tens of thousands of dollars in mint state, and is not a coin that is often seen in circulated quality. Most of the (very few) examples I've seen or handled have been mint state or very nearly so. This particular example was described by the auctioneer as having a "concentric" mark on the reverse, which indicated to them that the coin had been removed from a jewellery frame at some stage. Date collectors of sovereigns have very few opportunities to acquire this date - my auction records show that a coin described as "ex mount" was sold by Noble Numismatics in November 1982 for $5,500 nett. My mathematics isn't great, however a $3,660 nett price in 2019 would have to be excellent value or a comparable coin, surely.
I expect the relative lack of demand for this coin can be explained by the over-reaching influence of the PCGS Registry Set, and the PCGS grading standard as a result. A coin such as this, with impaired surfaces, could not in any way be included in a PCGS slab, so was left well alone by the collectors and dealers most active in this area.
In the pre-decimal proof category, lot 2471 was described by the auctioneer as a specimen strike - that is an important and historic coin in that form - this example made around $20,000 nett as a result.
The proof 1937 crown got away at a very reasonable price, the 1930 penny offered up also cracked the $20,000 mark. Interestingly, the incredibly rare 1931 penny with the Dropped 1 reverse and the Indian obverse did not sell, despite being within cooee of what similar examples have sold for in recent times This coin was described as having "minor" corrosion, which would again explain why the collectors and dealers that are abiding by the PCGS grading standard would have left it well alone.
The remaining Commonwealth coins ticked over, without too many exceptional results within them. There weren't too may pre-decimal notes on offer in this sale, and although they ticked over as well, there wasn't anything remarkable within them.
All in all, this would have been a good result for Downie's - good numbers at their head office, and the online bidding worked well without issue.
IAG Auction 89
Nobody could complain about the surrounds for the standard IAG auction - Broadbeach in March is not the toughest place in the world I've ever travelled to, that's for sure. This sale opened with the world and proclamation coins - lot 3 set a truly competitive tone for the sale when it made a $5,100 hammer price against an estimate of $600. The coin concerned was a Yuan Shi Kai silver dollar with the general on one side, always extremely rare however the field can be well-littered by fakes of varying quality. This coin clearly caught the eye of several educated buyers, and made a price clearly in line with the value it has in other markets. The proclamation and colonial coins were competitive across the board - not all of the Brazilian gold coins sold, however that was more to do with the estimates they were at rather than the level of interest in them.
The Australian banknote section was featured by a decent number of pre-federation notes in specimen, proof and issued formats. Estimates showed that the notes were "on the market", the prices realised show that the estimates were in line with recent market activity. It would have been a rare sale indeed that would have had more than 30 pre-federation notes in it with a high clearance rate, however that was the case this time around. Given the carnage that has taken place in this segment of the market in recent years, a lot of people will moved on from pre-federation notes to other areas that they feel more confident in. That has clearly left the field open to a small number of dedicated collectors and dealers that are quite happy with current price levels thank you very much. These notes have just as much history as they did when they were selling for much much more money, anyone with long-term confidence in them will be happy to buy well at these levels.
The pre-decimal notes were quite varied in their quality, rarity and value, the prices realised for this sale seemed to reflect that. A strong price was paid for a high-grade ten shilling note from 1933, which made $13,000 hammer. The pair of £20 notes featured at the back end of this session both sold, however in a remarkable turn of events they both went to separate buyers! While each note was in incredible quality, and was well worth buying individually, they had been unseen as a pair, so went their separate ways.
The clearance rate for the star replacement notes that followed was decent, however the prices realised weren't strong it has to be said. This section of the market does seem to be hot and cold, we can only think that if there are active buyers at lower levels, they'll compete for the rarer notes when they have to and prices will follow.
Even though there weren't any true rarities in the Australian gold section, there was a decent number of attractive coin sprinkled throughout, both raw and PCGS-graded. The clearance rate for them was solid, showing it remains a healthy area of the market. Bids on the decimal notes that followed came from all points of the compass (bidders in the room and via the postal bid book), so there was competition at a level for most lots.
In the rarities section, it probably appeared to be harder work than it was. Half the ten lots sold and half were left alone - the headline items of the Holey Dollar and the Adelaide Pound (both incredible coins for eye appeal, history, rarity and quality) failed to find new homes, while some of the less expensive items did trade hands.
The next section of the Australian pre-decimal coins was both deep and wide - close to 150 lots, where each denomination and grade range was well-represented. This area of the market has had some wind taken out of its sails in recent months, so any level of activity was welcome. No record prices to report, but the market does have a pulse.
An attractive range of British Commonwealth notes in decent quality followed, however the estimates didn't seem to be in line with what the broader market was prepared to allow for them, and they remained unsold.
All in all, IAG 89 was a solid sale - no records were set, however the market ticked over.
Noble Numismatics 220 - Yet Another Blockbuster
This particular sale has close to 4,500 lots, which is more lots than were included in the two previous sales if they were combined!
The front cover is devoted to one of South Africa's classic gold coin rarities, an 1874 pond. This coin will no doubt attract attention from buyers with deep pockets from right around the world, of that I have no doubt. The early coin sessions have a nice array of decimal error and variety coins, nothing that hasn't been seen in recent years, however the estimates put them in the market nonetheless.
This is followed by a decent quantity of the decimal NCLT coins, in gold, silver and standard metals. The modest range of pre-decimal coins that follows them has some decent coins in it, buyers keen on affordable pre-decimal coins with plenty of eye appeal should do well.
The early afternoon session includes another small batch of convict love tokens, these have slightly more information published on them than was seen in the Downie catalogue from a few weeks back, so we can only hope that draws in more buyers. The next section of broad appeal contains the Australian gold coins, and the images indicate there are some better items sprinkled through this session for keen students to pick up.
The New Zealand coin section contains some coins that are attributed as being in excellent quality, the bidding activity will confirm whether that is the case or not.
The evening session for the coins begins with a solid range of proclamation and colonial coins, I expect these will do well. The nine 1813 Dumps that follow on I'm not quite as confident in - buyers in recent sales have wanted real value before they're prepared to step up, and I'm not sure these coins at the estimates indicated will match up on that front. The Australian gold coins that follow seem to include a few coins that offer real value at the estimates indicated. Some of the half sovereigns listed haven't been seen in the grades they're offered at in many, many years, so it'll be interesting to see how they fare. I know the half sovereign market is very slowly starting to mature, so have little doubt there will be at least a few collectors reviewing these coins for potential purchases.
There is a large number of coins in that section of the sale that I expect will do well.
The Commonwealth coin section contains a specimen 1934/5 florin that I'm clear is in fact a specimen - given the Downie result a few weeks ago for a coin that didn't have quite the same technical strengths that this coin appears to have, it should bring a strong price relative to the estimate.
The Commonwealth coin section also contains several old collections of coins, just how they fare under the additional criteria now posed by the PCGS grading standard remains to be seen.
The British silver coin section the next morning contains a large number of coins that should appeal to collectors both here and on the other side of the world, an attractive series of scarce and attractive early-dated Irish coins follows. I don't recall the last time I saw this number of Irish coins here in this grade, the art deco designs they have really are superb.
The British gold coins that follow should be keenly contested as well, there are a number of scarcer coins included in it that we seldom see here.
The world silver and base metal coins is large as always, with lots of depth in several areas. There seems to be a decent number of European silver crowns from the 17th century - these are keenly sought by buyers in Europe, we'll see how well they travel.
The world gold coins contains several deep sections of coins that are seldom seen here - the world coins take up an entire day of this sale - it'll run from 9am to 9am, which gives you an idea of the quantity on offer!
The Australian note section that runs the next evening is deep with pre-federation notes, more issued notes than I've seen in quite some time (aside from the Caldwell Collection of course). The pre-decimal and decimal notes that follow on and finish out the sale also have some appealing items within them - this is a session I'll be pleased to get my eyes across.
With such a huge number of lots on offer, I'm confident Noble Numismatics Sale 120 will be a bumper event.
---
---
---
Leave a comment