Auction Preview - Noble Numismatics Sale # 87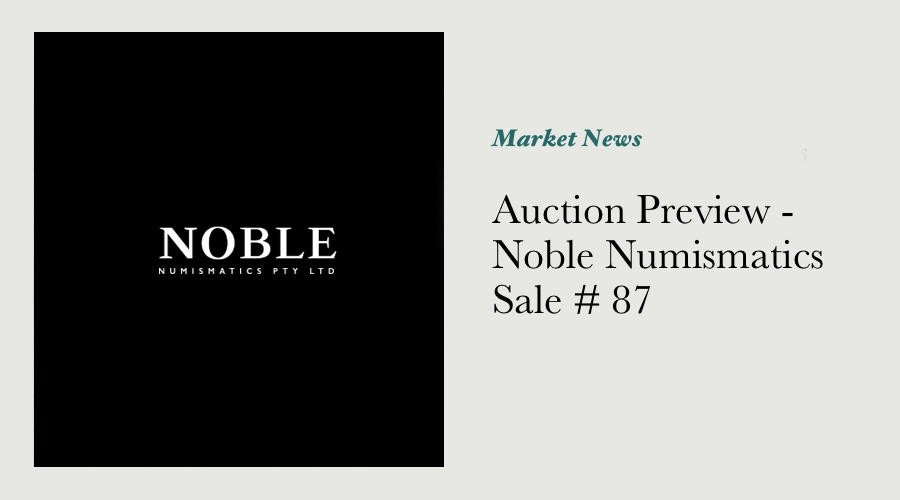 If there's any way to finish the year off with a bang, it has to be with a great auction that's got enough great material in it to keep everyone satisfied over the summer break. It's hard to judge just what jewels any auctions contain within their bulk lots, so the early session will really only reveal it's secrets to those that actually attend the sale.

There seems to be a stack of relatively common date sovereigns in the early session, possibly from a hoard or deceased estate. Well worth a check for date collectors of sovereigns! The token session includes a few that even a novice token afficionado such as me knows are quite rare - Lazarus and McIntosh & Degraves being just two of them. There are also a host of Internment tokens to boot, although the grades don't appear to be too high.

There are no less than 3 Waitangi proof sets in the NZ session, while the quality and breadth of the British coins doesn't appear to be as high as that seen in recent sales. The proclamation and colonial coins in this sale are quite extensive, and include a range of coins that aren't necessarily directly related to those proclaimed by Governor King in November of 1800.

There is a Holey Dollar, as well as no less than 9 Dumps! The Australian gold coin session contains what looks to be the finest known Type II half sovereign ever sighted, however apart from that the pickings for buyers chasing rare dates in good grade are as always pretty slim. God help us if this bull market in metals picks up, because even more demand for this few coins can only mean one thing.

The Commonwealth coin session is perhaps similar to the gold coin session, in that there are a few key pieces in nice grade, the balance appears to be pretty hard going. The positive aspect however is that this market is active in all grades - coins from VG to Gem Unc are selling well, so there will no doubt be plenty of buyers for coins that are priced to sell. The note session includes a a good quantity of material across the grades, I'm sure there will be plenty of buyers ready to pick up any bargains that may appear, and it'll be interesting to see how the majority of items fare.

I'm going to be attending the sale, so don't hesitate to let me know if you are unable to attend and would like me to run my eyes over a potential acquisition for you.
---
---