Australian Rare Coin and Note Auction Report - Status 306 and Roxbury 91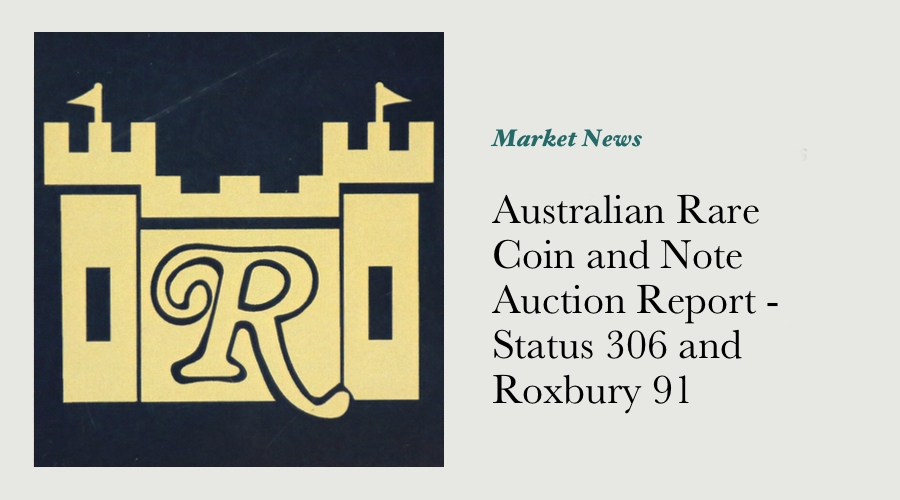 Status International Auction 306 Report - May 16th
Coins
While there wasn't a great deal of anticipation for the latest auction held by Status International in Sydney, it brought out all of the die hard coin and note geeks that religiously check every auction for that elusive hidden gem.
They're not always easy to find at a Status sale either - there are a huge number of lots to look through! Status are quite open that they seek to act on their vendor's behalf whenever possible. By protecting the value of the items they offer for sale, the clearance rate can be lower (sometimes much lower!) than other auctions achieve.
This auction was no different - the clearance rate was relatively low in each sector of the market, regardless of whether we're talking about coins or notes, gold or silver, decimal or Pre-Federation. At the same time, despite the absence of many of the dealers that would normally attend a Status auction, bargain basement prices weren't seen across the board!
Proclamation collectors tend to be very specific regarding the coins they're after, so it isn't unusual to see a good range of those passed in. The Australian gold series *started off* well, with each of the Type II Adelaide Pounds making solid prices. That solid action didn't continue through the half sovereigns and sovereigns however. I shudder to think what the clearance rate was here, however as the Roxbury's auction in February showed, gold coins do indeed sell in quantity once they're graded in line with prevailing standards, and are priced at the current market.
A few of the better Young Head halves got away at what I thought were incredibly strong prices for coins in that condition. The sovereigns were fairly hard going, not many got away however that was because the coins were either estimated at retail values, or the grades weren't in line with what the buyers present expected to get for the asking prices.
Activity in the Commonwealth coin section was perhaps a little more subdued than normal, again due to the fact the coins were either estimated at retail values, or the grades weren't in line with what the buyers present expected to get for the asking prices. There was some very spirited bidding between several dealers on a small number of coins that I believe had a shot at being "condition rarities", and thus in demand with collectors active on the PCGS set registries.
There should be no surprise that the error and variety coins were keenly contested, collectors for these seem to pop out of the woodwork! The pre-decimal proof coins again had a low clearance rate, again (in my opinion) because the coins were either estimated at retail values, or the grades weren't in line with what the buyers present expected to get for the asking prices.
Banknotes
Activity in the Pre Federation section of this auction wasn't strong at all - none of the 5 lots on offer sold unfortunately. The pre-decimal notes did draw some sporadic bidding, however it seems that buyers in this section of the market know value when they see it, and they stayed away from these notes by and large. The clearance rate in this section was very low indeed.
There were 3 decimal specimen notes included - their reserves were close to double what comparable notes have been estimated at in recent months, so we shouldn't be surprised that none of these notes sold. Activity in the star replacement notes was patchy, and reflected varying opinions about the quality of the notes on offer.
The rest of the sale was comprised of foreign coins and notes, a particularly active area of the market.
All in all Status 306 turned over $758,000, far more than small change in anyone's terms. Lower than what an auctioneer would have hoped for back in the boom days of the market, however better than they would have feared this time round.
Roxbury's Auction 91 Report - May 23rd
With slightly cooler prevailing in Brisbane since Roxbury's February sale, there weren't too many be-thonged clients wandering around the Roxbury's sale rooms this time round.
Pre-auction viewing was very active (as it always is), this carried through into the early sections of the auction. The previous Roxbury's auction contained the numismatic inventory of the Rare Coin Company, those coins attracted a good deal of interest from collectors and the trade alike.
The pre-decimal coins in this sale weren't as keenly chased it's fair to say - the clearance rate was slightly lower as a result, as were the prices realised. The pre decimal proof coins appeared to be fairly estimated relative to what they were, and so buyers picked them up at a reasonable rate. The world coins and notes were reasonably active - not much changes here, no matter what other segments of the market might be doing!
The Australian gold coins in this auction were a little patchy, however in line with where so many other auctions are at with gold coins at the moment - active when grades and estimates are in line with buyer expectations.
With the exception of the withdrawl of the cased 1916 Specimen set, the rarer coins in this auction sold reasonably well. The results obtained for the Type II Adelaide Pound, the Type 12 Kookaburra Penny and the 1930 pennies were in line with recent market activity for comparable coins.
The rarer pre-decimal specimen notes didn't fare as well however. I thought the auctioneer was being bullish when I saw the estimates of the 3 pre-decimal specimen notes that they had, those concerns were borne out as it happens. None of the three notes sold, indicating that buyers really only want to reduce the risk of outlaying the relatively large amounts required to acquire these notes when there can be no doubt at all that the nett price is really good buying. By the time the buyer's premium was added to the cost of any of these notes, that just was not going to be the case for any of these three.
There were 26 decimal specimen notes in the Roxbury's auction in February, 14 of them were unsold, and offered again in this sale. In contrast to the February auction, 100% of these notes sold. That was due to a significant easing in the ask prices they were offered at, and more to the point, a significant reduction in the reserves the vendors were prepared to accept. Vendors of comparable notes won't be pleased to know what they brought, nor will other collectors that own them - the truth is though that the first results in the bottom of a market cycle at least put a floor under the market, which is one positive we can take away.
Activity in the pre-decimal notes at Roxbury's was hit and miss also - results didn't seem to fit into a pattern, it was more a case of if a buyer thought a particular note was good value at the price offered, they went for it. This was the case for the high grade notes, and equally the case for the lesser ones also.
Paper decimal star notes in all grades seem to be coming onto the market at exceptional prices - while the market has eased across the board in recent years, this has done nothing to diminish the rarity that paper decimal stars have, particularly in natural UNC condition. Yet another anomoly in the current market that savvy buyers can take advantage of!
Summary of Current Market Sentiment
If I were to summarise current market sentiment, based on my observations of recent auction activity, this is what I'd come up with:
Australian Gold Coins Buyers active in this segment at the moment really seem to be inclined towards coins that are at least in line with the PCGS grading standard, if not graded by PCGS directly. This is the case for sovereigns as well as halves. This means vendors really need to be realistic when setting their expectations for what they're prepared to accept for their coins at present, they may need to even consider going lower if they're to get to the front of the queue.
Australian Pre-Decimal Coins News about collectors and dealrs paying record prices for coins eligible for "condition rarity" status is not news at all - it's been happening for a few years now. What is news however is just how much interest drops away from that point - some buyers are able to pick up attractive examples of scarce, rare and even key date coins in superior mint state for far less than they used to. Even quality coins such as those need to be priced right if they're to sell at the moment.
Australian Pre-Decimal Proof Coins There's no doubt that the PCGS grading standard prevails in this segment of the market at the moment - high grade PCGS coins remain liquid at solid prices, while interest in lesser PCGS coins, or raw coins with problems, drops away significantly.
Australian Pre-Federation Notes Dedicated collectors that are focused on very specific niches within this category are still active buyers, general buyers are far less active than they were in years past. Competition for collector dollars in the pre-fed specimen and printer's proof segments is particularly fierce, so vendors really need to pay attention to that if they're to get any of their items away.
Australian Pre-Decimal Notes My comments on the pre-federation note section apply equally to this section also, however as pre-decimal notes is a more accessible field, with more affordable notes on offer to the collector working on a tight budget, the number of newer collectors entering the market is greater. Natural, rare notes remain in demand with discerning collectors, anything below that level, or any notes that have been pressed or poorly preserved, are of far less interest.
Australian Specimen Notes This is unfortunately one segment of the market that has been most significantly affected in recent years. Values are well south of where they were just a few short months / years ago, which is great news for buyers, not so great for vendors. My advice for vendors of this material is to study what comparable notes have sold for via auction in recent months, and look to be in line with those figures - failure to do that is going to lead to frankly unrealistic expectations.
---
---