Downie Rare Coin Auction 317 Report - July 2014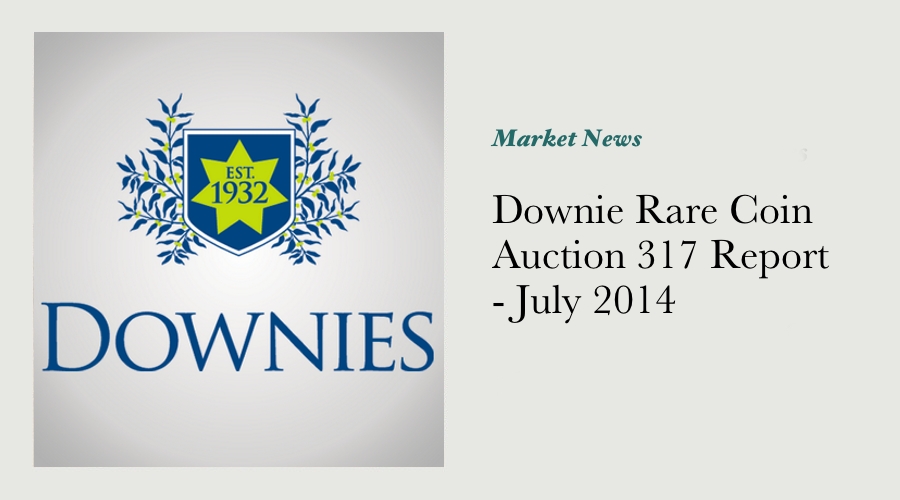 Downies Australian Coin Auctions Sale 317 has now been and gone, and the market has another sale under it's belt. The bidder sitting next to me at one of the sessions wryly remarked that the room was full due to the number of people keen to get out of the cold.
While the weather was certainly milder than Melbournians know their winters can be, the room (at the start of the main coin session at least) was indeed as full as I've seen it for quite some time.
50 bidders packed the available seats - with around 700 lots in that session, it obviously held a wide range of material that appealed to a wide range of buyers. Numbers did drop off throughout, however it shows me that interest remains strong in the numismatic market, albeit in certain segments and at certain price levels.
The early session of decimal coins started off as expected - decimal NCLT coins (the boxed proof coins and sets made by both of our mints for collectors) traded within an expected price range, even if that range is far lower than it was just a few short years ago. A lot of the gas has come out of this market, no doubt.
All of the scarcer decimal issues that have enduring appeal to active collectors remain strong, and were keenly contested. Error and variety coins remain strong, collectors in this segment continue to push prices to levels they're comfortable with.
The main coin session started off with the proclamation / colonial coins, prices here were a little stronger than I anticipated. Auctions such as Downie's, that are just as accessible to collectors as they are to dealers, tend to draw in more retail level bids than others. There wasn't much left for the trade once the collectors were done here, which is a healthy sign.
The clearance rate in the Australian coins was far higher than you'll see at most auctions for this type of coin, and while there were no stellar rarities on offer, both the cheaper halves and sovereigns on offer were popular with collectors at the basic level of the market.
This auction perhaps included more pre–1955 proof coins than have been in one sale for some time. Out of the 15 lots on offer, from what I could see, all but one of them sold. In short, this is an incredible result, and shows that despite the trauma for many over the last 18 months or so, there is a floor under the market at a level that collectors see as being solid value for money.
This "real value" level most likely won't be palatable to a lot of vendors looking to exit their holdings, however as it stands, unless rarity, condition and sometimes even provenance are impeccable for a coin in this segment at the moment, it really is a buyer's market. (The ask price of the lot that was passed in by the way, was more in line with recent retail figures than what one might describe as being a bargain basement price, so can be explained by the same factor as saw everything else sell.)
There were proof coins in this sale that sold for more than I would've thought they'd bring - I'd caution vendors from taking this to mean they can be more bullish with their asking prices, and more to accept it as an indication that there is an exit price to any item.
The proof coins dated between 1955 and 1963 were quite competitive - PCGS graded coins and raw alike. PCGS grading has certainly firmed up the market for these coins, the clearance rate in this session reflected that. Toned and impaired coins bring significantly less than those that remain pristine, however they are getting away.
The same can be said for the pre-decimal coins. There wasn't a lot of material here to test the most ardent PCGS registry set collectors, however there was plenty for everyone else. I believe the auctioneer clearly had their vendors appreciate the state of the market when items were lotted, the clearance rate seems to show that anyway. A result surely due to planning and foresight rather than happenstance!
1923 halfpennies (overall) remain softer today than they were a few years ago - compare what coins brought in this sale with their current catalogue values to test that premise. Both of the 1930 pennies included in this sale got away, at solid prices to boot. Nothing really caught my eye as being noteworthy in the Commonwealth silver section, however the clearance rate was solid.
The note session had fewer bidders in it when business got underway, perhaps reflecting the smaller quantity of that material that was on offer. There was one New Zealand specimen note included within the world note session, it was one of the large pre-federation style specimens printed for the Bank of New Zealand in the era prior to 1934, it had an estimate of less than $1,000, and sold for $600 hammer from memory. Many former clients of the Rare Coin Company have these in their portfolios, unfortunately they would have paid exponentially higher prices for them.
There wasn't much in the way of Australian pre-federation notes in this sale - the single black and white printer's proof that was included (another item held by many former clients of the Rare Coin Company) also brought significantly less than $1,000.
The clearance rate for the pre-decimal notes was quite high - I didn't see very many lots being passed in during this session at all. An early evening flight home forced me to leave before the decimal notes had finished, however I didn't see any signs of the solid buying activity slowing up while I was heading for the door.
So there we have yet another solid Australian numismatic auction - the results didn't set the world on fire, however it shows that collectors remain active buyers for material they see as being fair value for money.
---
---