Downie's 324 - Cold Outside and Steady Inside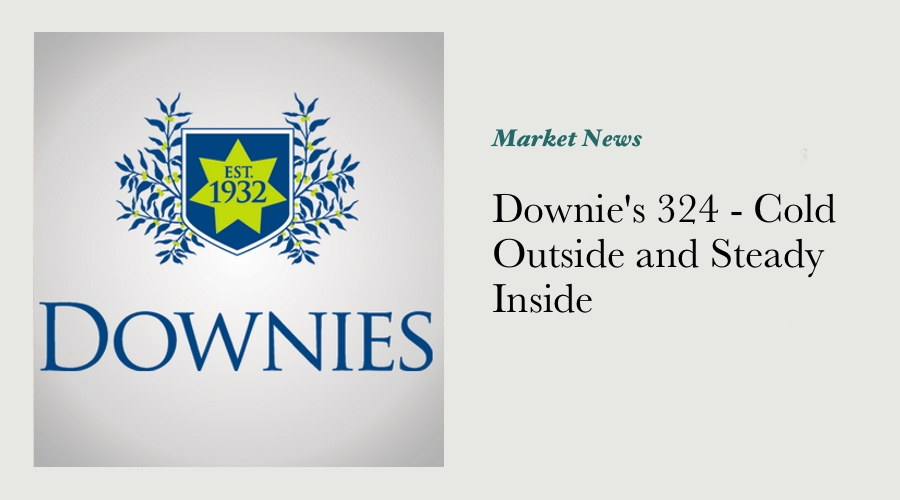 Downie's numismatic auction # 324 wrapped up last Thursday, and although it certainly was cool outside, temperatures seemed reasonably steady in the room. The total turnover for the auction was within cooee of Downie's recent auctions, as were all of the other vital statistics:
| | |
| --- | --- |
| Lots Offered | 3,647 |
| Lots Sold | 2,901 |
| Turnover (including buyer's premium) | $1,016,014 |
| Clearance Rate | 80.79% |
| Av. Lot Value | $293.69 |
| # Lots above $10k | 7 |
A decent number of the more valuable lots got away, as we can see:
| | | | |
| --- | --- | --- | --- |
| LOT | ITEM | HAMMER | NETT |
| 1038 | 1996 Polymer $100 Specimen Note | $10,000 | $11,925 |
| 326 | 1930 Penny Fine | $14,000 | $16,695 |
| 328 | 1930 Penny | $12,500 | $14,906 |
| 3304 | 1860 Admella Medal | $14,000 | $16,695 |
| 170 | Port Phillip Silver Sixpence | $20,500 | $24,446 |
| 174 | 1937 Proof Crown PCGS PR63 | $10,500 | $12,521 |
| 182 | 1951 London Proof Set (1/2d, 1d, 3d and 6d) | $30,000 | $35,775 |
Proclamation Coins: There was a good cross-section of these coins on offer, they were active as they always are.
Australian Gold Coins: The coins here were clearly on the market, and although the offering wasn't anything to crow about, there certainly were some nice coins included. I thought the prices reflected the current state of the market - higher quality items sold well, anything that had problems or was over-priced was allowed to pass in. The Type II Adelaide Pound that was offered had some issues, as did the really nice Type II Half sovereigns that were included, the lack of interest reflected the current desire for original surfaces.
Pre-Decimal Proofs: This market has obviously come back in recent years, current vendors seem to be aware that coins need to be valued appropriately if they're to have any chance of selling. Not all of the more valuable lots in this section sold, so the vendors and auctioneer could have perhaps fine-tined their planning a little better. The list above shows that there is good demand for attractive items when they're priced "right". Two copper pairs, dated 1935 and 1942, were set a little higher than what comparable coins have been at in recent months, so remained unsold.
Commonwealth Coins: There was a good range of coins on offer in this section, however no condition rarities were found among them! There was good interest in the1930 pennies (even if one sold extremely cheaply!), while nearly all of the 20-odd 1923 halfpennies got away also. A few of the folks in the room that I chatted to after the session mentioned that they thought th prices for the silver were particularly weak - the 1922/21 overdate threepences made reasonable money, however the remaining coins were clearly not of much interest to those buyers keen on completing PCGS registry sets. (Either that or nobody bothered to check!) Coins that were offered up as being in reasonable condition really were soft relative to what the catalogue values might suggest for them.
Pre-Federation Banknotes: There were only 2 pre-fed notes in this sale, unusually they were both exactly the same bank, denomination and date. This didn't deter bidders in any way, and I thought the prices they made were stronger than they might have if they were offered elsewhere. The history of our pre-federation notes hasn't diminished one iota in recent years, if anything, they've become more appealing to collectors now they've reached price levels that are supported by a wider collector base.
Pre-Decimal Banknotes: Some of the more valuable notes in this section had been recently offered elsewhere, and were passed in at prices that were comparable, so I didn't expect to see much action in them. That was indeed the case, and the vendors has as little luck with this outlet as they've had elsewhere!
Star Replacement Notes: I thought the star notes here were graded slightly optimistically, which really doesn't help in this market - collectors see what they think is one fold or crease too many for the grade, and they'll just leave it be to see another one in the next auction. The sales results reflected that. What I did think was interesting is that some of the notes that had been "recycled" (offered and passed in via a fairly recent sale) had been pressed in the meantime. This type of amateur enhancement isn't missed by anyone that tracks the serial numbers of notes offered for sale via auction and knows how to grade, however a novice that accepts the grade and description provided could certainly come unstuck under those circumstances. I saw one "Uncirculated" note that was far from it just a few short months ago!
Specimen Notes: There weren't too many of these notes on offer - the first of the two had what I thought was an incredibly high pre-sale estimate, the second one was closer to reality. The Type 3 paper $50 specimen note was passed in (the estimate was pretty much double recent sales figures, so wasn't a surprise), while at a hammer price of $10,000 the polymer $100 made the strongest price we've seen for a note like that since before the Rare Coin Company went belly up in July 2012. That really is a remarkable turn of events, so if (if!) we see some consistency with results for similar notes in the coming months, it will be positive progress.
Overall, more than a million dollars in coins and notes turned over via Downie's 324, which bodes well for Noble Numismatics 115 this coming week.
---
---