Downie's and Pacific Rim Rare Coin Auctions - The Wheels Keep Turning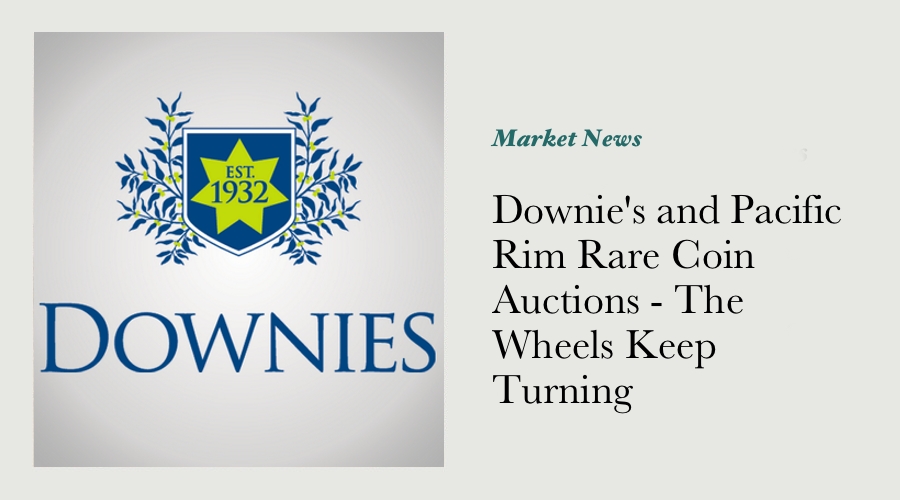 Following the rather alarming news that the Rare Coin Company had entered into voluntary administration on Monday July 8th, many people began to leap to the conclusion that the numismatic world in Australia was coming to a quick end.
The Pacific Rim Mid Year Sale - July 8th, 2013
This sale was held on the evening of the same day that the Rare Coin Company entered voluntary liquidation, and you couldn't get a more diverse range of circumstances - despair and concern on one hand, absolutely laser-focused and determined bidding on the other.
Results in this auction were mixed - QEII proofs in nice grade enjoyed a high clearance rate and solid prices, while pre-decimal coins that were slightly below the finest known were either a little soft in price, or didn't get away.
Pre-decimal silver coins that had been independently graded as being in finest-known condition were a different story altogether however! Some of the more notable results are as follows, with their current catalogue value placed alongside to provide context:
78 1953 Shilling PCGS MS66, C.V. = $185, Sold for $776.25
80 1956 Shilling PCGS MS65, C.V. = $425, Sold for $948.75
88 1942 Sixpence PCGS MS66, C.V. = $365, Sold for $3,105.00
91 1951 PL Sixpence PCGS MS66, C.V. = $90, Sold for $8,337.50
103 1942 S Threepence PCGS MS66, C.V. = $165, Sold for $3,680.00
105 1943 S Threepence PCGS MS67, C.V. = $195, Sold for $11,500.00
You don't need to be a coin expert to see that the market for pre-decimal silver coins that have been independently graded as being in the finest known condition is very strong indeed. Prices for those relatively "common" dates in premium grade are drawing a strong reaction from collectors and dealers that aren't party to the PCGS grading standard and registry set system, however at this stage at least, this market goes from strength to strength.
Figures for copper coins that were designated "brown" rather than "red brown" or "red" were subdued, no doubt at all. This does seem to be a tectonic shift in the market, any collectors that don't mind tone on their copper coins are certainly in the box seat to pick up some bargains at the moment.
Downie's ACA Auction 314 - July 9th through 11th 2013
This sale was surely a reasonable first test of the market once the news of the passing of the Rare Coin Company, the tale of the tape is interesting to consider.
Total turnover including buyer's premium for this sale came to $940,882.50, the clearance rate was a substantial 79.35%, and an average lot value of around $300.
While these results certainly aren't to be dismissed out of hand, only four items were knocked down for more than $10,000.
The top lots in this sale were:
1303 - Holey Dollar and Dump pair @ $40,000
1623 - 1930 Penny @ $14,500
1625 - 1930 Penny @ $14,500
1512 - Twenty Cent Pattern @ $11,500
Other notable lots that sold for more than $5,000 included a rare 1966 fifty cent piece, and a 2010 dated set of gold coins from the RAM.
Proclamation and colonial coins ticked along nicely as they always seem to do, the gold coins were patchy, with the rare 1855 half sovereign and the Adelaide Pound were both passed in. The rest of of the gold coins weren't spectacular for either price or clearance rate.
All of the KGV and KGVI pre-decimal proofs were passed in without significant interest, however there's no coincidence that the 1930 pennies got away - this is a rare coin that the general public, as well as collectors of every stripe, have confidence in no matter what is going on in the outside world.
Results for the rest of the pre-decimal coins pretty much mirrored the Pacific Rim auction - coins that were thought to have a chance at making condition rarity status got away strongly, while coins in middling grade or copper coins with tone, evern rarer dates, were subdued.
To be honest, there wasn't much in the note section to really test the extremities of the market - most of the pre-decimal notes on offer were the more common types / signature combinations, and in standard grade, so they brought prices accordingly. The decimal star notes in this sale were pretty much re-treads (they'd been seen in previous sales and weren't able to get away for one reason or another), so the results there weren't surprising.
So there we have it - in the first 48 hours after the Rare Coin Company entered voluntary liquidation, well over a million dollars in coins and notes were sold - some at prices pockets of the market believe are far from subdued!
Noble Numismatics sale 103, scheduled for 13–15th August in Melbourne, will be the next test.
---
---