Downie's Auction 302 - It's On Next Week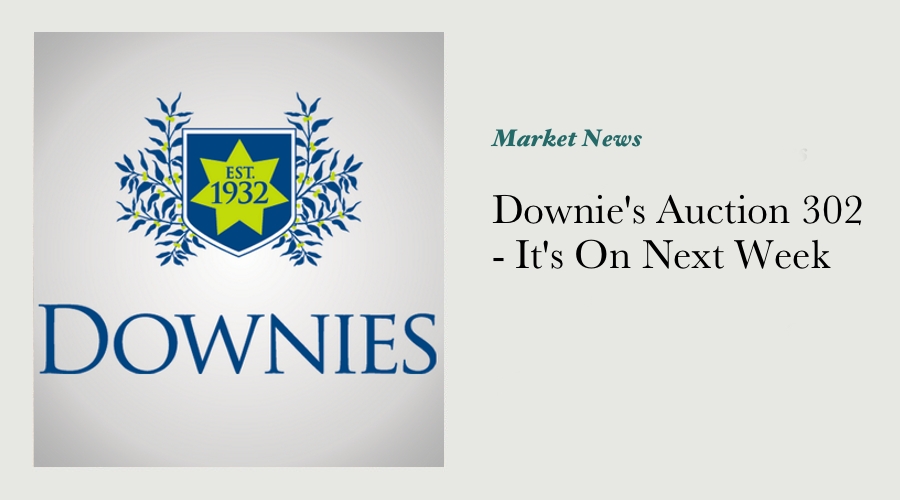 The next major numismatic auction is on in Australia early next week - Downie's (Australian Coin Auctions) Sale # 302.
Downie's are always able to obtain a stack of interesting ephemera and collectibles, and there's no shortage of it in this sale. Anyone interested in Australian 19th and 18th century history should definitely spend time going through their catalogue - even in these slightly recessionesque times there's a really wide range of fascinating stuff that looks quite affordable. Medallions, cigarette cards, football memorabilia and even porcelain - you name it, it's here.
In the product areas that most of us are solely interested in (football memorabilia - please!), there's a good range of Aussie gold and Commonwealth coins, some truly rare Hay Internment notes, and a great selection of pre-decimal banknotes.
Although there are probably only one or two rare date sovereigns on offer, all of the coins have been graded pretty conservatively and seem to have been estimated at the same levels. Just what they sell for is another thing altogether, but it has to be worth a visit just in case a few sneak through.
There doesn't seem to be too many "modern issues" (ie decimal collector coins) in this sale, whether that's because the available supply is being spread thin across the entire market or there just isnt that much of it being sold by the general public, I'm not sure.
The broader Downie's organization has been heavily involved in pre-decimal proofs for many years, and this sale includes a wide selection of material that ranges from the also-ran to top quality. Just as with the sovereigns, it's been graded and estimated pretty conservatively, so that session should be well attended also.
It looks like a pretty comprehensive run of pennies in superior grade has been included in this sale - although it's not complete in the KGV series, there are a number of coins included that haven't been seen for a while. Despite the stop-start economy, I expect strong buyers to come out of the woodwork for this session! This run of pennies is balanced out by a run of '23 halfpennies, a cheap enough 1930 penny, some attractive silver and a modest selection of varieties / errors / accumulations.
I have to say I sat up in my seat when I saw the inclusion of a number of really nice British Commonwealth coins in this sale - these quite scarce and attractive pieces are in demand with discerning collectors the world over (coins from Commonwealth countries such as Mauritius; South Africa; British Africa (East and West!) are all running hot on the world market at the moment. Although the coins in this sale certainly look attractive enough, they've been priced accordingly and in some cases are estimated at more than two times what they've traded for in other parts of the world in the past 6-12 months!
One example of numismatic arbitrage is when a dealer or collector buys a coin in a market where it's not particularly keenly contested, then offers it in a completely separate market where it's much more keenly sought. Should the item sell, they pocket a nice little profit. I for one am certainly not up against an enterprising trader indulding in this simple exercise, however I think the chances of this particular venture coming off are pretty slim! Let's check the prices realized to see if they're able to get a few dollars for their efforts.
The experienced staff at Downie's have been around for long enough to know that most of the buyers in a market that the punters have marked as being out of favour are those that are prepared to take their fate into their own hands - a great way of selling into this market is to let the odd opportunity
The pre-decimal notes in this sale are wide and varied - there are some rarities by virtue of their grade or type (such as an honest example of the historic Rainbow Pound), while there's a lot of fodder for people that just love to accumulate lots and lots of common notes in low grade. This session is another one that should be exhaustively reviewed by dedicated collectors - bargains will abound for those that are prepared to put in the time I'm sure.
---
---