Downies / Australian Coin Auctions Sale 309 - Another Million Dollar Sale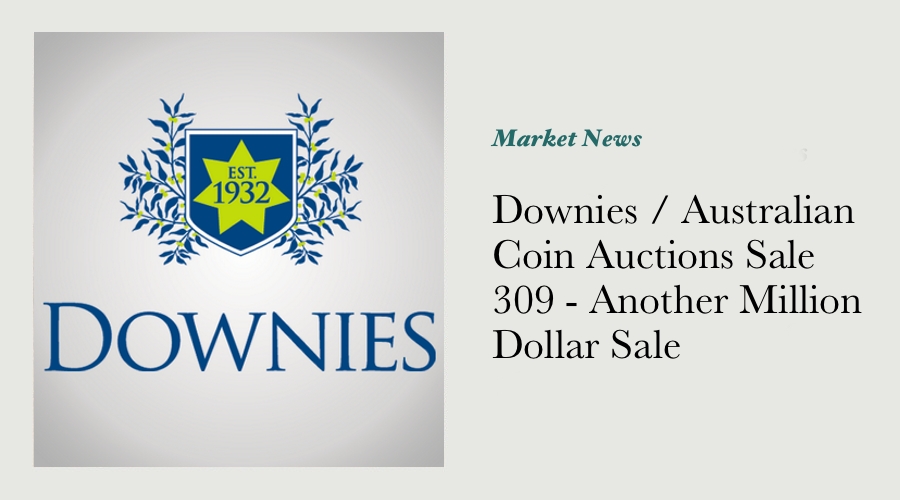 Episode two in the 2011 season of Numismatic Wacky Races was held earlier in the week - Downies / Australian Coin Auctions Sale 309 held in Melbourne, it was (pretty much) another million dollar sale (with the total prices realised at this stage coming in at $956,874, or $1,141,072.25 including the 19.25% buyer's premium.
Downie's opened this sale with a quite wide range of militaria, tokens, antiques and collectibles. The room was quite full with bidders of every stripe, and most sections in this session were keenly watched and bid. The numismatic section proper kicked off with the proclamation and colonial coins - there were three dumps listed, and each of them were passed in. This is probably because they were fully priced for their respective grades, indicating that even though there is indeed interest in these historic NSW colonial coins leading into their bicentennial year of 2013, that collector demand isn't yet prepared to speculate at any price.
There was a nice range of Australian gold half sovereigns and sovereigns listed next in two sections - with one large consignment from one vendor that has specialised in acquiring many the of the keenly-studied errors and varieties that can now be found in the Australian gold coin series. Rarity, grades and values ranged across the board, however the clearance rate across both sections was quite good, regardless of the category of coin. I was interested to see what lot 601 went for - it was an 1856 half sovereign with the Type 3 reverse (it is thought by many that this die was formerly used to strike pattern coins, and was deployed in an "emergency" to strike a range of circulation coins as well). They are exceptionally rare (just four are known in private hands), which is a tiny number, even when compared to other Australian gold coin errors. It sold for less than the present catalogue value, which I believe was excellent value for money.
There were a few of the rarer sovereigns from the King George V series in nice grade in this sale, they all sold at prices in line with their grade and present market value.
Lot 603 was one of the 1858 Type II Sydney Mint half sovereigns with the "Double R" reverse legend - graded Very Good, it sold for a $20,000 hammer price. A sovereign that was described as being a previously unsighted "1856/5 overdate, this with a clear and distinct overdate, just a handful known to exist and extremely rare, particularly in this condition, about EF / EF". It made a $13,000 hammer price, which is higher than the coin would have made if it did not have this designation.
The auctioneer had his work cut out for him in the decimal proof gold coin section - most collectors and bidders base their bids on the prevailing gold market, and narrow their bids down to the very last cent, meaning they often pull their cards down at the last minute and all at the same time.
This auction was no different, and the clearance rate was 100% through this section as you might expect. Pre-decimal proof coins followed, and the list of items on offer here was pretty comprehensive. The clearance rate was quite high, however as nearly all of the coins & sets were "raw", ie ungraded by PCGS, they sold for prices that were in some cases just a slender fraction of their catalogue value.
Keep in mind that there's nothing odd about this at all - the price that an "impaired" pre decimal proof coin will make is always going to be much lower than an independently graded & pristine coin with a clear provenance. The prices realised here confirmed to me the value in having QEII pre-decimal proofs independently graded.
Independent grading isn't a magic solution that immediately raises the value of all pre-decimal proof coins, however for those coins that are attractive but do not have a confirmed level of quality, it sure increases their chance of selling at a higher than average price.
Australian copper coins often make very strong prices at Downie auctions - a choice 1929 halfpenny with lots of red made a strong price, while the two 1925 pennies in high grade (listed as "Brown Unc and virtually Unc" respectively were passed in.
A choice 1928 shilling made $4,000 hammer, and the error & variety coins enjoyed a high clearance rate to boot.
Although the pre-decimal banknote session was as quiet as others have been recently, the historic R1c ten shilling note (one of the very first Australian ten shilling notes issued into circulation) made $23,000 hammer, which is a solid result in this market.
There weren't a lot of other great notes included, and although the clearance rate was probably no different to any other session in the sale, the prices the items sold made weren't particularly strong.
The two polymer decimal specimen notes that were in this sale were passed in, further confirmation that this previously hugely keenly-contested area of Australian numismatics has come off the boil.
All in all, Downies / Australian Coin Auctions Sale 309 was a productive event - any auction that moves over a million dollars worth of coins and notes could surely be nothing else!
---
---