IAG 91 - Australia's First Online Only Numismatic Auction With A Printed Catalogue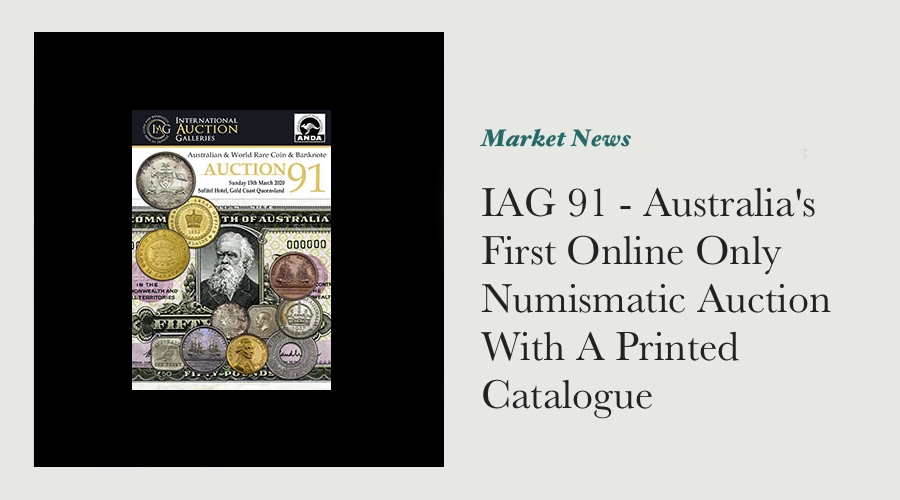 I reckon I'm correct in saying that the 91st auction conducted by International Auction Galleries at the Gold Coast on March 15th this year was the first numismatic auction that was held only online but still had a printed catalogue.
The Noble Numismatics auction that followed a few weeks later was conducted the same way - both auctions had their normal business model disrupted by the Australian Commonwealth and State government regulations imposed as a result of the COVID-19 pandemic.
I don't know if you can remember way back to mid-March, but that was actually just before travel restrictions were imposed on us all. The good people at IAG could clearly see the writing on the wall, so made the call a few days out to switch to an online-only sale. Even though I was in Sydney at the time I got the news (ie 2/3's the distance from my home in Western Australia and the auction location in Queensland), I could quite understand the decision. They had a large number of customers that wanted to bid via phone, which wasn't going to be possible - at least by going online-only, everyone was able to bid in an auction environment without having to travel.
I was still able to view the lots before the sale (as was the other dealer that physically attended), and could collect the lots before returning home, so I wasn't affected in any way.
I've attended pretty much every major numismatic auction in Australia since the late 1990s, so have been in rooms so full it was standing room only, and have been in others so quiet that the auctioneer asks "OK, is anyone interested in any of the lots between lot 1,500 and lot 2,000?", with every level of activity in between.
IAG 91 was, without doubt, the smallest auction room attendance I've ever seen - it was myself, a dealer from Sydney and a few other collectors who popped in and out over the three hours or so the auction was on. That didn't stop more than 260 online bidders from attending through, which I believe is going to be the way such events are handled in future - virus or not.
I know a number of the major numismatic auction houses in the USA can turn over tens of millions of dollars in an event, yet can have no more than half a dozen people in the room attending.
If an auction still has a printed catalogue, offers online bidding only, with pre-sale viewing and collection available after the sale, I believe that is what vendors, bidders and the auctioneers can work with. I expect auctioneers will want to really reduce their costs by avoiding a catalogue if they can, that may be a bit too much change right at the moment.
Heading into this sale, I was a little concerned that the online bidding facility would really slow the auction down. We've certainly seen that with other auctions in recent years, where the combination of live bidding and online bidding takes a long time to work through. That wasn't the case with IAG however - this sale had close to 900 lots, and didn't run overtime.
The Headline Figures for IAG 91:
| | | | | |
| --- | --- | --- | --- | --- |
| | Total Hammer | # Sold | # Above $10k | Total Realised |
| TOTAL | $999,238 | 742 | 12 | $1,219,070 |
| Lots offered | | 865 | | |
| | | | | |
| Clearance Rate | | 85.78% | | |
| Av. Lot Value | | $1,346.68 | | |
| # of Lots above $10k | | 12 | | |
That last statistic is the one to really take hear in - as low as a bar it is, 12 lots above $10,000 is a real step up over comparable sales in recent months.
The Key Items That Sold Were:
| | | | |
| --- | --- | --- | --- |
| Lot # | Item | Hammer | Nett |
| 255 | 1913 £10 Collins Allen Cancelled Specimen | $60,000 | $73,200 |
| 256 | 1952 £10 Henry Parkes Unissued Specimen | $65,000 | $79,300 |
| 315 | 1960 £5 Star Note Unc | $12,000 | $14,640 |
| 351 | 1852 Adelaide Pound Type I AUNC | $145,000 | $176,900 |
| 358 | 1855 Sydney Sovereign AEF | $12,000 | $14,640 |
| 447 | 1919 Kookaburra Penny Type 3 | $28,400 | $34,648 |
| 450 | 1930 Penny PCGS VF25 | $16,000 | $19,520 |
| 451 | 1920 Pattern Shilling | $65,000 | $79,300 |
| 452 | 1920 Pattern Florin | $65,000 | $79,300 |
| 476 | 1930 Penny Fine | $13,000 | $15,860 |
| 477 | 1930 Penny Fine | $14,000 | $17,080 |
The early session of world coins in an IAG sale always has some interesting lots, and this auction was no exception. Bidding was competitive across the board, there was enough on offer to keep everyone interested. The pace slowed with the lesser pre-decimal coin section but picked up again in the pre-Federation banknotes.
24 different pre-fed notes were included in this sale, which would have been a decent run even back when the market was at it's strongest. 22 of the lots under the hammer got away, which is a great result. It shows there's now a broad base of demand for these notes, which is a great foundation to build on.
The clearance rate for the pre-decimal notes wasn't quite as strong as for the pre-federation notes, but it was still in line with the rest of the sale. Make no mistake - prices weren't great, but to get 60 different lots across a range of value ranges away is a great result.
What was a strong outcome was for both of the pre-decimal specimen notes to sell. The Collins Allen £10 and the Parkes note are both incredibly rare, and offer solid value to a dedicated collector at the prices they made. When I saw that this auction had 14 different pre-decimal star replacement notes in it, I wasn't confident in what the end result was going to be. Despite my concerns, 12 of the 14 lots got away, which is far better than they've fared in recent sales. We have a funny market at the moment - if bidders in a sale decide they're going to watch how the herd behaves in order to get some feedback on the market before bidding, things can stay quiet. All it takes is for more than 1 bidder to say "this is crazy", and things can change quite quickly.
Activity in the decimal star replacement notes wasn't quite as strong, while bidding activity in the decimal specimen notes was a step down again. I'm confident these ebbs and flows in the market will even out over time, as with the pre-decimal stars all it takes is just a few bidders to see value on offer and things can revert pretty quickly.
Gold Was Strong
The Type I Adelaide Pound in this sale was an absolute cracker - it had limited friction either side and made a much stronger price than I was expecting. At $176,900 nett, this was a great buy for the winning bidder and a solid outcome for the vendor as well. I put the example in the top 5-10 known, and when we consider that some of the best Holey Dollars have made $250k - $500k in recent years, premium examples of the Type I Adelaide Pound have to be excellent buying at around a 1/2 to a 3rd of that.
The collectable gold sovereigns and half sovereigns enjoyed a 100% clearance rate, which was a solid outcome as there were several value ranges on offer. The early pre-decimal proof coins that were included sold OK but had to be priced at great value for them to get away. The 1920 pattern florin and shilling was an incredible pair, just one of two known and in simply stunning condition. The result for these showed that the vendor saw value in swapping them for ready funds, while the buyer saw value in swapping ready funds for them. This is, of course, the way markets have worked since Adam was in short pants, and it shows the path forward other vendors will need to follow if they're to exit the market.
Commonwealth Coins - Is Copper Stronger than Silver?
When it came to the circulating Australian Commonwealth coins in the section that followed, the copper coins seemed to have fared better than the silver coins. That there was 3 times the number of silver coins included in this sale relative to the number of copper coins may have done something to the clearance rate - it was about 20% better for the copper than the silver.
I have no doubt this will swing back at some stage, as with the notes once some buyers see value on offer, the trend will change back just as quick.
It has to be said though that the QEII pre-decimal proofs that followed were softer still, and not for any lack of variety or quality, that's for sure. Few of the lots in this segment sold, and those that did weren't strong it has to be said.
Cook Medals from the Late 1700's and the 1966 Decimal Proof Set
The last smattering of interesting lots in the remainder of the sale were the Cook medals, and also the PCGS-graded 1966 proof coin sets. The Cook medals are mainstays of the Australian numismatic market, there was no shortage of interest in the medals offered this time around. Those of you that own a set of 1966 proof coins might be interested to hear that one set sold for more than $1,200, while the second set made closer to $3,000!
Those coins had been independently-assessed by PCGS as being in incredible quality, so before you start salivating about selling yours for a motza, please keep in mind that the coins in those sets were in absolutely incredible quality. If your coins have any tone, spots or marks on them, they won't command anywhere near those prices.
If we look back over the results for this sale, given the doom and gloom that's being shared around at the moment about retail trade in Australia, to sell more than a million dollars of a particular kind of product within the space of 5 hours or so is an outstanding result.
If we can learn anything from the zaniness about the panic around toilet paper just a few short weeks ago, human beings remain quite ready to throw good money at any product they believe is required or is good value for money.
The last peak in our cycle passed many moons ago, which means the Australian numismatic market currently offers outstanding value for people who believe owning this type of asset makes sense. It will be interesting to see how this market unfolds in the coming months.
---
---
---
Comments (1)
Thank U

Thank U Andrew... Very interesting
---
Leave a comment