IAG Auction 77 - Short and Sweet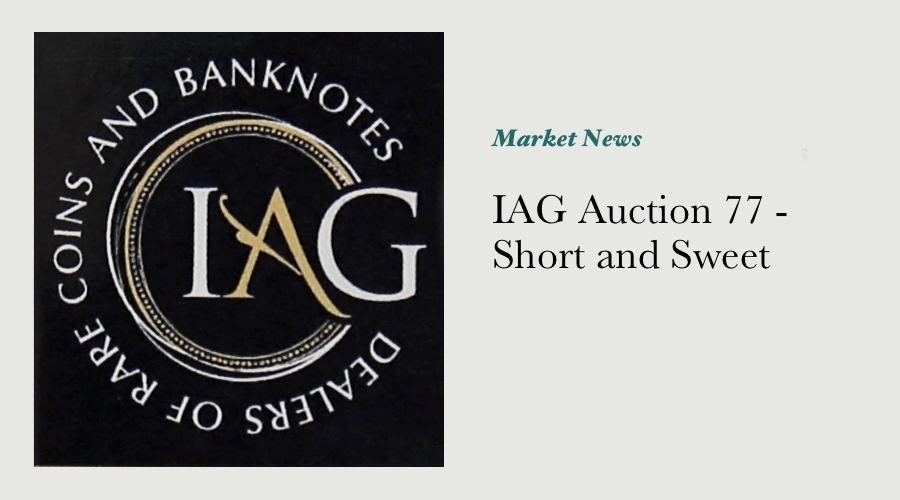 The International Auction Galleries Auction 77 was held on the Gold Coast towards the end of March, and even though there were "only" less than 700 lots, the sale was certainly worth taking note of.
Perhaps the most notable function of this auction was the strength of the bids received prior to the auction starting - IAG now has all of their lots advertised online for some time prior to the auction taking place, nearly all with full high resolution images. During the introduction it was noted that a good number of the lots in the sale had already been bid above their reserve before the auction had even started!
This accessibility, now possible through the advent of new and affordable technology, I believe is going to be increasingly important to auctions in the months and years to come - so many more collectors can now have confidence to take part in auctions such as this that it is surely going to change the auction landscape significantly. That the auction room wasn't packed to the rafters when the sale began may well be an indication that people will prefer to view and bid online in future.
Banknotes
As always, the banknote section was broken up into discrete sections, listed in order of chronological appearance, from oldest to newest. The first series of notes to appear were several Bills of Exchange dating to the early 1800's - although they were estimated well (well!) below where they've been marketed in recent years, not one note sold. This indicates to me that although these Bills of Exchange are indeed scarce, historic and rich in history, collectors these days see fair value for them being lower even than the prices they were listed at in the IAG auction.
"Only" one of the three pre-federation notes offered in this sale sold, however even that is a positive sign of ongoing interest in this segment. There were a number of black and white pre-federation printer's proofs offered for sale in this auction, again estimated lower than they have been marketed in recent years. These were withdrawn from sale prior to the auction taking place however, so we're not able to interpret if these levels would have been met by interested buyers.
I thought the clearance rate for the pre-decimal notes in this auction was really quite good, even if it was thinly traded. A relatively small number of bidders was involved, however there was bidding competition, and again much of it had taken place online prior to the auction beginning.
The two specimen note sets offered for sale unfortunately didn't find new homes, however as this is a rarified area of the market (the KGVI set of them was completely fresh to the market), in the current climate this result should not be suprising. It may take some time for the collectors that are active in this segment of the market to appreciate the full history and rarity that this particular set offers.
The star replacement notes (both pre-decimal and decimal) were quiet, as were the decimal specimen notes. Although such notes to remain popular with a core of collectors at the moment, these notes really need to be either impeccable grade or very keenly priced (preferably both!) before they move on.
Error notes of every stripe were in keen demand as always - each example sold and often well above the realistic estimates. Lot 449 was a set of three "million" serial notes - each matched for superior, original condition. They'd received strong bids prior to the sale starting, and ended up making a figure close to their upper estimate - $67,570 nett.
Australian Gold Coins
Although the clearance rate for the Australian gold coins wasn't great, I thought the results were quite OK given the material on offer. In so many auctions we see gold coin after gold coin passed in, in my opinion this is because the auctioneers either don't grade or estimate the coins in line with the market. That wasn't the case this time round, and the clearance rate reflected that.
Colonial Coins and Holey Dollars
Despite the fact 2013 marks the bicentennial of the first coins being struck on Australian soil, it seems that the collector market isn't yet compelled to own examples of these coins in any grade and at any price.Two of the three Dumps in this auction got away, however not at prices that set the world on fire.
Proclamation coins were robust as always - this area of the market remains active with a committed group of collectors picking away at their own sets over time - good proclamation coins always sell it seems. That this segment of the market isn't as keenly focused on grade and not as finely tuned re price probably helps ensure this is the case!
Pre-Decimal Coin Rarities
There were two kookaburra pennies in this sale - a Type 5 and a Type 12. The Type 12 was a nice example, and sold at a price unseen (according to my auction statistics) since 2005. If you were a collector that had confidence in the value of Kookaburra pennies over the long term, but weren't sure at what price level they'd be "good" buying for the long term, you'd have to say that if you cut out the figures achieved in the whole "boom" period leading into late 2007, prices would have to at the very least be close to getting to where they need to be in order to be considered again.
If the consensus of collectors is there's still some way to go before they really are confident in these coins being good value, it'll be interesting to see where they end up price-wise before they start rising again.
The 1916 Mule Halfpenny is truly an enigmatic coin - the example in this auction is indeed one of the better examples known, and was discovered by the original owner (Mt Robert Koschade) between 1930 and 1933. It has been at auction in recent years, however successfully changed hands at $137,470 nett in this auction. The proof / specimen 1914-H florin in this sale also changed hands at an astonishing $314,550 nett, surely a strong result given the current economic and business climate.
Pre-Decimal / Commonwealth Coins
Although there was relatively light bidding in the room for the Commonwealth coins in this sale, that certainly did harm the clearance rate in any way however. There were a couple of strong results however - the mint-state 1934/3 overdate threepence made a strong price, many other coins got away however at prices not quite as strong as the overdate 3d was.
The pre-decimal proofs in this sale seemed to really tick over, no strong figures among them but the clearance rate was solid which was pleasing to see. The lone pattern Goose / Swan dollar in this sale made over $2,000, indicating that these coins have some life in them yet.
Error and Variety Coins
This segment of the market continues it's strength - perhaps due to the fact it is a very specialised market, where values are set solely by supply and collector demand. As there are no strict catalogue values that cover this segment, it is allowed to ebb and flow naturally and without comment. It says something then that this a segment of the market that collectors continue to enjoy while other segments remain quiet!
The most valuable lot in this section was a double obverse twenty cent coin dated 2006 - it made $5,800 hammer ($6,757 nett), comparable with the price that a 1974-dated twenty cent made via Noble's late in 2010.
All in all, this sale was successful in a focused way - good clearance rate with some solid results along the way. It'll be interesting to see whether the Noble auction in Sydney next week, with a much larger number and range of items included, is able to maintain that momentum.
---
---