IAG Auction # 79 Report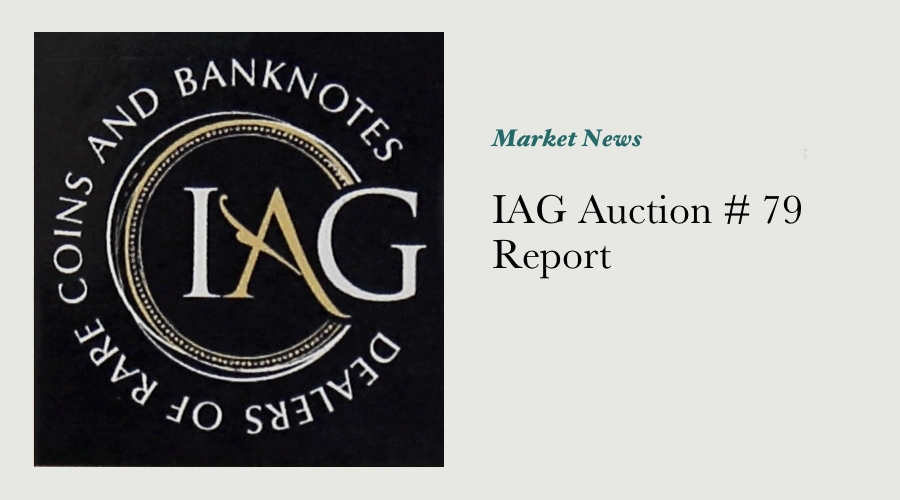 The Gold Coast is certainly an attractive location for a rare coin auction - its right on the beach, has beautiful sunny skies and plenty of nightlife to boot.
IAG have taken on new technology that sets them apart somewhat from most other Australian numismatic auctioneers, specifically with the extent to which they post images of their lots online, and the ease of online bidding.
The results certainly showed in the strength of the bidding relative to the number of people in the room. The auctioneer announced that they'd received no less than 1,750 bids across 480 lots prior to the auction starting, yet there were just 24 bidders in the room by that same time.
So regularly were the internet bidders successful that the auctioneer sounded to me much like I'd expect a bookie at a bush race meet to sound - the highest internet bid was allocated to paddle #1, so where a lot sold for $900, it was announced to the room as "900 to 1". If 80 of the first 100 lots at least were knocked down to internet bidders, with hammer prices ranging anywhere between $20 and $2,000, you can understand how the first section of the auction sounded.
While the first 150 odd lots of any IAG auction are made up of affordable coins and notes, the first real test of their sales comes when the Pre-Federation notes are offered up. There was a good range of issued, notes, specimens and printer's proofs in this auction - 4 of the 10 lots offered sold. Demand is still strong for notes that resonate with collectors, however in the main the prices realized remained at the low end of the range that they've been making in recent months. Vendors of such notes won't be happy to hear that, however at least a floor seems to have been put in place.
There were more than 100 pre-decimal notes in this sale, ranging from affordable items in low grade, right up to key rarities. From what I can see of the results, the prices realized ranged from less than 15 % of their respective catalogue value, with the most valuable note in the sale, the R35 "No Mosaic" £5 in Fine condition, realizing some 15% more than it's current catalogue value. Intermittent results such as this can serve as a reminder to us that dedicated collectors will always chase rarity and desirability, no matter what the state the market may be in.
By my abacus, the clearance rate for this section of the sale was about 46% - not great, but far better than some auctions we've seen in the past 12 months. Throw into that mix the fact that more than a few of the prices realized for some of the better pre-decimal notes (such as a fewer of the rarer KGV 10/- and £1 notes in really high grade) reached 70%–75% of their respective catalogue values puts the clearance rate into perspective.
There wasn't much in the way of gold coins in this sale, so I don't believe much credence can be given to the results obtained here. There were about a dozen or so lots in the coin "rarities" sections, ranging from several Dumps, a Port Phillip pattern, to 8 different pre decimal specimen / proof lots. Half of these lots sold, unfortunately the prices realized were softer than we've seen in some time. With the entrance of former customers of the Rare Coin Company as vendors of these coins for the first time since they were released from secure storage in January 2014, I had thought this auction was always going to be the first test for this section of the market. As "only" half of the proofs here sold, we may not have yet found the price level these coins will settle at.
There were 103 pre-decimal coins in this auction, however there probably weren't huge pockets of unexpected value to be found. A notable lot was a 1934 threepence that had been PCGS graded as MS67 - equal to the finest grade attributed to any Australian pre-decimal coin. The 1934 threepence has a current McDonald "book" value in Gem Uncirculated condition of $1,300. The price realized for this coin however was (wait for it) no less than $13,833 including the buyer's premium. If you still don't see the merit in having truly high grade pre-decimal coins independently graded by PCGS, I don't know what will bring that about!
The clearance rate for the QEII pre-decimal proof coins in this sale was high as always, there weren't many PCGS graded coins included, however they pretty much all sold. There were a number of quite exotic error and variety coins in this sale - they made pretty strong prices, exceeding the expectations of even those buyers that track this market pretty closely.
While the overall result of the sale won't set it among the highest-turnover sales ever conducted by IAG, there were enough positive signs in this sale to keep me believing that our market is slowing sorting itself our after the tumult and distress of the past 18 months.
---
---