IAG Auction 80 Preview - September 2014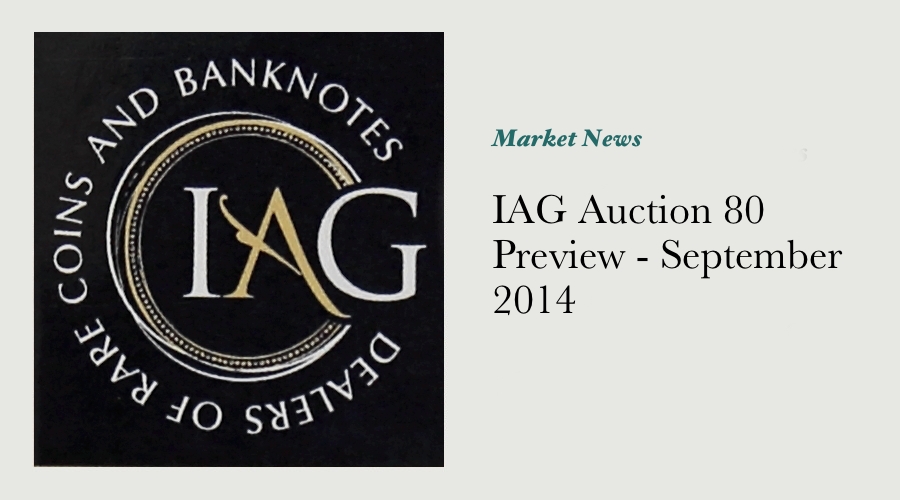 The first section of the IAG catalogue includes a range of affordable world, proclamation and pre-decimal coins, always good to set the atmosphere in the room. It moves onto an area of the market that everyone is keen to see some action in, Pre-Federation notes.
This is an area of the market that has taken a beating in recent years, what with two liquidations at the top end of the market, and the consequent fall out.
The prefed notes in the Noble sale I thought were stronger than expected - the clearance rate was far higher than in prior months, and prices were (slightly) higher than in recent months also.
Paul's been able to obtain a good range of circulated, specimen and proof notes for this sale, and it looks like the estimates were set before the Noble sale, as they remain quite affordable.
I said in my review of Noble 106 that the next test of the market will tell whether we've lifted off the bottom, or if that sale was just a "dead cat bounce". The prefed notes here are all priced to sell, if youv'e had an interest in these in the past but have just thought the prices were far too high, now could be a good time to test the waters.
The predecimal notes in this sale are varied, many appear to be in superb condition. Prices in this segment of the market haven't exactly risen, however the market sure is firming up. I'll be reviewing them keenly for any potential purchases for sure. There is also a good range of starnotes, errors and special frefix notes, both decimal and pre-decimal - these are always popular.
There is an interesting mix of British coins in this sale - hammered and milled, gold and silver, raw and PCGS-graded. Some fantastic items among them, I don't doubt there will be international interest in some of them.
There is a nice range of world & Australian gold coins, the estimates seem to be in line with where they'll sell, so that section should be active.
There is a Holey Dollar that looks to be "on the market", reasonably worn, but desirable in any grade of course. The 2 dumps in this sale are reasonably worn, however the estimates seem to take that into account.
I'm surprised at the strength of the estimates in the (pre 55) pre-decimal proof section, they are strong indeed. The coins all appear to be great quality however, any interest will have to be strong in order to seal the deal.
The pre-decimal coin section is deep - lots of variety again, with raw and PCGS-graded coins available, halfpennies to crowns. I don't think we'll see any record prices here, however a condition rarity could well be among them…
There are a number of historic medallions included as well - this is an are of the market that IAG hasn't been deep in until recently, however rare and historic items are always neat, it'll be interesting to see how these fare.
If we can see the same interest that was shown in Sydney, things could just well be looking up.
---
---