IAG Auction 84 - Active in the Sunshine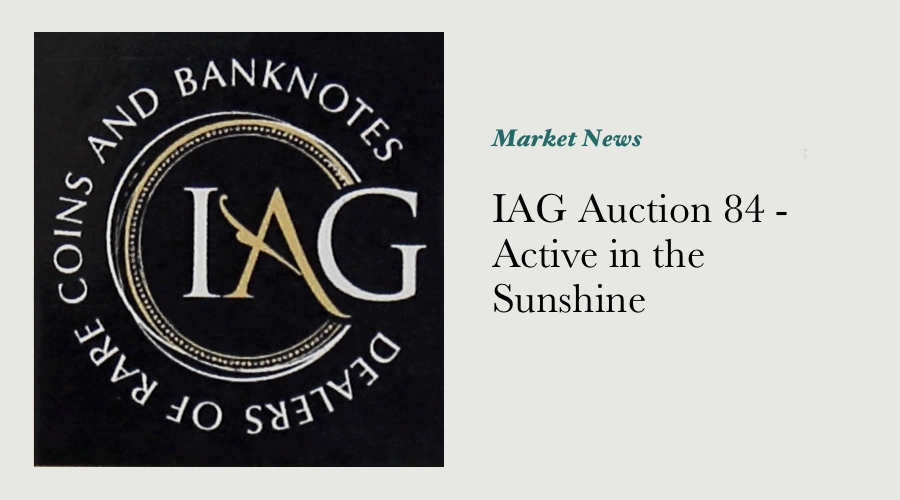 The trip I made to the Gold Coast a few weeks back sure wasn't a tough one - Perth was cold and wet, yet it was a sunny 26 degrees in Broadbeach! Aside from the sunshine, IAG auction 84 was extremely active.
Although the total turnover was less than a million dollars, that reflects a trend to smaller but more frequent sales these days. At around 81%, the clearance rate was solid, as good as can and should be expected from an auction held at any stage of the market cycle.
The first thing I noticed when the sale kicked off was that there were more bidders in the room than there were for the last sale - that wasn't a high mark to get over, but was a positive sign nonetheless!
The early section of the auction contained foreign, proclamation and inexpensive pre-decimal coins, and each of these sections was quite active.
Australian Banknotes - Incredibly Strong in Patches
The first lot to generate some real excitement was a NSW Police Fund pair - an incredibly rare and historic item. These notes date to the period of the Holey Dollar, and was issued by what is effectively our nation's first colonial treasury. Very few examples of the Police Fund's circulating currency are known, so this pair was always going to be in demand.
The last time this pair turned up was in April 2011, where it made $32,000 hammer. This time round it made $28,000 hammer to a phone bidder - a drop no doubt, however nowhere hear as big a drop as we've seen in other areas of the market.
The next strong price was $28,000 hammer to a matched trio of pre-federation specimen notes (£1, £5 and £10), each printed for the National Bank of Australasia, ready for issue in Perth. Although we've seen a few more £1 and £5 specimens from this bank and domicile over the past few years, there has only ever been 4 £10 specimens sighted. The strong result here showed that the £10 is the key to this set, and that it doesn't take much to shift collector sentiment at all, even in a relatively quiet market such as we're in at present. Just when the next NBA Perth £10 note will be offered is anyone's guess!
The next item to really draw some attention was lot 184 - a consecutive pair of 1918 £1 notes (Renniks R#21) in about Unc / Unc condition - basically, this pair was pretty much as good as they come in terms of quality. As far as I know, this is one of around 3 pairs of this note known, and far exceeds the other two known pairs when it comes to quality. Although I've sold many pairs of notes over the years (mainly paper and polymer notes), I've never really seen pre-decimal notes bring a premium at auction over and above what we'd expect to see from the equivalent single notes.
That said, we haven't seen a comparable single R#21 in a number of years - the last I recall was in June 2011. Five years passing between auction appearances shows that although prices might have eased in the pre-decimal note market in recent years, they sure aren't getting any less rare.
The single note in June 2011 made $36,115 nett, whereas this pair of notes made $102,555 nett - a 40% premium. I believe it really was incredible to see such a strong premium for this pair at a time when the rest of the market has eased, which shows just how desirable this pair was to more than a few dedicated and well-funded collectors.
Despite these incredibly strong results, not all of the high value pre-decimal notes sold - a number of others were passed in without so much as a murmur. The last pre-decimal note that drew out some competitive bidding was a £5 star replacement note that had a "million" serial number that had been hand-stamped in. Items like this aren't the first notes that collectors gravitate towards, however they definitely grab the attention of collectors that have long been in the market, and are attracted to interesting and unusual items. This particular note is thought to be the only pre-decimal star replacement note with a serial number like this, and was keenly contested as a result. It made a nett price just shy of $37,000.
Activity for the paper and polymer decimal notes was par for the course, however there was a very strong result for a 1995 specimen $5 polymer note - one of just 2 examples of this specimen that have been sighted. This note made $31,005 nett, which is not far from what some of the pre-decimal specimen notes have been bringing in recent sales! The recoloured $5 specimen is arguably Australia's rarest decimal specimen note, which explains the price.
A Historic South African Gold Coin
One of the more unusual items in this sale was a "Veld Pond", an incredibly historic gold coin from South Africa dating to the Boer War. Only 650 were struck in a mint that was actually established on the battlefields where the Boers were fighting the British, making the Veld Pond an incredibly exciting and historic coin to own. They are seldom seen at auctions in Australia, perhaps once every few years or so. This particular coin made around $18,500 nett, a figure in line with sales of comparable coins around the world in recent years.
That same level of interest didn't extend right across the Australian gold coins however - activity in the shallow end of the pool was as expected (quite active for coins that were conservatively graded and priced), whereas the more valuable coins were left alone if they weren't bargains.
Pre-Decimal Proof Coins - Prices Unseen Since the Late 1990's
Two of the three kookaburra pennies in this sale were sold, which was a great result. The vendors would have been keenly aware that the prices they made were rather tame however - we have to go back to the late 1990's before we see prices at auction as cheap as these. Still, that is the way market cycles work.
The pre-decimal proof coins that followed shortly after were largely the same, the coins were quite rare, and although they weren't PCGS-graded, they weren't all impaired or unattractive. Prices for them were very weak indeed, some were ridiculously cheap. The winning bidders would quite rightly contend of course that if we thought they were so cheap, why didn't we bid on them?
A Deuce of the First Paper Decimal Notes Issued Into Circulation
The last significant auction results were for a $1 and $2 note from 1966 that had unusual serial numbers. Anyone without deep knowledge of the way in which decimal notes were printed would have simply thought these notes had interesting, but not incredible serials - each was numbered 000001. There was plenty of bidding activity on the notes via the internet before the auction started, most folks in the room put that interest down to those kooky error and variety note collectors, who are a law unto themselves in many ways. It wasn't until after the sale had ended that the reason for their keen interest emerged - these notes had been taken from the very first sheets of paper decimal notes issued into circulation. The interesting thing was that despite the very low serial numbers, the serial prefixes didn't immediately highlight the importance that these notes had.
So all up, IAG Auction 84 was quite active, and is a clear indication that vendors are finally realising that items need to be priced in line with the current market if they are to sell.
---
---