IAG Auction 87 - A Solid Result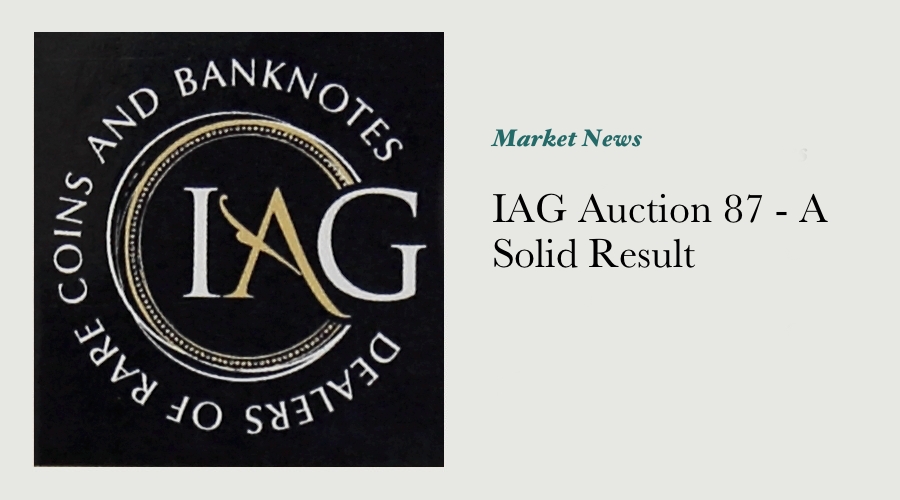 IAG auctions in recent years are often half done before the first lot is offered - dozens of bidders have lodged many hundreds of bids, meaning the vast majority of the sale can be "covered" long before the doors are opened to the auction room.
It may be however that the bidders who make the effort to attend are either more committed with their bids or get caught up in the heady atmosphere of the event, because despite the strong foundation laid by the internet bidders in this most recent auction, the room and phone bidders still made their presence felt.
Here are the headline numbers for IAG 87, and although the clearance rate might be a touch on the light side, that isn't without explanation as we'll see. The relatively high average lot value shows there was confidence in certain sections of the market on the day.
| | | | |
| --- | --- | --- | --- |
| IAG 87 Results | Nett Turnover | # Sold | # Above $10k |
| Total | $773,050.56 | 644 | 8 |
| Lots offered | | 830 | |
| Clearance Rate | | 77.59% | |
| Average Lot Value | | $983.93 | |
The 8 lots that had a hammer price more than $10,000 were:
| | | | |
| --- | --- | --- | --- |
| Lot # | Item | Hammer | Nett |
| 177 | R19 Superscribed £1 Fine | $16,000 | $19,520 |
| 178 | 1915 Rainbow £1 good Fine | $12,000 | $14,640 |
| 180 | 1923 Miller Collins £1 R22bL Very Good | $11,300 | $13,786 |
| 400 | 1966 Type I Specimen Set of Banknotes | $27,500 | $33,550 |
| 401 | 1992 ~ 1996 1st Generation Specimen Set of Banknotes | $37,500 | $45,750 |
| 499 | 1935 Proof Penny | $14,000 | $17,080 |
| 550 | 1933 Shilling PCGS MS65 | $18,000 | $21,960 |
| 652 | 1949 Five Pounds Coombs / Watt R#47M 1000000 Serials good Very Fine | $13,500 | $16,470 |
The sale opened briskly with the world coins, the prices made for the German New Guinea coins in particular were stronger than I've seen comparable coins make at auction internationally. The proclamation coins that followed were similarly active - a low clearance rate wasn't a concern at all in this section.
The next series were the predecimal coins that were both affordable and mid-range when it comes to quality. There were no particularly remarkable results there, they were in line with what similar coins are currently making elsewhere.
The stakes were raised with the next section of pre-federation banknotes. This was a broad offering of 24 different notes - a good mix of proofs, specimens and issued notes. 13 of these notes sold, which I'd suggest is a positive result, even though it's lower than you'd think for an effective session. A number of the lots that were passed in had reserves higher than what I thought the items warranted, which indicates that although this area of the market is finding some traction, buyers are only comfortable when staying with values at the lower end of their current range.
Pre-Decimal Banknotes - Patchy With Sections of Strength
Results for the pre-decimal notes that followed looked good but were patchy - it was very positive to see some historic and rare (and valuable) notes get away however. Although not all of those more valuable items got away, that can happen in an auction in any stage of the market. The clearance rate of around 67% for the pre-decimal notes reflected a good level of active interest from discerning collectors. Check the list of high value lots above and you can see the historic Superscribed R19, as well as the Rainbow pound both went to new owners. The result for the R22bL showed that one of these hadn't been seen for a while - it was fought over by more than a few keen collectors.
Australian gold sovereigns and halves followed, and this is where the sell-through rate lifted. There weren't any particularly spectacular items here, not for quality; history or rarity, however 80% of those offered got away. Results for the better Commonwealth coins that followed eased off, confirming that this is now a tough area of the market for vendors. As the first generation of Australian collectors attacked their PCGS registry sets with gusto, values for Australian pre-decimal coins have been incredibly strong over the past 5 years or so. This activity appears to have settled to sustainable levels, and values now largely reflect the number of new collectors entering the market, as well as the number of collectors retiring.
Make no mistake, where the grade of a coin reflected a rarity that forced collectors to compete up to the retail value for a coin (or higher), that's exactly what happened. The fact is however there are far fewer coins these days that have those characteristics in the current market.
The results for the pre-decimal proof coins showed just how tough this area of the market is at the moment. Just 55% of the coins offered up here got away, which shows they had to be either top quality or dirt cheap for someone to get in and consider buying them. I can see the lesser coins here plumbing new lows in the months ahead as a result, as that is the only way the backlog of unsold inventory can get away.
The paper and polymer decimal notes were really active across the board - first and last prefixes, sets, NPA products and regular ol' notes were all popular with bidders. As always, the error and variety sections were both heavily contested - more than a few items made prices that were more than a few thousand dollars apiece.
Wer all know from our own lives that some (most!) days in the office are unspectacular - we get good work done without incident or fanfare, and that was exactly how it went down at IAG 87.
---
---