IAG Auction 88 Review - Just Shy of a Million Sold In Short Order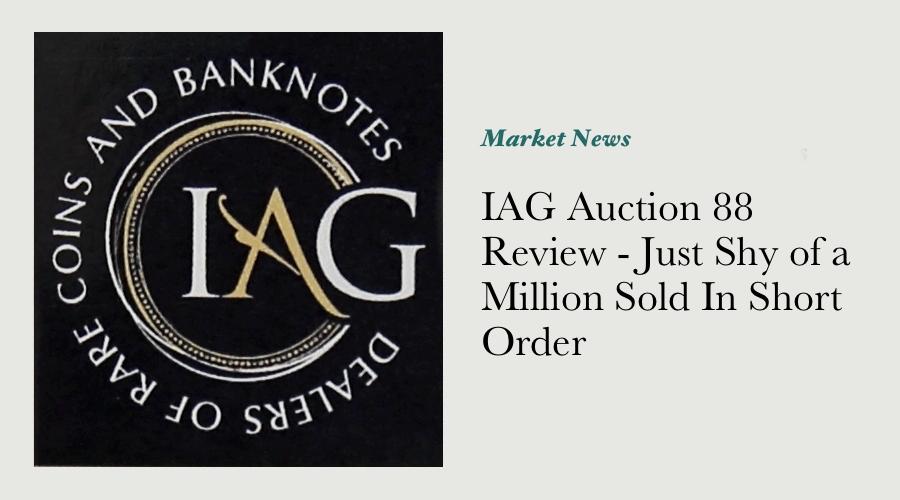 It's been a few weeks now since IAG held their 88th auction on the Gold Coast - as our headline above indicates, it was a short and productive affair.
Unlike some auctions that literally run for the better part of a week, from 9 in the morning until 10 at night, IAG's auctions are conducted over a far more civilised timeframe. 4 1/2 to 5 hours across a Sunday afternoon in the QLD sunshine is a lot easier to cope with than a full day's work after battling the Sydney traffic.
This particular IAG auction was solid, without being robust. Here's the tale of the tape:
| | | | |
| --- | --- | --- | --- |
| | TURNOVER | # SOLD | # ABOVE $10K |
| TOTAL | $748,314 | 651 | 5 |
| Inc BP | $912,943 | | |
| Clearance Rate | | 77.50% | |
| Average Lot Value | | $1,149.48 | |
Those numbers show that the activity at Broadbeach was pretty solid, with some decent money changing hands - the average lot value was quite a bit higher than a lot of other auctions in recent years also. It's interesting to note that figure wasn't particularly skewed by a large number of really high value sales, as the 5 lots below were those that made a hammer price greater than $10,000:
| | | | |
| --- | --- | --- | --- |
| Lot # | Item | Hammer | Nett |
| 205 | 1936 10/- Specimen Note | $30,000 | $36,600 |
| 207 | 1918 £5 Specimen Note | $35,000 | $42,700 |
| 208 | 1913 £20 Colour Trial Note | $40,000 | $48,800 |
| 439 | 1813 NSW Holey Dollar - Very Good | $70,000 | $85,400 |
| 443 | 1893 Melbourne Proof Half Soveriegn | $60,000 | $73,200 |
Pre-decimal specimen notes have certainly come back from the heady days of a decade ago, but those that are getting away seem to be settling into an established range at the moment - the 3 sales listed above via IAG are evidence of that. It was good to see some healthy interest in the Holey Dollar, there was a bit of bidding competition on the proof gold half sovereign as well which is pleasing given the history and incredible rarity coins like that have.
Section by section, this is how the sale unfolded. World coins are always the first cab off the rank in an IAG sale, there was some good bidding competition in this sale for the items listed. I get across the values outside Australia for as many of these items as I can before the sale, to see what the level of interest and liquidity is relative to the catalogue values, and can say that the prices achieved for the world coins in this IAG auction were pretty healthy compared to what they bring overseas. This has a lot to do with convenience and accessibility - I know that if I see an attractive world coin in a local auction I'll have a tilt at it, however I won't necessarily chase it via an overseas auction unless I have to.
There weren't too many proclamation coins in this sale, so it wasn't unusual to see them all sell in line with their estimates. A lot of puff has come out of the market for Australian pre-decimal coins in recent months - the activity at IAG reflected that also. Buyers are happy to participate, they just want value for money is all.
The pre-federation note session was quite startling - I can't recall the last time an auction session for these notes had a 100% clearance rate, so this was quite remarkable in the face of the disinterest of years past. Make no mistake, prices weren't solid however it seems that more than a few collectors see value in this area of the market, which is great to see. Following on from the activity in the Caldwell Collection handled by Noble Numismatics a few months back, this activity bodes well for this area of the market.
The market for pre-decimal notes does appear patchy at present - I know from our own sales that there is a growing number of collectors keen to build solid collections in this area of the market, however as they have quite specific interests with respect to quality and / or era, things can appear quiet if the right material isn't on offer. Sales of the pre-decimal notes via IAG 88 were in line with expectations, so we're still proceeding as we have been across 2018.
The British coins (silver and gold) that followed were quite active also - this is another area that people buy in because simply they like them - they don't have an eye on every tick of the barometer of the market, which ironically means that the market moves along quite nicely thank you. There were some strong prices paid for the more valuable coins consigned - scarcer crowns and the higher denomination gold coins. Some had been PCGS graded, which increased their liquidity if the clearance rate is any guide.
There weren't too many pre-decimal star notes in this sale to draw any major conclusions, ditto with the paper decimal stars. After doing so well earlier in the year, the reality is that paper and polymer decimal specimen notes continue to be soft via auction at present. 5 of the 8 notes offered were sold which was great, however the bidding on offer was really only evident below the estimated prices, and vanished once higher price levels were reached. It was great to see a good cross-section of interest in the polymer trial / test / concept notes.
The Australian gold coins that followed after the world gold coins were also within range. The PCGS-graded coins certainly seemed to sell more often (all things being equal), which is an ongoing trend for this market. Some of the prices made were at retail levels, others were just in line with the underlying metal market.
Error notes were solid as always via IAG, the more unusual errors had no trouble at all bringing decent prices.
The sale then stepped up a notch with the Holey Dollars and Dumps. The Dumps ticked over (2/3 sold), while the cheaper Holey Dollar brought what I thought was a very strong price indeed. The hammer price didn't make the low estimate, however it did sell for more than what comparable coins have made in recent years, that is certain. The better of the two Holey Dollars really was an exceptional example - the host coin had been sharply struck and retained great details, which the counterstamps were still also very sharp. As described, it is easily amongst the finest known examples of our nation's first coins, however the half a million dollar estimate meant that the crowd of admirers didn't yield an active bidder. The Adelaide Pounds that followed weren't particularly strong. The second Adelaide Pound was again one of the finest known examples (if not the finest known), with a pedigree that is acknowledged for rarity and collector interest over an extended period of time.
The $400,000 pre-sale estimate again stopped a lot of those that saw the coin and were delighted with it from raising their card. The proof half sovereign that followed had plenty of interest - bidding ran from $45,000 to $60,000 in a short space of time, which is a result consistent with others offered in recent years. The copper proofs that followed were not as popular however, despite the fair pre-sale estimates, they were left alone.
The next section of the sale contained the "better" (higher value) pre-decimal copper and silver coins, many of them PCGS graded. It's clear to see from the clearance rate and the prices realised that this are of the market is down on where it was just a few years back. Sit in the room for a session of these items and you can clearly see there are still quite a number of collectors that are active, it just seems to be the more cashed-up ones are more selective than they were a few years back, and there isn't enough competition to push the rest higher than they're prepared to go. This is an area of the market that offers real value to collectors that are happy with the items that they're able to get. There were a couple of less expensive pre-decimal proofs that were offered next, and again the prices achieved showed that the market for most of these coins remains tepid on at best.
It was great to see what I believe was the biggest or most comprehensive collection of Internment tokens offered up next. This is an area that most of us are exposed to in fits and starts, so to see a large range of tokens offered at once was quite rare. Values in the main were pretty consistent with recent auction results, and showed this is an area that collectors are quite happy to remain active in, regardless of what is happening elsewhere.
The error coins that followed seemed to be a little more subdued than they have been in previous sales, no doubt largely due to the items on offer. I had to sit on my hands when the double-sided penny was offered up - as one of only 2 genuine examples in private hands, it had to be cheap at $5,000! Relatively speaking, there are many more double-sided decimal coins of all denominations that bring close to that.
The sale wrapped up pretty quickly after the miscellaneous lots that followed, and I believe all in all it was a positive sale. Sure, there were no record prices and no queues out the door, but they aren't the times we're trading in at the moment. If we reflect just on the overall clearance rate and the average lot value, I'd have to say that our market is ticking along well at present.
We'll need to keep an eye on the results in the Roxbury, Downie and Status auctions in the days and weeks to come to see if these positive signs are built on.
---
---