IAG Numismatic Auction 83 Results - 10 People in the Room, 708 People on the Internet!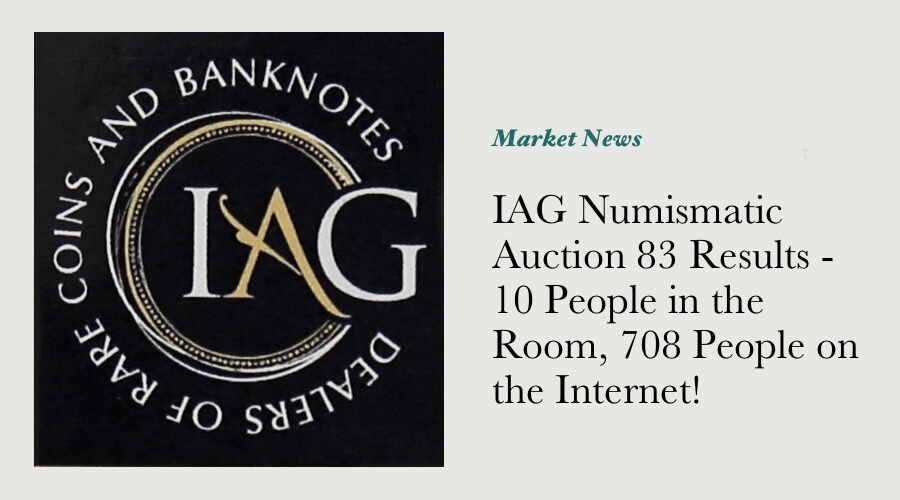 The 83rd IAG auction was far more approachable than the last Noble sale I can tell you - viewing could be achieved in the space of a few hours (as opposed to a few days for Noble's), and the whole auction ran over about 3 and a half hours. Short and sweet!
IAG's auctions have been some of the biggest and most exciting held in our industry - lots of rare, valuable and historic items, packed rooms and an enjoyable atmosphere.
It could well be that those were "the good old days", not just because many numismatic auctions are more boutique affairs these days, but because the way that many collectors prefer to buy has changed significantly also.
Anyone active in the numismatic market knows that not only has online bidding become a part of numismatic auctions in recent years, but also that the online bidding is often completely overshadowing the activity in the actual auction room.
Nowhere has that been more evident than it was at the IAG 83 auction.
To give you an idea of the rate at which online bidding has been taken up by many collectors, there were only 10 people in the auction room when lot 1 was offered up (not counting auction staff). It would have been nothing to see 50-60 people in the room of an IAG auction 5 years or so ago. Before you think that the whole sale was an unmitigated disaster, I should point out that 706 bidders had registered for the auction, and 98 of those bidders had lodged successful pre-auction bids before the action in the room started.
Put those bidders in the room with the 10 hardy souls that made their way to the Gold Coast (like that's an onerous journey to make!), and we have a vastly different visual impression of the level of interest in the auction.
The way an auction in this format pans out is also rather different to the way they used to before the inter webs got involved - the auctioneer will open the bidding at the highest pre-sale bid, which can come as a shock as we'll see, and all of the pre-sale bids are executed by the auctioneer or a member of staff.
In IAG's case, the bidder number the auction staff used was number 1, which meant that the call of the auction sounded something like a bookie calling out the odds for horse race in the bush - "$180 to 1", $4,000 to 1", "$1,600 to 28", "$800 to 1", and so on.
Entire pages of lots in the auction catalogue sold to different internet bidders, each of them falling under the umbrella of bidder number 1.
Three Australian Numismatic Auction Records
There were a couple of auction records achieved this way - two lots that come to mind are the trio of 1961 ten shilling star replacement notes in Uncirculated condition - these notes have been making either side of about $10,000 when they've turned up in this condition in recent years. Despite that, more than a few bidders were keen on getting them as a (perhaps unique) consecutive trio, and the online bidding pushed the hammer price up to a hefty $50,000 ($59,625 nett)! A result like that should remind us all that comments such as "there's no money in the upper end of the Australian banknote market" simply aren't correct.
The other stunning result in this sale was lot 717 - a double-headed 1977 50 cent coin, again apparently unique in private hands. This coin had a pre-sale estimate of $4,000, yet was eventually knocked down for no less than $26,500 ($31,601 nett). This is quite an important coin for Australian decimal error collectors apparently - I understand it is regarded as being the coin that started the market for Australian decimal errors and varieties, which explains why at least 2 collectors wanted it as the cornerstone of their collections of Australian decimal coins.
Another strong result at lower price level was for the British Indian "Star" pagoda, which made a hammer price of $600 ($715 nett). Proclamation coins are an evergreen area of Australian numismatics, in that they remain popular regardless of the economic cycle, and don't seem to be subject to the vagaries of the broader market. There are several varieties of this particular coin that many Australian collectors aren't aware of - there are at least two different obverse variations (as relates to the pellets around the star), ditto with the reverse (as relates to the length of the deity's torso that is visible). This example didn't appear to be a rare variety, so was most likely bought by a collector sick of waiting for one at a cheaper price!
Pre-Federation and Pre-Decimal Banknotes
The rest of the auction was a little hit and miss, and reflects the state of the broader market. The cheaper Australian pre-decimal coins were covered reasonably well by the internet bidders, as were a number of the pre-federation banknotes that followed them. The clearance rate for the pre-federation notes wasn't 100%, but at the same time showed that there is a range of interest returning to this series, a healthy sign for the future. The same could be said for the pre-decimal notes - there was a range of interest, even if prices weren't great. The £100 note was passed in at a price modest relative to where these notes have traded previously, however the notation on the reverse may have killed any potential interest in this high value denomination. The good news is that the two pre-decimal specimen notes both sold. The not so good news for owners of comparable notes is that they made between $30,000 and $43,000. That is literally a fraction of what some folks paid for these in the crazy Rare Coin Company boom days, however it is in line with the most recent auction sales for comparable notes - the last of these notes to sell (as opposed to simply being offered) was in London in December 2012, those notes made prices very similar to these.
For some reason there was little interest in the English coins, indicating that the estimates and or reserves were a little on the high side for what the coins were. There was some strong bidding activity when a few potential buyers crossed swords on items they thought were under-graded, undervalued or both, which shows that this is normally a popular area! The star replacement notes were again patchy, showing that collectors really are price and condition sensitive in this area of the market. The decimal specimen notes were soft again - some of the notes were passed in at levels they should have easily sold at, however we don't always live in a world of logic!
The Australian gold coins were active, with the strongest price paid for the 1880 Sydney Shield reverse sovereign with the C/O legend error in NGC MS62. It made $13,117 nett. I was amazed to see the 1887 Sydney Jubilee sovereign graded PCGS MS62 passed in for $4,000 - that is an incredibly tough coin to get in mint state, and is surely worth more than that!
Pre-Decimal Proofs, PCGS Graded Pre-Decimal Coins
Action in the Australian decimal notes was at par, ditto with the rarer Australian coins. Although it wasn't the most attractive Kookaburra penny to be offered in recent years, the Type 6 is incredibly rare, and was passed in at $23,000. The 1930 penny made a solid price, as did a really attractive 1938 proof penny. The other predecimal proofs were soft, indicating that collectors in this area of the market are also price and value sensitive!
There was a great range of PCGS-graded Australian predecimal coins in this sale - many, many attractive coins. I don't know that the auctioneer could have done much more to open them up to bidding, they were priced right given the market, and advertised well. News that a major collection of pre-decimal coins were to be offered for sale at the next Noble auction sucked some oxygen out of the market for these coins, which explains the relatively limited interest in them.
I wondered aloud whether this market was finally returning to the levels we saw before the PCGS standard was adopted, and a few experienced observers commented that it could well be. It is entirely normal for there to be different phases of interest when an entirely new technology is introduced to a market, the "late majority" of registry set collectors that are entering the market now certainly are getting value for money relative to what these coins were selling for just a few short years ago.
I think IAG will be seen as a turning point in the way numismatic auctions are run in this country - the hybrid model of online and traditional sale is obviously quite hard to execute without sales volume, which means sales will probably be at either end of the technological spectrum - entirely online or entirely offline. Just who moves where and how they fare will be interesting to watch!
---
---