IAG Rare Coin and Banknote Auction 76 September 2012 Summary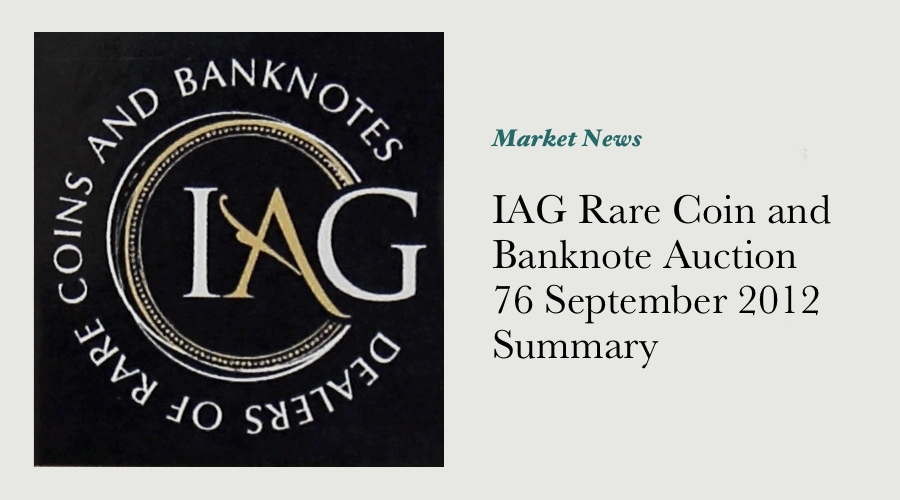 International Auction Galleries held their 76 sale last weekend (Sunday September 2nd), and while I wasn't able to attend, the results show that it was a well-attended sale that had good results across the board.
While the retail market for coins and notes has been keen at lower levels in recent months, results at other auctions for higher-priced items hasn't been as keenly contested. Three out of the four items featured on the cover of this sale sold and sold well, a great result for what some are calling a quiet market.

My notes on the results of the auction are as follows:

Proclamation / Colonial and British coins: As (nearly!) always seems to be the case, collector interest in this series was keen across the board. Collectors active in these areas generally know their stuff pretty well - they' can're confident they can identify value when they see it, and are prepared to pursue good coins when they appear. This was the case for this auction - there were some very strong prices indeed seen.

Pre-decimal coins: Looking at the results for this section, I thought the clearance rate and even the prices achieved were better than I've seen at other auctions in recent months. The market for high-end coins that have been independently graded by PCGS has been strong for some time now, so we shouldn't be surprised when attractive and "condition rarity" coins make strong or record prices. It'd have to be fair to say though that the market for coins that don't quite meet "finest known" levels hasn't been as active. The clearance rate for this section went against that trend, showing that sometimes coins just need to be put in front of the right people for them to sell.
Pre-Federation Banknotes: I suspect that the market for pre-fed notes at present is dominated by a number of very specialised buyers that are only seeking very specific notes to add to their collections. The results here seemed to confirm that.
Pre-Decimal Banknotes: Pre-decimal note buyers are very picky at the moment- an item really needs to be graded and priced quite conservatively if it is in to be in with a shot. That the finest known Cerutty Collins Five Pound (R37a type) got away within cooee of the present catalogue value shows that there is plenty of life in this market yet.
Gold coins: The sovereigns and half-sovereigns in this auction weren't particularly active - this certainly isn't my read of this segment of the market, but it does seem that gold coins and buyers aren't lining up at auction at the moment. Gold buyers know value when they see it, they can be demanding!

Numismatic rarities: It says something that three of the four cover items for this auction sold: the 1855 Silver Pattern Sixpence by Taylor; the 1855 Gold Pattern Shilling by Taylor and the 1915-H Shilling in superb grade. The Taylor patterns are proving to have an enduring appeal to a broad range of collectors - no doubt their enigmatic history, rarity and undeniable beauty has a lot to do with that. The silver Taylor patterns are rare enough, however the gold patterns are another step up again. The successful bidders obviously recognised that these coins seldom appear in condition as nice as these.

From what I can see, the preliminary clearance rate is 88% - 90% at present, which is a great result at the moment. The next auction (Downie's) in Melbourne is perhaps 6 weeks away, the results at IAG have to give us confidence leading into that.
---
---