Krause World Coin Micro Catalogues - Why Weren't These Around Years Ago?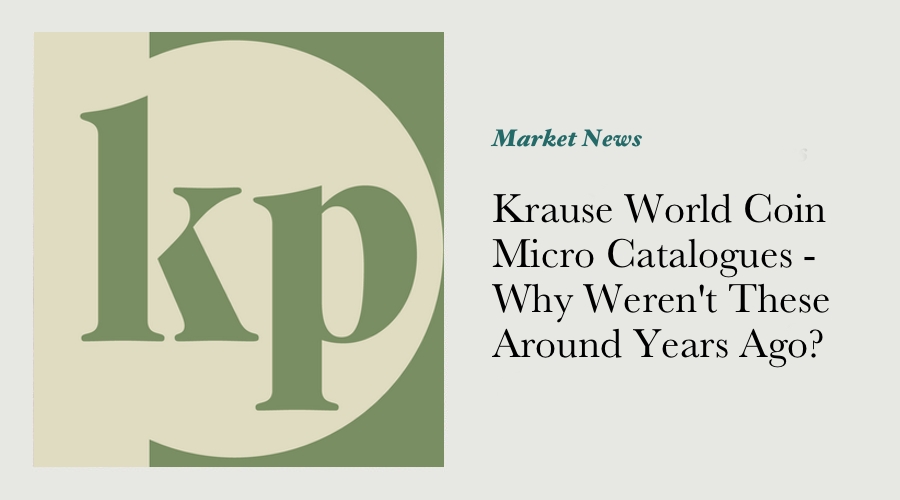 Krause Publications in the US probably publishes more books and magazines on numismatics than any other company in the world, and judging a range of new products on their website, they've just taken price guides for world coins well into the 21st century. They've hit upon the idea of providing digital downloads (ie PDF copies) of price guides to coins from certain regions, the covers look like this:
IMAGE UNAVAILABLE
Any dealers or collector that's handled world coins at any stage in the past few decades will be well acquainted with the Krause Standard Catalogs for World Coins - they really are the definitive guide to world coins, are an excellent reference but have one modest drawback - they weigh a ton!
I can attest to this as I used to take three copies of them (1701-1800; 1801-1900 and 1901-2000) to each interstate coin show I attended.One of the worst moments of my professional career was when checking in at Perth Domestic Airport (of all places) to head back to Sydney after an ANDA Fair - the suitcase containing said catalogues was somewhat overweight (these books alone probably weighed 8kg in total), so the checkin staff requested that I redistribute some of the weight into my suit bag. I then had to open the case in front of the entire Qantas Club queue, books and jocks falling out all over the place, so I could somehow get a 3kg square book into a suit bag designed to carry relatively flat sections of fabric. Needless to say, that was the last time I carted these blasted catalogues interstate!
The new Krause guides are an interesting development, I'm intrigued to see how successful they are. Specialized price guides for individual countries are generally preferred by collectors becuase the figures they contain are the most accurate available, while the generalist catalogues are preferred for their convenience. I'd suggest that Krause will sell a certain number of these guides to impulse purchasers, and a certain number to novice collectors. If they really want to dominate the world market for specialized catalogues, they'll need to improve the quality of the data their guides contain.
---
---