Late 2018 Auction Roundup - Roxbury 101, Status 346 and Downie 329 - 3 Sales in 3 Cities in 4 Weeks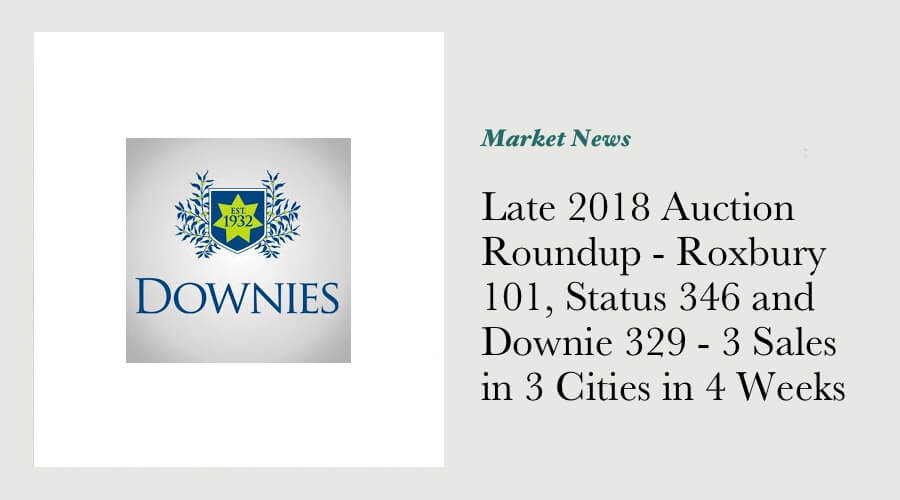 The Australian numismatic community has a month of strong activity kicking off today - Roxbury's are having their 101st auction in Brisbane as I type this; Status International will conduct auction 346 at their new premises in Sydney next Friday, which will be followed by the ANDA Money Expo at the Sydney Lower Town Hall the Friday after. The Monday after that, Downie's hold their auction 329 in suburban Melbourne - I wonder how many dealers or collectors will chalk up each of those 4 events on their calendar?
Roxbury 101 - October 13th 2018
This is the first Roxbury auction that I will have missed in as long a time as I can remember - in perhaps close to a decade. Time is at a premium for us all at the moment, and with a few other projects going on, I'll need to leave the bargains on offer to those that call Brisbane closer to home.
Roxbury's tend to fly under the radar for a lot of collectors - I've long not been able to understand how some items can bring significantly more in one part of Australia than another, whether it has to do with more collectors for a particular type of item being concentrated in one city over another, I just don't know.
Roxbury's always have a broad range of material available, and within that there can generally be found a few truly scarce and interesting items.
Their 101st sale opens with the type of material that's popular the nation over - inexpensive numismatic items of every stripe. There are a number of pre-decimal coins that have been hand-rolled into bank rolls - I think I can recognise the (distinctive) hand writing by the dealer that would have prepared them decades ago, so it'll be interesting to see how they fare. The pre-decimal copper and silver appears to be largely raw and in line with the material seen around the traps. There do seem to be a few scarcer varieties, as well as some that will prove to be good buying if the grades are right, so there'll be some activity across them I'm quite sure of it.
It's interesting to see a relatively healthy number of world coin errors in this sale - they're not in really strong demand in Australia, however could prove to be cheap to those that are getting into the error or variety market. The regular world and British coins that follow on look to be really well priced, so I expect there to be plenty of participation in that section also.
New Zealand specimen notes had a truly strong run in prices leading up to the zenith of the GFC, however have since come back to earth quite solidly. Although these notes are just as rare and historic as specimens from any other part of the world, the overall demand for notes from New Zealand really isn't strong, so prices continue to be soft relative to where they were at. The remaining world notes look to have some interesting items in amongst them (some from North Korea for those that like to collect on a topical basis).
The Australian gold coins on offer will need to be picked over, as the liquidity these days is really in PCGS graded material, as we've seen in the most recent auctions elsewhere. I expect there to be a few gems in this batch, however I can see the rest of them being hard work.
As the font cover indicates, there are a number of top-level rarities in this sale, both coins and notes. These rarities do seem to be items that have either appeared in recent Roxbury sales and are being offered again, or are similar to those that are offered elsewhere and have been unsold. Auction estimates are a notoriously poor guide to just what an item will bring on the day, so while some will sit back and say these items will never sell at those prices, I bet there will be at least one potential buyer in the room just on the off chance that the reserves have been adjusted to meet the market.
The paper and polymer decimal specimen notes all appear to have been estimated in line with the market they've enjoyed in recent months, as do the pre-federation notes. Both of these areas have been active at a price in recent months, so there's no reason at all why they can't sell in Brisbane today. The issued pre-decimal notes that follow will need to be picked over by the dedicated few if any treasures are to be unearthed.
It really is the final series of lots that I believe showed the greatest promise - the paper decimal star notes. These notes are extremely rare relative to the standard notes they replaced, and bring many thousands of dollars in truly mint condition. Some of the pre-sale estimates appear to have a zero missing from them if the grades are to be taken as accurate, so this selfish absent bidder hopes they aren't the deal of a decade that I miss out on! I'll know in a few short hours whether that was the case or not, and will fill you in when we review the results in a month's time.
Status International - October 19th 2018
Anyone considering the next Status Auction really has no grounds to complain about the volume on offer - 4,183 lots places this as one of the largest on the 2018 calendar. Unlike Noble Numismatics however, Status International gets squared away in an afternoon - so you don't blink or you'll literally miss out!
The early section of this auction is highlighted by an intact bundle of paper $100 notes, which is something I haven't seen before. Bundles have been quite popular in recent years, however the ask price of this lot (understandably) is a lot higher than most due to the face value and rarity that it has, so don't be surprised if it doesn't sell the first time round.
There is the usual array of ex-wreck coins, followed up by a deep range of proclamation and colonial coins. At 75 lots, this makes it one of the largest offerings of this type of coin in any recent auction I can think of, which should appeal to those that are after them. The Australian gold coins that follow all appear to be "raw", that is they haven't been PCGS graded, which will make it hard to move a good percentage of them. Status do post images online, however I'd have to say that if more of the coins had been graded and the auction experience was more accessible to buyers, then I'd be more confident in them selling. That said, dedicated buyers are the ones that traverse such challenges - the more barriers to the rest of us the better they'll say.
The selected Australian pre-decimal coins that follow include 3 1930 pennies and a much rarer 1931 penny with the Dropped 1 reverse and the Indian obverse. The latter will get away, I'm quite confident of that.
The pre-decimal proofs that follow don't appear to be too spectacular, however to each their own, and these coins have as much chance of selling as they would have anywhere else. A huge range of tokens and medallions follows, these will no doubt be picked over by the most dedicated collectors in those areas, just in case the auctioneer has made an error or oversight.
The pre-federation notes include a truly rare NSW Treasury note - perhaps the 3rd example to be seen in the past 12 months, which is remarkable. The estimate looks to be slightly lower than the comparable note had in the last Noble Numismatics sale, which will make it appealing to dedicated collectors in this area.
The pre-decimal notes will need to be picked over by anyone interested in taking a plunge, the number of lots included indicates that may be worthwhile.
I won't be attending the Status auction myself, however with more than 4,000 lots on offer it will have to be worth a visit by the local collectors at least.
Downie's Australian Coin Auctions - October 31st
This sale runs reasonably hot on the heels of Downie sale 328, which was held in late August. The very short turnaround time looks like it may have affected the number of lots on offer, as a few of the sections seem to contain far less material than we've seen in recent Downie sales. I noticed a 2010 Heritage set early on in the decimal lots, which has been a hot and keenly chased item for a few years now. Just 400 of these sets were released, and it contains a proof silver round 50¢ that is particularly important as a type coin, which is one reason this set has had an enduring appeal. Another decimal rarity to follow is a 1968 2¢ without the designer's initials on the reverse - these are very tough to come by with their full red patina.
Several of the popular concept or test notes start the decimal banknote session off, which should prove to be popular if IAG's auction is any guide. After the regular paper and polymer decimal notes, there are no less than 34 different paper decimal star notes - these all appear to be affordable given their grades, so should prove popular.
The next few sections of the world coins, world notes and tradesman's tokens are very light on compared to what we've seen Downie's offer in recent years, so I expect this is one section that was affected by the short turnaround time.
There are a couple of the rare and ever-popular Hay Internment notes offered, I expect them to attract attention. The Australian gold coins really are quite limited in numbers here, certainly compared to the sale we all attended just 6 weeks ago or so. I find it curious that this auction contains a full set of 1934 and 1938 proof coins - each coin PCGS graded and offered in just 2 separate lots. If I check my auction records for the past decade or so, I can see that 1938 proof year sets have turned up from time to time, however the last PCGS-graded set of 1934 proof coins I've seen was in the USA in January 2010, where it made more than A$300,000! Things have changed considerably since then, so we'll see if there are any bargain hunters in Melbourne on the day.
There are a few QEII proof copper coins up next that appear to be worth checking over - lots of colour and decent surfaces to boot. The pre-decimal notes that follow on after that really are quite limited in numbers, however there appears to be a couple of affordable rarities amongst them at least, so the dedicated collector working to a budget will do well to check them over.
So there we have a month's worth of auction activity for you - it's unusual for them to be packed in together, however there must be something in their accounting cycles that sees them scheduled very close to each other.
---
---