Major Australian Token Collection Auctioned in London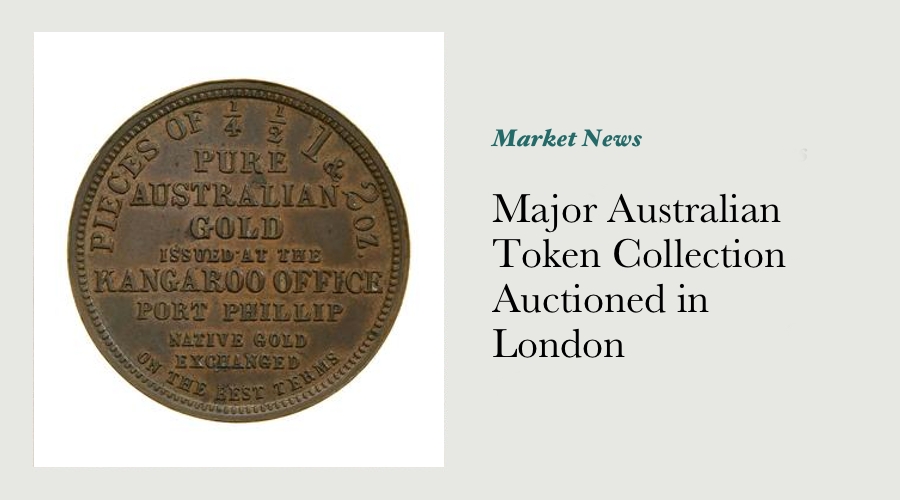 A significant collection of tokens issued by Australian merchants in the 19th century was auctioned by Baldwin & Sons of London in the first week of October, with solid results.
By our calculations the clearance rate was a reassuring 100%, and the total value of the 262 lots sold exceeded A$350,000.
As keenly followed as this sector is, we shouldn't be surprised if tokens auctioned outside Australia don't meet their mark - only a small percentage of collectors have the antenna that allows them to become aware of auctions held internationally, so that would cut down the field of bidders considerably.
It'd be fair to say that the most recent auctions of tradesman's tokens held in Australia in 2011 haven't really set the world on fire when it comes to prices realised or clearance rates, so the result achieved at the Baldwin's auction has to be seen in that context.
The five most valuable tokens sold by Baldwin were as follows: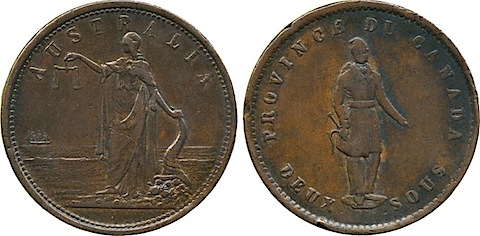 Lot 261 Australia / Canada, Copper Penny Mule, undated, obv reverse of A567, Justice standing, holding scales and cornucopiae, AUSTRALIA above, rev Canadian 2-Sous Token (Breton 528 reverse). This particular token was described by the auctioneer as possibly being "the second of two known". £5,600 hammer = A$10,652 nett.
Lot 95 Hedberg, O. H. (oil & color stores), Hobart, Tasmania, Copper Penny, undated (A 203). £5,200 = A$9,891 nett
Lot 260 Kangaroo Office, Pattern Copper Halfpenny, 1851. £5,200 = A$9,891 nett
Lot: 96 Hedberg, O. H., and Levy, L. (oil & color stores), Hobart, Tasmania, Copper Mule Penny, undated (A 205). £4,600 = A$8,750 nett
Lot 140 Levy, Lipman (shoe maker and importer), Wellington, New Zealand, Pattern Copper Mule Penny, undated (c.1860). £4,200 = A$7,999 nett
I don't regard myself as having an intimate knowledge of values in the Australian token market, particularly at the upper end. Having said that, a brief comparison of the result for lot 260 - $10,000 odd against the $13,890 achieved for a comparable token by Noble in April earlier this year shows that keeping one's eyes peeled far and wide for arbitrage opportunities can sometimes pay solid dividends.
We wouldn't be wise to use this single lot as an indicator of the success of this entire auction, however a 100% clearance rate within cooee of the Australian market for this relatively esoteric field of numismatics does show that Australian numismatic items do enjoy an international market.
---
---