May 2013 Australian Numismatic Roadshow Wrap Up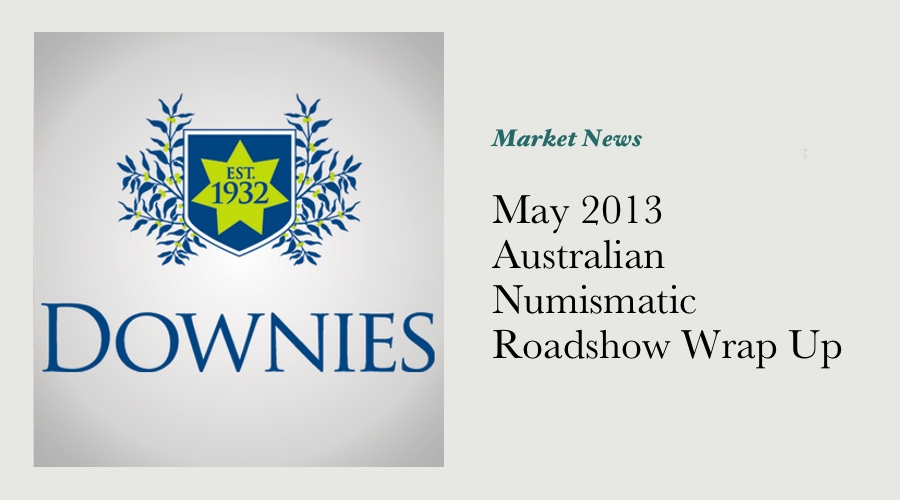 The second last week in May saw a flurry of numismatic activity here in Australia - Status International held their Auction 297 in Sydney; Roxbury's held their Auction 87 in Brisbane, and the 2013 ANDA show was held in Brisbane also.
Results across the board were mixed, although perhaps not altogether suprising given the level of activity in recent auctions, and the material on offer.
Status International - Sale 297
The Status International auction was held on the Wednesday, a fact that should have allowed most dealers and travel-happy collectors time to get their bids in well before the events in Brisbane. That said, attendance at the sale certainly wasn't the biggest I've ever seen it - there were in fact far fewer dealers and even collectors in the room than there has been in recent auctions.
The results were slightly more than $800,000 in turnover, and a clearance rate well south of 50%. A result like this can come down to a number of factors, none of which can be particularly startling. Dealers, the same as collectors, will pick and choose which auctions they attend, based on what they believe is in the auction, and how relevant it is to their area of speciality or interest. It has to be said that the Status auction probably didn't have a huge array of fresh and high-quality material with low reserves, even though there was a lot of good material included.
Even if there is appropriate material in a sale, a lot of dealers and collectors won't bid more than what they believe is good (excellent?) value for money, so if published reserves are on the full side, that can be another reason for them to pass.
That only 12 items in the Status auction sold for more than $5,000 hammer is an indication of the material available, the reserves for those items, and the level of activity in the market at the moment.
So what were the items that did sell for more than $5k at Status? There were two 1930 pennies, some pre-decimal proof coins, one banknote set, three world coins, and a high grade KGV florin. Across the board for the cheaper material, I can tell you that unless it was cheap (and by cheap I mean bargain basement prices), then it was generally left alone. That was the case across the board, and wasn't more evident in one area of the market than another.
Roxbury's Sale 87
Attendance at the Roxbury's auction was certainly greater than at Status - Bob and Jacquie have a very loyal clientele, and they were certainly out on the Friday of that sale.
While the total value of sales via Roxbury's wasn't as great as it was in Sydney at Status, the clearance rate was much, much higher. Interestingly, although a number of the higher value items sold via Roxbury's were the same type of item that sold via Status (pre-decimal proofs, nice florins and solid gold), at least half of them were rare pre-decimal banknotes. This has to be a positive sign for any vendor in the market that is looking to exit any pre-decimal notes.
2013 Brisbane ANDA Show
Sean and I headed to the Brisbane ANDA show on the Saturday morning fresh with our new acquisitions from the auctions, and positive about the weekend ahead. Despite the fact that neither the Perth Mint, nor the Royal Australian Mint, were in attendance with specially-issued show products at this show, the queue waiting to get in at the 10am start time wasn't to be sneezed at.
As usual at an ANDA show, the first few hours were bedlam, and things eased into a steady pace after that. There wasn't anywhere near as many people keen to get in on the Sunday morning, however we were steadily busy until the mid-afternoon.
My observations of the activity at the show, both our own and of the other dealers that were there, was that the lower end of the market continues to be reasonably active. Affordable coins and notes that are well-graded and priced according to the market are moving without trouble. It has to be said that the market at higher levels isn't quite as active however. My personal opinion is that as the dollar value of a numismatic purchase rises, the time and research that a potential buyer is prepared to put into it rises also.
There's no secret that buyers of high-value material at the moment are preferring high-quality items - this is why Commonwealth coins graded as the finest-known by PCGS have been making strong prices, and why other items continue to get away at auction and by private treaty. This is a trend I see continuing for some time to come.
---
---