Noble 121 and Downie's 332 Reviews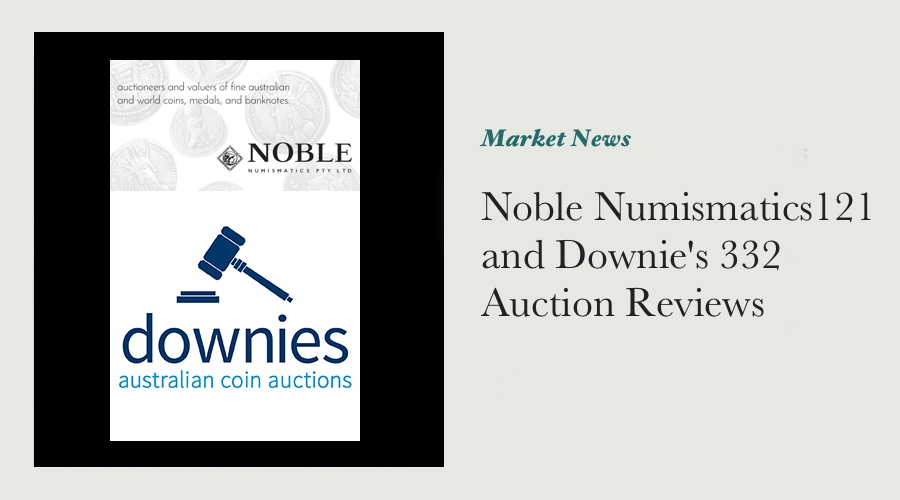 The results of Noble Numismatics sale 121 show that there was activity at both ends - rising metal prices are increasing interest in circulated pre-decimal coins and the decimal commemoratives, while a new record auction price was paid for an Australian banknote issued into circulation.
It's been some time since we could call a record price in the market for Australian banknotes, but the $500,200 paid for the 1914 £100 note certainly qualified as a record. The sum paid is somewhat less than the $1,660,000 "Judith's note" sold for back in March 2008, the difference between the two notes being that the 1913 ten-shilling note was a presentation note, while the £100 note was actually issued into circulation.
That result certainly had an impact on the total sale value exceeding $5 million, which is a big auction in anyone's terms.
There is always a hive of activity in the early Noble sessions with dealers and collectors competing for the bulk lots of decimal and pre-decimal coins that are offered up first off the bat. As the gold and silver prices have been rising steadily over the past few months, this seems to have increased interest in those areas, as buyers look to add more to their rising piles. The error coins were quite popular, as was the run of mint rolls that followed them. Although pre-decimal coins from the early 1960s and late 1950s aren't rare per se, more than half a century since they were withdrawn from circulation, it is quite unusual to see mint rolls of them on the open market.
Such mint rolls were often privately prepared, so there can be some uncertainty about what the rolls actually contain. That didn't deter buyers in this sale, as the rolls all got away at solid prices. There were some scarce early decimal rolls in the lots that followed - key among them was the roll of 1972 5¢ coins. 1972 is the key date to the 5¢ series - individual coins in mint state can bring $100 or more, and a mint roll has 40 coins in it. The current Rennik's guide for the roll is $1,000, yet the hammer price paid for the roll in this sale came to $2,074 nett. The other rolls may not have all brought double their pre-sale estimate, but they were keenly contested as well.
The Swan / Goose dollars really took a leg up in value a few years back, the $1,586 paid fr the UNC example in this sale shows they're still holding up well. There were some big prices paid in the decimal gold coin section, despite that the premiums over "spot" weren't really significant.
The PCGS-graded set of New Zealand coins dated 1935 was quite attractive and made what I thought was a strong price. We may have a "quite ordinary" retail market here in Australia at the moment according to Gerry Harvey, that doesn't mean products that appeal to foreign buyers will be left alone.
The early pre-decimal session was attended keenly also, anything that was graded appropriately and was estimated on the market seemed to get away. Lot 822 was a 1930 penny described as being in good Fine condition - a coin that might retail for either side of $20,000 at present. In that context, the hammer price of $9,500 might look pretty light on, we need to keep in mind that the coin had corrosion and marks evident on the obverse, which really brought it down a few pegs.
The early session of Australian gold coins started well, with both of the (circulated) Type II Adelaide Pounds selling well. The prices weren't startling, but it is good to see these coins remaining liquid each time they're offered up in line with the market - their historic appeal certainly seems to be enduring.
I know there are a number of collectors that have entered the market for Australian sovereigns and half sovereigns by way of the bullion market in recent years, there seems to be more of them turing up at auctions like this in recent months. The coins might not be great, nor are they bringing anything approaching record prices, but this is the activity that underpins solid market rises. As collectors learn more about the area they're active in and build confidence in the value that the rarer items have, they become far more likely to spend bigger dollars.
The evening session kicked off with proclamation coins - not many here, but those that were offered sold well. The Dumps that followed were reasonably liquid, most of the coins had been (unsuccessfully) offered in recent sales yet 5 of the 8 found new homes.
If the rims of the Type I Adelaide Pound up next were intact, the hammer price of $34,000 paid will surely prove to be great value. Each of the 4 Type II Adelaide Pounds that followed sold as well, affirming their liquidity in the current market. Port Phillip patterns are a truly opaque area of the market, one that a dedicated numismatist can only gain confidence in by observing and participating in it over an extended period of time.
There were 2 pieces in this sale that I hadn't seen before, and although I hadn't seen them previously I didn't think they were the product of David Gee. Neither sold on the day, which indicates to me the reserves perhaps didn't reflect the level of confidence in the room in them.
The major buyers in the market for gold sovereigns and half sovereigns that I'm aware of these days insist on their coins being PCGS graded, yet the results in this sale indicate that there are still more than a few collectors out there that couldn't give a tinker's cuss about having their coins independently reviewed. PCGS will decline to assess coins that have been cleaned, scratched or damaged in any way - often that "damage" can be nothing more innocuous than some minor hairlines in the fields. Some of the sovereigns and halves here had characteristics that I thought would preclude them from being "graded", yet they sold regardless.
The flip-side of this lack of awareness of the PCGS standard of some bidders at this sale was that there were some light prices paid for solidly-graded coins. "Bargains" or at least value such as that generally rewards those with the numismatic knowledge to take advantage of them.
Half sovereigns seem to be rising in popularity, with newer bidders entering the market and snapping up coins in certain areas. As always, that activity is evident from the ground up.
Pattern and proof coins have been soft for some time now, so it was good to see the uniface 1937 penny, an incredibly rare and desirable Australian 20th-century numismatic rarity, sell for $58,000 hammer.
There were some pickings in the circulating pre-decimal coin section that followed, the coins may not have all been condition rarities, but many thousands of dollars were paid for more than a few key dates. Four 1930 pennies were offered as part of that section, the first two (better in quality) sold, while the cheaper two that followed remained unsold. This activity indicates a patchy area of the market, with not a lot of depth to the number of buyers.
Several major collections of British coins followed the next morning, prices and interest varied considerably across the board. The highest price paid was for a crown of Charles I that had a provenance going back many decades. The $13,000 hammer price was rather strong when compared to the £2,400 high catalogue value, this was a superlative coin. Not all of the values in the section that followed were as strong, indicating that the value had to be glaringly obvious if the British collectors were to participate.
The Australian banknote session on Thursday evening featured the collection formed by John Wilson, diligently and determinedly over several decades. This collection was well known back at the time it was being formed, and perhaps slipped off the radar after his death in 2007. Comparable examples of many of the notes hadn't been seen on the open market for many, many years - I thought that overall, the quality of the notes in the Wilson collection was as good as, if not better than, the Caldwell collection of Australian notes that was offered by Noble Numismatics back at this time last year.
PCGS doesn't have much of a toe-hold in the market for Australian notes (fortunately I say!), and although that means collectors don't want their notes independently graded to a standard laid down by a foreign body, they clearly do want natural notes that are problem-free. Australian pre-decimal notes are currently making prices we haven't seen since the 1990s. It's incredible to think we can acquire blue-chip assets for the same value they were being traded for 20 years ago, yet that is the case today. Not all of the notes have held up over time, yet there was some fantastic value on offer at the Noble auction for those that had the time and expertise to sort the wheat from the chaff. I see this situation continuing for some time yet - opportunities to lock in great value happening at the same time tired notes making figures that might be incomprehensible for many.
Although Wilson didn't collect Pre-Federation notes himself, there was a very large run of pre-fed notes consigned by other vendors in the section that followed. Many of those notes were the relatively readily-available printer's proofs, the remainder were readily-seen specimens and issued notes. Given the results we've seen in recent auctions, I was surprised to observe that the clearance rate for this section of the sale was relatively lean. A number of the notes on offer were being re-run, which indicates the vendors will need to come down further if they are to meet the market.
The clearance rate for the decimal specimen notes that followed wasn't any better unfortunately, more of the decimal stars that followed them did get away however.
5 million dollars sold is a busy week for anyone, no doubt the staff at Noble's would have been pleased when the last of the 5,153 lots were knocked down. $500,200 is a great achievement for the 1914 £100 note, showing us that no matter what the overall tone of a market can be, if a potential buyer sees value on the table they'll do their damndest to lock it in.
Downie's Sale 322 - Just As Much Action, If Without the Same Total Turnover
Less than 3 weeks after the Noble Numismatics auction in Sydney, Downie's had their own sale in Melbourne. While the headline number wasn't anywhere near the same as it was in Sydney, the sale was certainly active. Here are the headline numbers for the sale:
| | |
| --- | --- |
| Lots Offered | ‭ ‬3,195‭ ‬ |
| Lots Sold | ‭ ‬2,670‭ ‬ |
| Turnover‭ (‬including buyer's premium‭)‬ | ‭ $‬1,014,162‭ ‬ |
| Clearance Rate | 83.57% |
| Average ‬Lot Value | ‭ $‬311.34‭ ‬ |
| ‭# ‬Lots above‭ $‬10k | 4 |
The more valuable lots to get away were:
| | | |
| --- | --- | --- |
| Lot | Item | Nett Price |
| 2545 | 1852 Type II Adelaide Pound PCGS MS62+ | $25,620 |
| 2546 | 1852 Type II Adelaide Pound Very Fine | $14,030 |
| 2658 | 1950 Perth Proof Halfpenny | $12,200 |
| 2723 | 1930 Penny about VF | $21,960 |
The first session of this sale included decimal coins, both non-circulating legal tender coins made by both of our Mints as well as collectible coins struck for circulation. Of the 1,100 odd lots offered up, I can count only 3 lots that were passed in, which is quite a remarkable outcome.
The second session was devoted to antiquities and ancient coins, the clearance rate dropped away considerably for these items. They really require specialist knowledge, so we shouldn't be surprised if buyers aren't there for each and every item on the day.
Sessions 3 and 4 included foreign coins and notes, and while there was nothing remarkable about the lots consigned to this sale, the results showed there is a healthy market for such items at the moment - they were liquid and popular.
Session 5 contained ephemera - items that are not exactly numismatic but are still small collectibles so they're obliquely related. One outstanding result that was brought to my attention was for lot 2492, a 1929 WA Centenary of Settlement medallion. Any coin collector based in WA will tell you that base-metal examples are quite readily available, so to see that this lot made a nett price of $2,318 against a pre-sale estimate of $200 was quite surprising!
This medallion has been the subject of some very detailed social history research over the years, and has clearly drawn the attention of more than a few collectors who are now keen and determined to own each different form that it has been struck in. This particular example was struck in an alloy known as tombac, which is seldom seen. Just whether this particular medallion has a notable provenance or social history may well become known in the coming months.
Session 6 contained the "real" coins - older coins struck for circulation in Australia, ranging from Proclamation coins right through to the later Australian pre-decimal coins. The session started off well with some solid results seen for the five Adelaide Pounds that were on the block. There were some decent sovereigns and half sovereigns on offer, I thought they all made healthy prices as well.
The first lot in the proof coin section was a 1967 pattern Swan or Goose dollar, which made a healthy $2,440 nett price. That these unofficial items are so keenly contested more than half a century after they were struck and sold via the Australian Coin Review magazine shows just how keen some collectors are on the heritage of our decimal coinage.
I thought the $12,200 paid for the 1950 Perth Proof Halfpenny was very healthy - similar coins have struggled to make little more than half that at other sales in recent months. Results for the QEII proofs were much leaner, which reflects the broader market for them at the moment. Interest in pre decimal proofs became really popular once they started to get graded by PCGS, yet it's clear that initial rush of interest has eased and poor quality proof coins from this period draw little interest at the moment.
There weren't too many circulating pre-decimal coins included in this sale, yet I thought the prices paid for the better coins included were quite healthy. The 1930 penny was strong, as were the overdate threepences and some of the scarcer florins.
Both of the Pre-Federation notes in this sale sold, the pre-decimal notes weren't remarkable but ticked along. There were far more paper and polymer decimal notes available, some of them quite scarce and decent condition. Vendors didn't have it all their own way, I thought the prices realised reflected the relative availability of these notes.
Both of the sales here show there's plenty of life in the Australian numismatic market at the moment - it might be focused in certain areas and only at certain price levels, but with $6 million in inventory changing hands within the space of a month, that shows a good number of buyers and sellers are happy to meet the market.
With those results in hand, it'll be interesting to see how the action fares at the IAG sale on the Gold Coast in a few weeks time.
---
---
---
Comments (1)
PMG-PCGS graded pre-decimal banknotes..

By:

Stan Rabbo

on 20 December 2019

Most collectors of Australian pre-decimal notes do not realise how scarce notes graded 64 to 67 EPQ-PPQ-OPQ really are...When collectors do wakeup to third party grading,the same will happen to notes as did to our pre-decimal coins,that being the smart dealers sending there notes to be graded. As raw notes will be a lot harder to sell. The Purple Penny. Drake Sterling. Imperial Coins are thinking ahead...Good on you fellers.....Other dealers will eventually follow....Cheers PMG-PCGS currency + PCGS gold shield Australian Pre-decimal banknote collector. Also view raw notes + find one original Unc in about every 20. Viewed over 20 notes at an auction in Brisbane described as Unc and not one made the cut...I feel sorry for collectors who cannot tell if it is a true Unc....
---
Leave a comment