Noble Auction 106 Report - Positive News Across the Board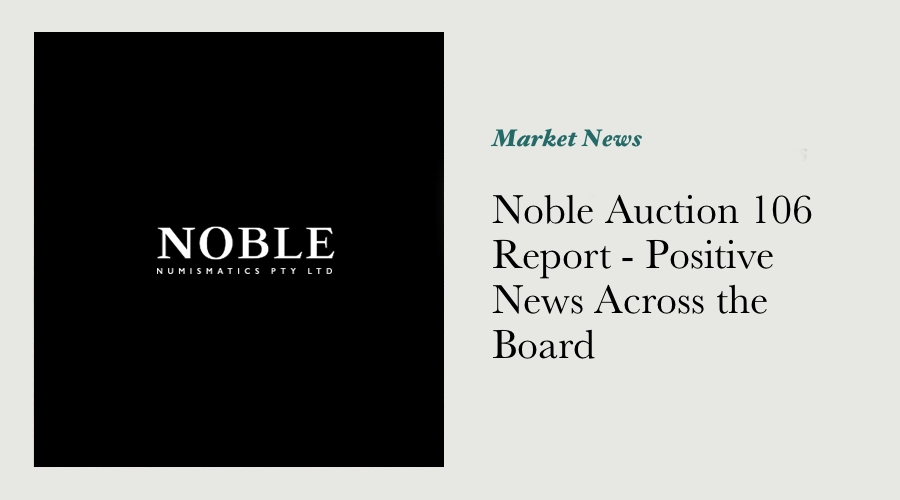 The prices realised report for Noble Auction 106 shows that total turnover came to A$3.82 million - no small amount of money, and a result that in fact places it as the highest turnover for a Noble auction since their Auction 97, "way" back in July of 2011.
While I don't think this single result is a cause for celebration, nor a reason to regard the current Australian numismatic market as anything other than a buyer's market, I must say it was mildly suprising, and indeed pleasing to see a few experienced dealers steam into the areas that offered great value.
Such bidding strength is an indication of a healthy market - it shows that such dealers have available cash (which is in itself an indication of a degree of retail demand), and further a desire to cater for a perceived present or future demand. Professional traders are generally not silly when it comes to parting with their cash (and yes, there has been several rather notable exceptions to this rule over the pas 18 months), if they are putting money into a market or market segment, it can be taken if not as an indication of underlying retail demand, then at least as a perception of underlying retail demand by someome that is very experienced in that market.
The key for me will be whether this demand continues in the coming months, as this will be confirmation that the perceived demand did in fact exist, that it has been catered for, and that the demand is enduring. If we see a few more auctions such as this, where there is improved liquidity and a few surprises along the way, we might be able to say with confidence that the market is bottoming out.
And that is as positive as I can be at the moment - the market appears to be in the process of bottoming out. Keep in mind that "the market" is in fact made up of a number of quite discrete segments (gold coins, Pre-Decimal copper and silver coins, Pre-Federation notes, etc), and that each of these segments can and often does operate independently of the others. Some areas of the market have been nowhere near the doldrums in recent months (I'm thinking specifically of condition-rarity PCGS pre-decimal coins and error / variety coins as just two examples), however for the others this could be where we're at right now.
I could honestly copy one of my reviews of the early sessions of a previous Noble sale and paste it here, as Sale 106 went to script. There were a couple of bulk lots that the dedicated numismatists fought over, there were some error coins that drew strong prices to boot. I guess the first session that deviated a little from plan was that for the historical medals - there were a few rare and histori medals in superb condition in this session that sold for less than they have in previous years. I take this as an indication of those old hands finally leaving the market, opening it up to a new range of buyers.
Tuesday Evening - Australian Coins
The evening session for the Australian coins had a modest range of proclamation coins, and a few colonial Holey Dollars and Dumps. The two Holey Dollars in this sale were estimated very cloe to each other, despite their divergence in grade and thus collector appeal. As expected, the better of the two found a new home, while the lesser coin was passed in. This is as good an example of the current market in play as any other - buyers active at present insist on value, if they don't see it on offer, they'll pass up even the most historic coin or note for the hope of a future opportunity.
The Adelaide Pounds enjoyed a good clearance rate, and while the prices they realised might cause previously-satisfied owners of comparable coins to reach out for a stiff drink, at least we're seeing some liquidity here.
The two 1855 half sovereigns that were featured did not sell, however they didn't get offered up at a "bargain basement" level so we perhaps shouldn't be surprised there. I thought the clearance rate for the rest of the sovereigns and halves was better than I've seen for some time - those gold coins that didn't get away were either estimated or graded above the market (in my opinion anyway). This isn't the first time this year we've seen a good clearance rate for gold coins, positive but one that needs confirmation if the broader market is to get a tick.
The fact of the matter is that most of the best Australian sovereigns and halves traded over the past few years haven't been changing hands via auction, they're being sold by dealers. Auction results therefore aren't an indication of the broader demand for these coins, however it's positive news nonetheless.
The pre–1955 proof coins in this sale were not strong - only two from around 6 items sold. The Kookaburra pattern penny got away in line with recent (subdued) sales for comparable coins, while one of the proof King George VI pennies sold at what is either a bargain price, or is just above a bargain price! I'd say it was a bargain, however another proof King George VI penny was passed in, which is not a strong indicator.
There were some attractive pre-decimal copper and silver coins in the evening session, not just condition rarities, but attractive examples of key dates slightly below condition census standard. These have been soft in recent months, so it was good to see these coins finding new homes. There were perhaps half a dozen 1930 pennies in this sale, each of them sold, and at higher prices than comparable coins have reached in recent months.
This much-discussed coin is often seen as a bellweather of the broader market - if demand for it is rising, then the broader market is thought to lift in the coming months. Hopefully this is the case! One of the 1923 halfpennies in the evening session made a hammer price five times it's pre-sale estimate - let's put this down to a conservative grade from the auctioneer, and a number of confident bids from dealers.
The British and foreign coin sessions were chock with useful and attractive coins for people who are into such things, so there certainly wasn't a void in between the Australian coin and Australian note sessions.
Thursday Afternoon and Evening - Australian Banknotes
The Thursday afternoon saw the inventory of John Pettit Pty Ltd start to go under the hammer, and this is where the action began.
John was, without question, Australia's foremost dealer in Australian banknotes, his inventory certainly reflected that. The decimal notes were offered up first, and while there was some depth to the amount of these on offer, they were all bought at figures in line with recent years. Moving onto first and last prefixes, they were also in demand with keen buyers, where the notes were graded and estimated in line with recent sales.
The late afternoon session kicked off with the early colonial promissory notes - these had a 100% clearance rate, as you'd expect for what was effectively a liquidation sale. While the prices for such notes weren't particularly strong relative to where they've sold in years past, they did all find new homes. This leaves them being offered to a new range of clients, at previously-unseen prices, surely a great result for a market we're hoping will develop. There were a number of more recently issued private trader's notes that followed, and while they too were quiet, they all sold.
There were more pre-federation notes offered up in this sale than we've seen for some time - issued notes, specimens and printer's proofs alike. The demand across the board indicates that there is indeed a healthy market for such items - there was competition from dealers and collectors acros the board. The rarer issued notes made prices commensurate with their history and rarity, as did the printer's proofs (albeit at the opposite end of the scale).
It was the middle ground of the full-colour specimen notes that I was most keen to watch, and to be candid, they made what I believed to be strong prices given recent months. We've seen such notes bring anywhere between $3,000 and $9,000 in recent months (both here and overseas), whereas most the specimen pre-fed notes in this sale were certainly around or north of the median figure of the above range. I was surprised to see experienced dealers duking it out to buy these notes, however they understand the collector appeal such notes have, and are prepared to back themselves to find buyers at higher price levels. Let's hope they're able to do so, as there is no shortage of such material held by former customers of the Rare Coin Company for them to buy next time round!
There was an incredible quantity of pre-decimal notes on the block in the evening - pressed and natural notes alike, notes with hidden repairs and others that were simply pristine. This makes it a minefield for potential buyers to navigate! There were enough hardy souls in the room (and bidding online) to ensure that it all got away, some of it at strong prices. There were a couple of other dealers that clearly had confidence in the long-term appeal of the notes on offer, as prices were higher than they have been elsewhere.
The specimen notes on offer didn't enjoy the higher level of demand that the pre-fed notes had however. Despite some bids in the room, the pre-decimal and decimal specimen sets were passed in, clearly those vendors are prepared to stick to their guns in terms of demanding what they believe is fair. The single notes did sell however, and pretty much in line with recent sales of comparable notes. Not great news again, however at least there was liquidity.
One swallow doesn't make a spring, however there were enough signs for me in this sale of collector and dealer confidence toc onclude that the market could be at least starting to bottom out. Before you deride this comment as being pathetic, keep in mind that this is a big step in the right direction, and if it's confirmed over the next few auctions towards the end of 2014, we may well be able to say that the market has turned.
---
---