Noble Numismatics Auction 118b Preview - The Caldwell Collection of Australian Banknotes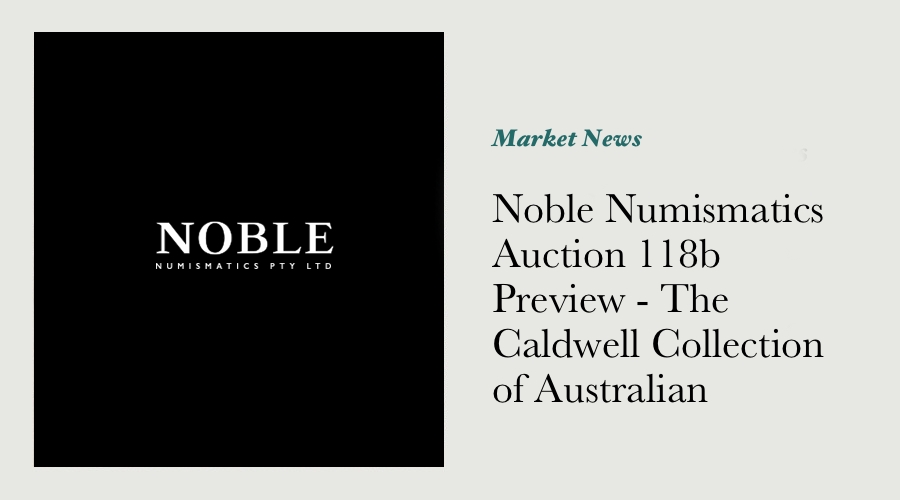 August 2nd 2018 will see the biggest and most important auction of Australian banknotes held in this country since the Nicholson sale back in November 1995. I don't think it's any coincidence that the note featured on the front cover of the auction catalogue by Noble Numismatics for the Caldwell collection of Australian Banknotes is the first note in a consecutive pair - the second note featured on the front cover of catalogue of the Nicholson collection.
Times have sure changed since then - few dealers and collectors from that generation remain active today, and the market for Australian notes has been through several phases since then.
History and rarity doesn't change one iota over time however, so I have no doubt at all that this sale will be keenly attended by a large group of dedicated collectors keen to lock in their own slice of Australian numismatic history. There are so many incredible notes in this sale, the collection and auction will surely be looked at in years to come as one of the most important collections to have ever been formed.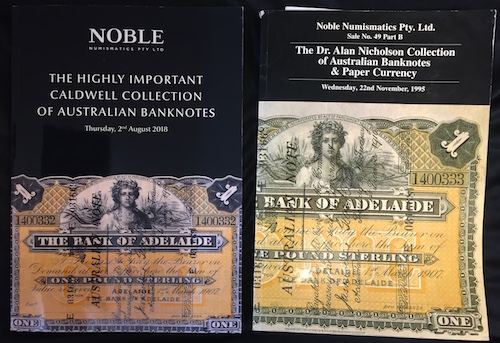 It is interesting to see that the collector behind the Caldwell collection didn't enter into the area of colonial currency notes, however each era in Australian banknotes that followed on from our earliest days (Pre Federation; Superscribed; Commonwealth; Paper Decimal and Polymer Decimal) are all comprehensively represented.
A collection like this requires just as much good taste, connections and determination as it does financial reserves, and it's clear to me that those that formed the Caldwell had all the resources required to achieve such a momentous task. Here are my thoughts on the composition of the collection, section by section:
Pre Federation Banknotes
Back in the days before the GFC, prefed notes were very seldom seen at auction or on the open market. You'd be flat out seeing more than 3 prefed notes in most auctions, they were so tightly held. Such notes have been far more readily available over the past five years or so, however I sincerely don't think this availability will be the norm in years to come, as large numbers simply don't exist.
The Caldwell collection contains a great range of notes from the pre federation period - those printer's proofs that are included are all rarities otherwise unseen in specimen or issued form, while the specimens are all rare, beautiful or historic (some meet each of those three criteria).
The issued notes are rounded out by two incredibly rare notes issued by the Queensland State Government in the 1890's, as well as another by the NSW State Treasury at the same time.
Many of these notes have not been seen in several decades at least.
Superscribed Banknotes
Superscribed banknotes are so rare that many (if not most) collectors of Australian pre-decimal notes never see them, and so don't understand just how important they are. In the decade following Federation, members of the Australian Labor Party were so keen to have notes issued by the Commonwealth Government enter circulation that they drafted an idea whereby unissued notes from Australia's private banks were over-printed by the government printer and used as an interim measure until the Government's facilities were ready to produce the uniform notes now known to collectors as "Treasury" notes from 1913.
I can't think of an auction in the past decade that has featured more than 3 of these notes at any one time, superscribed notes are so rare those were invariably from the most readily available banks and "only" in low grade.
The Caldwell collection contains no less than 21 different superscribed notes, which is only half a dozen less than was in the Nicholson collection back in 1995. Some of the notes included here are from truly rare domiciles, others are in remarkably high quality, two consecutive pairs are included also.
One of the key notes in the entire sale is lot 4257, the superscribed £1 on a form from the Bank of Victoria. It is just the 9th superscribed banknote printed, and is also the lowest superscribed note in private hands. If Australia's first ten shilling note from 1913 is worth a million or more, this £1 note which was issued three years earlier has to be worth more than the stated estimate of $35,000. Several superscribed five pounds and several superscribed ten pound notes are also included, both incredibly rare in private hands, and unseen for decades.
It will be interesting to see how the market reacts to this availability - I see it as being an incredibly rare opportunity to pick up an exclusive slice of Australia's monetary history.
Commonwealth Banknotes
The run of Australian Commonwealth notes in the Caldwell collection truly is comprehensive in scope. Pretty much every Rennik's number issued between 1913 and 1966 can be ticked off, many in superior quality. Reviewing the provenances of these notes, we can see that they hail from many significant collections such as those by Deutscher; Roy Brook; Williams; Spink Australia Auctions 1 and 2; Walsgott; Vort-Ronald and Nicholson. Some of the rarest Commonwealth notes such as the R19 superscribed £1 from WWI and both of the Rainbow Pounds that were issued shortly after that are represented. Those notes have been seen elsewhere on occasion over the past decade or so, however it is still fantastic to see such a comprehensive collection up for sale at one time.
The "No Mosaic" £5 notes included here aren't in fantastic quality, however they are so rare in any grade I expect these were the only notes available over the timeframe this collection was put together.
I'm aware that many of the collectors active at the moment have a strong preference for notes that have original paper quality, I can't help but think that some of the grading descriptions allocated to the Commonwealth notes in the Caldwell collection by the auctioneer are conservative. As auctioneers often state, I believe "a physical inspection will reward dedicated collectors."
Pre Decimal Specimen Banknotes
This is another area where the notes in it are so rare that most collectors aren't aware they even exist. The Caldwell collection contains a run of pre-decimal specimens from the Legal Tender period, right through to our first polymer 1st Generation notes. I don't recall the last time I saw a complete set of 4 predecimal specimen notes offered for sale via auction, however my auction records indicate it was back in 2014, a set of Coombs Watt notes in their original folder. You have to go back to 2001 to see another one, then 1998 before that, then you're back into the 1980's. They're obviously incredibly rare!
A 1916 5/- unissued specimen is included as well, which is another seldom-seen rarity. In the decimal specimen notes, there are not one but two complete sets of Type 2 specimen notes, which my records indicate hasn't been seen since 1984. They are incredibly rare, and are out of favour right at the moment, so could be an opportune buy for the right collector.
Sugar Replacement Notes
Pre-decimal and decimal star notes have long been keenly sought by experienced collectors for their incredible rarity, however t's fair to say they aren't exactly in favour with collectors right at the moment. The stars in this collection appear to be in fantastic quality if their descriptions are any guide at all. Again, for the collector that has a long term view of the market and isn't fussed by what the mainstream is going, this auction could be a great opportunity.
Decimal Notes
Even though the Caldwell collection is heavy in rarities from the late 1800's and 1900's, those that put it together made just as much an effort to cover off the decimal series as those from the earlier periods. All of the decimal star notes are represented, as are the rarer signature combinations and serial number varieties.
In football this is called getting the 1% things right, when a team does all of the little things right. When the 1% rule is applied to a collection such as this, it's clear that just as much attention to detail was paid to the less historical items as it was to the key highlights.
I have no doubt that the auction for the Caldwell collection will be one of the major events of the 2018 numismatic calendar, if you have a reasonable interest in Australian banknotes and can afford the time and expense of viewing and attending, you really won't want to miss it.
---
---