Noble Numismatics Auction 119 Review - and Thats 2018 Done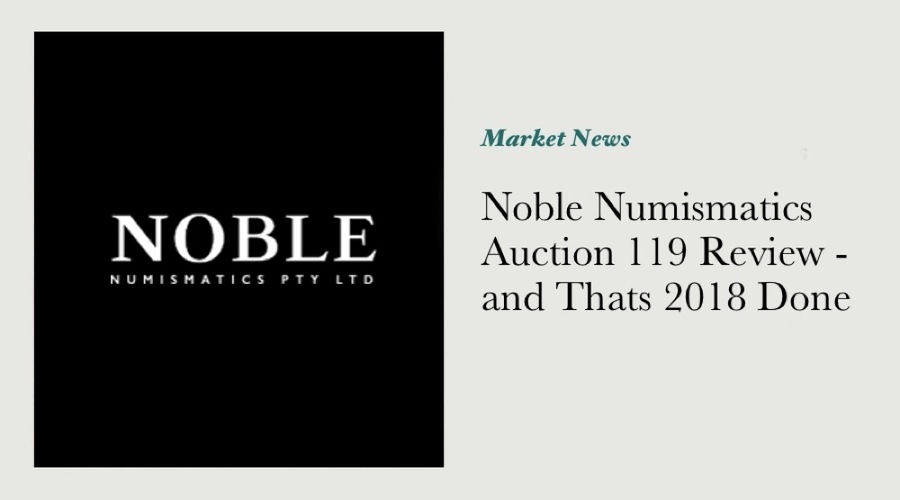 Noble Numismatics 119 wrapped the year up with $3.61 million in turnover. Here are the headline numbers for the sale:
Headline Figures

Turnover

$3,698,420

# Items Offered

5,075

# Items Sold

4,367

Clearance Rate

86.05%

Average Lot Value

$847

$10k+ Lots Sold

27
This is an interesting time to be in the Australian numismatic market, as there is a real mix of new faces and old heads at auctions such as this one. There has been enough turmoil in our market over the past 5-10 years that those collectors and dealers that couldn't or didn't weather the storm left opportunities for those keen enough to sniff them out. The newer attendees I'd seen a few sales ago now seem to be staying longer and buying more, so the wheel continues to turn.There was some good variety to the higher value lots - they weren't restricted to just one category, which is pleasing to see:
| | | | |
| --- | --- | --- | --- |
| Lot | Hammer | Nett | Item |
| 1124 | $60,000 | $71,550 | Type I Adelaide Pound EF |
| 1202 | $30,000 | $35,775 | Type 6 Kookaburra Penny |
| 3374 | $28,000 | $33,390 | 1712 Indian Rupee Jahangirnagar |
| 3161 | $26,000 | $31,005 | Gupta Gold Dinar 335AD Samudragupta |
| 4381 | $25,000 | $29,813 | Type 3B Specimen Note Set |
| 1191 | $24,000 | $28,620 | 1922 Sydney Sovereign good EF |
| 1203 | $21,000 | $25,043 | Type 12 Kookaburra Penny |
| 3610 | $21,000 | $25,043 | Bravery Award Group to Shane Day |
| 4365 | $19,500 | $23,254 | Kell Collins £10 Specimen Note |
| 1125 | $18,500 | $22,061 | Type II Adelaide Pound EF |
| 3145 | $17,000 | $20,273 | 1864-S USA Double Eagle |
| 4519 | $16,000 | $19,080 | R608 $100 Bundle UNC |
| 1815 | $15,500 | $18,484 | Great Britain 1863 Sovereign Extremely Fine |
| 1188 | $15,000 | $17,888 | Perth Mint Sovereign Set |
| 3609 | $15,000 | $17,888 | Bravery Award Group to Hilton Alomes |
| 4158 | $14,000 | $16,695 | Bank of QLD £10 Issued Toowoomba |
| 4377 | $14,000 | $16,695 | Type 3A Specimen Note Set |
| 1189 | $13,500 | $16,099 | Perth Mint Sovereign Set |
| 1205 | $13,000 | $15,503 | 1927 Canberra Proof Florin |
| 1126 | $12,000 | $14,310 | Type II Adelaide Pound EF |
| 3250 | $12,000 | $14,310 | 1627 Indian Rupee Dawar Bakhsh |
| 3268 | $12,000 | $14,310 | 1628 Indian Rupee Shah Jahan I |
| 4376 | $12,000 | $14,310 | Type 1 Specimen Note Set (5 Notes) |
| 2557 | $11,000 | $13,118 | Russia 1958 Rouble |
| 3538 | $11,000 | $13,118 | Group of 8 Military Medals to Colonel Cuddon |
| 1208 | $10,000 | $11,925 | 1935 Proof Penny and Halfpenny |
| 1291 | $10,000 | $11,925 | 1932 Florin Choice Uncirculated |
The early sessions this time round perhaps didn't include the number of major error coins that have been seen in recent sales, however there were enough gems in the bulk lots that a dedicated and hardy few collectors got decent returns for the time they needed to put in to hunt them down. The later afternoon session was punctuated by a few highlights in the medal and token session, which set the scene for the evening session.
The main coin session for Noble Numismatics 119 started off with around 50 or so lots of proclamation and colonial coins. This area of the market never seems to capture the wild swings of attention that other areas of our coins do, however it sure does have a solid collector base that stays active rain, hail or shine. The 1813 Dumps that followed didn't fare quite as well - just one of the eight coins got away on the night.
The next coin that followed was a Type I Adelaide Pound in better than average condition. We haven't seen one of these in decent grade for sale since the Quartermaster Collection sale in 2009, which obviously was just shy of a decade ago now. This particular coin sold, however had several fairly distinct marks across the obverse that could have explained a softer than expected result. Demand for the two Type II's that followed was better, albeit at price levels that may not have satisfied the vendors.
The amount of Aussie gold on offer this auction wasn't as much as there has been in recent sales, however the coins included ticked over nonetheless. There was a decent number of pre-decimal proofs to follow, t'd be fair to say the quality didn't match the quantity however. These coins really are hard work at the moment - their history and rarity hasn't diminished one iota over the past decades, however it does seem there are less quality-agnostic buyers that are active at the moment, which makes it a lot harder for those only interested in the very best to drill down on the coins they're keen on.
The QEII proof coins from the Melbourne and Perth Mints that followed were just as hard - it amazes me how much value is on offer in proof coins at the moment. Really great coins are pretty much a fraction of what they were just a few short years ago.
The Australian pre-decimal coins in this sale had a collection of varieties that had been off the market for many, many years - although the quality wasn't exactly great, there was some anticipation as to what they'd bring. The quality of the coins on offer probably wasn't as high as it needed to be to really push the market's buttons in 2018, however there were some decent prices when the planets of rarity and quality aligned.
Tentacles of demand reach across the world when quality is on offer, which is exactly what happened when several of the better British silver and gold coins reached the auction block. It's amazing to see a session really come alive for one coin in 50 or 100, however great minds think alike and they sure know what they're looking for when a Noble catalogue arrives in the mail.
The world coins also contained a few select lots that drew in funds from across the globe - prime among them was a collection of Indian States coins that had been off the market for a number of decades. These coins really aren't accessible to Western collectors - the cultures that issued them are separated from us by close to a century and literally a world of distance. Collectors interested in such coins could care less about our level of interest however, and they sold well regardless - a number of these coins ranked among the most valuable items sold in the entire sale.
The Thursday evening note session had a solid range of pre-Federation notes to begin with. Not quite as many as were in the Caldwell collection, but an excellent range nonetheless. I found the level of interest to be higher than it has been in recent years, the spread of demand was wider also. For a lot of years supply in this segment of the market was channelled through a tight number of dealers and even collectors, however those days are clearly long gone. I could see in this session that the dealers active here are quite different to those that were active back when the boom was underway, there are also a good number of new collectors to the market picking up items that are of interest. The demand was decent across the board - proofs, specimens and issued notes alike. We aren't seeing record prices by any means, but the clearance rate is far better than what it was just a few years ago.
The notes on offer in the pre-decimal series that followed ranged in rarity, quality and value. The lower (circulated) end of the market seems to be quite content trading in the range that it has been in recent years, now that some quality notes are coming onto the market without firm vendor instructions or dealer competition, we're seeing some excellent value for historic, blue-chip notes. The rarity of our finest pre-decimal notes hasn't changed a bit over the past decade, collectors with an eye for value are really picking up some great deals at the moment.
The pre-decimal specimen notes that followed really were hard work - just one of the notes offered found a new home, even when the reserves appeared to be at the low end of the range similar items have been offered at in recent times. I can see this segment of the market taking a little more time to shake itself out yet. The decimal specimen notes fared better, but not by much it has to be said. These are the rarest and most exclusive notes that collectors have the opportunity to buy, it seems that even if the current batch of collectors out there are sold on the history and rarity that these notes have, they remain to be convinced that the market for them has settled. Judging by the way reserves are being adjusted in the current market, I don't think we're too far away from the bottom at all.
The star replacement notes that followed seemed to be affected by the same mindset - the rarity of these notes has remained changed in recent years, however the collectors that see them at auction don't seem to be confident that the current catalogue values reflect what they're really worth, as truly rare notes in great quality are selling for cents in the dollar. As someone that's been in the market across a number of different stages of the numismatic market cycle, I find it hard to comprehend just how volatile prices for great notes seem to be at the moment, however the market doesn't seem to care much about that!
Looking back over the auction activity for 2018, even if we aren't yet in a point in time where vendors and buyers are equally happy, I believe the market has made progress. There are far fewer buyers (or vendors) stewing over just how bad or great things are - they're moving onto their next opportunity as soon as the auction's done. This is, from what I can understand at least, what happens in efficient market, so we're making solid progress!
It'll be interesting to see how 2019 builds on the results we had across 2018.
---
---
---
Leave a comment