Noble Numismatics Rare Coin Auction #92 - The Catalogue Weighs Over 2kg!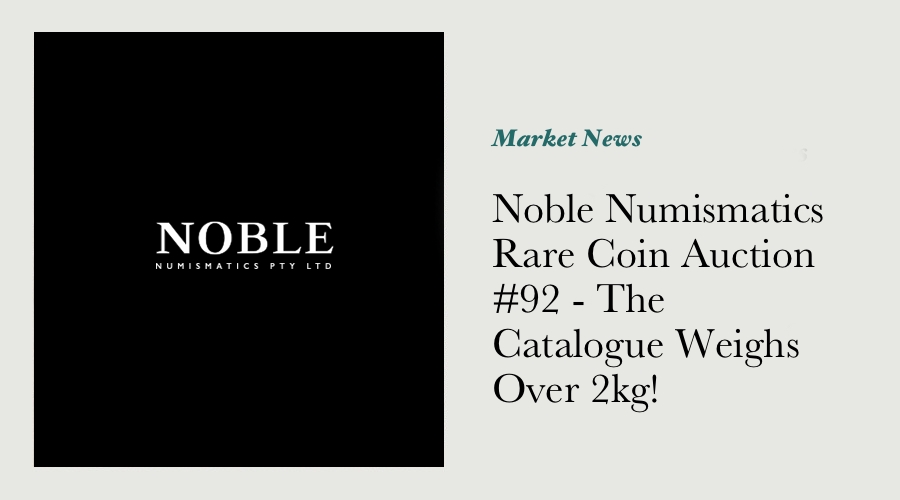 Wednesday November 25th finds me holed up in my hotel room in Sydney, powering through the work that's accumulated while I've been on the road these past 6 days.
The first day of Noble Numismatics latest auction (#92) was held yesterday, and as I've alluded to in the title to this post, it is a rather large sale! (The catalogue does indeed weigh over 2kg!)
This has been the first Noble auction in a while that I've been able to make time to really get stuck into, and I've spent the better part of two days viewing all of the lots that are of interest to my clients.
As with almost any auction, there are some really exciting lots, some truly dreadful stuff and a whole lot in between. The results to date certainly reflect that.
I haven't seen as many people as were in the room for the first session yesterday morning (between 50 and 60) for quite some time, which is interesting. The price action for the lots in that session (cheaper Commonwealth, Australian gold and decimal coins) didn't particularly the difference, as the stuff that has been strong lately (decimal errors and variety coins to name one example) was strong again. I must say that I was somewhat taken aback by the healthy premium paid over spot for gold bullion coins (15% in most cases), particularly since similar coins can be bought from any one of numerous bullion dealers in the country for about half that! Go figure.
Competition for silver bullion was also healthy, reflecting the demand for physical precious metal at the moment.
Interestingly, the well-known banknote collector and numismatic author Mick Vort-Ronald had consigned the balance of his collection and museum contents to this sale, and it's interesting to see just what was included in his various sets. I have to say that for a banknote collector he had an excellent collection of coins - sure, the quality may be bettered in many instances, but the breadth and depth that his collection covered would be appreciated by anyone knowledgable with the series, particularly when they consider that it was surely a sideline to his main areas of interest! We'll be offering selections from his collection online in the coming weeks.
The evening session last night was a little longer than usual - there were something like 400 lots covered in 2.5 hours, so it was a case of heads down cards up for much of it. My initial impressions are that there was a burst of activity in some sections, while other sub-secitons of the market were frankly patchy. Nothing new or unusual, but confirmation of a trend I believe has been in play for a while. Areas that dedicated / knowledgable collectors are active in remain strong (high grade coins, rarities that are appreciated by conoissuers), while areas that are popular with less experienced collectors (type coins and anything in lesser condition) didn't enjoy prices or a clearance rate quite as robust.
Having said that, the plugged and repaired Holey Dollar made $50,000 and change, which was certainly stronger than I expected. As has been the case in more than a few auctions lately, a lot of Sydney Mint Type II sovereigns were passed in - I believe a consequence of some vendors continuing to mis-read the present market. Other sovereigns were strong indeed, anything that had eye appeal and was priced "correctly" (whatever that may mean)!
Top quality Commonwealth coins were strong as I said, several bidding duels over some KGV pennies that had been slabbed by PCGS in top grade (ie MS65) come to mind straight away. Commonwealth copper continues to be a very active field, catalogue values are simply disregarded by determined collectors when seldom-seen rarities appear for the first time in years!
The banknotes are up tomorrow afternoon and evening, so I'll post with news on that once we're done with them.
---
---