Roxbury's Auction 98 and Brisbane Money Expo Review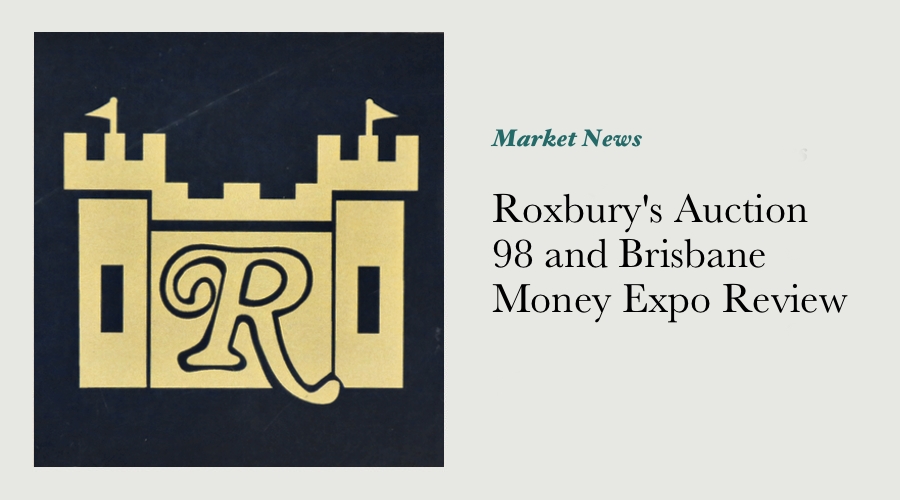 Here we are post-budget 2017, and the numismatic market is in full swing - Roxbury's Auction 98 is underway as I write this, and the Brisbane Money Expo will be held this weekend at the Royal International Convention Centre in Bowen Hills (Brisbane).
Although I viewed (pretty much) everything in the Roxbury's sale yesterday, there really isn't much for me until the sessions later this afternoon, so I'll use this time to let you know what's going down.
Life as a auctioneer of rare coins and banknotes is easiest when you're selling relatively high value single coins and notes - they're easy to photograph, write up, transport and store. Roxbury's have no aversion to getting their hands dirty with bulk lots of coins and notes - foreign, modern, old and new, you name it and it's here.
More Mint Rolls Than In Any Auction In Recent Years
This particular Roxbury's sale has a really large range of pre-decimal mint rolls in it - the biggest I've seen in any auction for a number of years. These rolls are mainly for common dates in the QEII silver and copper series, however don't lead you into thinking these lots are going to bring not much more than melt value. The market for premium-graded Australian Commonwealth coins has been strong for a few years now, and there are more than a few dealers and collectors that make it their business to seek out coins that will "grade" well.
I saw a 1964 Perth Halfpenny listed on eBay earlier this week for the better part of $5,000 (yes, that is five thousand dollars, not $5 nor even $50!), and while the ask price of an item on eBay doesn't always correspond with the price that is sells for, that should give you some idea of just how much incentive there is for dealers and collectors to chase down the finest known examples of even the most common pre-decimal coins, in the most unlikely of places.
If the coins in the rolls in today's Roxbury's sale have a lot of red on them, we could see some very strong prices indeed. Following on from the pre-decimal bulk lots are a range of 1923 halfpennies - I think I counted 11 of them all up. Prices for this iconic copper coin have clearly come back in recent years (not as the result of anything other than a normal market cycle), so we'll see how these fare. There is the odd premium coin salted away in the remainder of the pre-decimal coin session, I have no doubt these will be found out.
There are quite a lot of modern decimal coins listed, ranging from proof gold and platinum right down to the most humble mint sets, that session will no doubt be active. There appears to be a good selection of US gold and silver coins included - this is quite a select market here in Australia, values are dependent on the way the coins will "grade" either via PCGS or NGC, so I expect to see some determined competition on those coins.
There are some more valuable banknotes from New Zealand and other foreign countries included, plus a wide range of affordable ancient coins as well. The Australian gold coin section includes some nicer pieces not seen very often, as well as many others that will appeal to mainstream collectors.
A True Australian Numismatic Icon - The 1916 Specimen Set of Silver Coins
The evening session includes at least one item that is incredibly historic, and hardly ever seen - a specimen set of silver coins dated 1916. This historic set is the first struck on Australian soil, at the Melbourne Mint. Although these coins are technically not proofs, they are the standard of coin that was kept for archival purposes by the Melbourne Mint and other public authorities.
Although there are a number of individual 1916-dated silver coins and sets that are marketed as being specimens, fewer coins and sets actually are specimens. This particular set has been given the tick of approval by everyone that I've spoken to, so while the pre-sale estimate of $90,000 can't be described as being low, there is still as much interest in it as there always has been. The other proofs and rarities that kick off the 6pm session may not be in the same category as this 1916 specimen set, however there are some solid items included. Of interest is the electrotype of the 1909 florin - a coin that was never actually struck!
This particular electrotype is said to have been created in the late 1970's by the notorious forger David Gee - just whether he took the electrotype from a genuine 1909 florin host is not entirely clear however. Gee produced a range of items himself - Port Phillip patterns from the Kangaroo Office among them. Although these electrotypes and struck "coins" look incredibly close to the originals, they are in fact quite different, and aren't worth anywhere near the original items. It will be interesting to see whether this item is bid up from it's $1,200 pre-sale estimate.
The rest of the evening session is dedicated to Australian banknotes of each type - decimal, pre-decimal and pre-federation. The decimal notes features a good balance between paper and polymer, scarcer and more affordable types alike. The decimal specimen notes appear to be priced in line with the market in the main, and while the Type 2 specimens are impaired with tone or tape marks on them, they are rarely seen.
The pre-federation notes on offer appear to be cheap enough, and as pre-fed notes have sold well via other auctions in other cities in recent months, there's no reason for these to be left on the shelf. There is a good quantity of pre-decimal notes on offer as well, there wasn't much to get me excited to be candid, however other collectors and dealers will no doubt find a few items here to be of interest.
All up, Roxbury's auction 98 is shaping up to be a solid sale. Sure, it doesn't abound in rarities in each and every section, however to expect that from any auction is perhaps unrealistic and naive! Nature has droughts and deluges, the numismatic market is no different.
2017 ANDA Brisbane Money Expo at the Royal International Convention Centre
The RNA Showgrounds has been the venue for the "Ekka" since 1876, so is definitely well known to Queenslanders right across the state. It was the venue ANDA used for many years also - some of the biggest coin, note and stamp shows were held there, so it's great to be heading back to such a well-known and trusted venue for the 2017 Money Expo.
This year's event will be held in Hall A of the Royal International Convention Centre, which is accessed from Gregory Terrace, between Costin and King Streets. The RNA website states that there will be plenty of parking available, so Brisbane's collectors should be able to focus on buying and selling coins rather than getting to and from the venue.
The first Money Expo for 2017 was held in Perth in March, and that was the best-attended ANDA event held in that city for a number of years. Now, it's fair to say that not everyone that attended that event was a dyed in the wool collector of coins or notes, but it sure had plenty of punters in through the door. The same publicity and promotion has been used for the Brisbane event, so it's shaping up to be a bumper two days of activity.
The Five Cent Forage will be on again, which was just as popular in Perth this year as it was the year before. There was a great deal of hype on the internet a month or so ago about the value of the 2000 Mule Dollar, while the coloured 2017 Lest We Forget $2 commemorative coin has been incredibly popular on eBay and elsewhere. The NGB $5 note reinvigorated interest in our notes again, so there are a number of reasons for the general public to get down and see what's happening at the show.
We had a very solid show this time last year, and will be keen to see what Brisbane in 2017 brings us!
---
---