Several More Online Auctions With Record Prices for Australian Coins - Numisbid #44 / Heritage CICF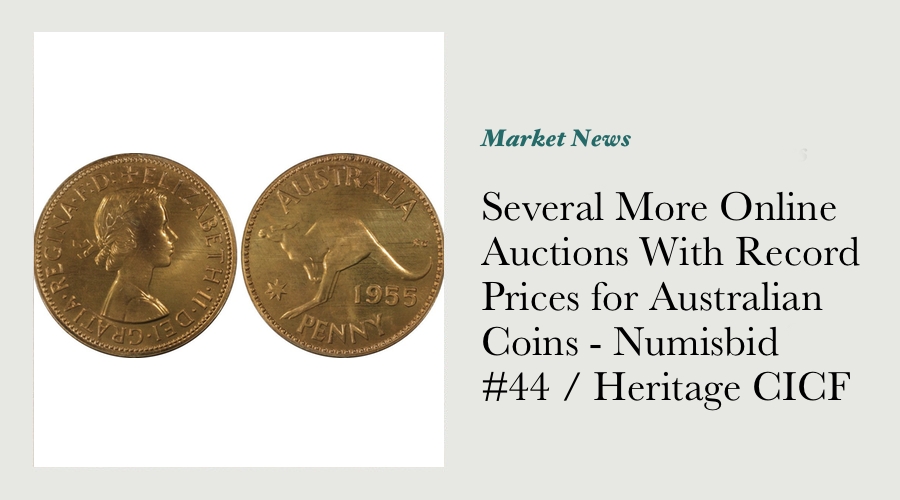 In the "olden days", it was pretty easy to keep track of activity in the Australian numismatic market - you bought yourself a copy of the Australian Coin Review Magazine or the Australasian Coin & Banknote Magazine, and just read the summary articles about the major auctions that were held around the country.
Couple those subscriptions with a copy of either the McDonald's Pocket Guide to Australian Coins and Banknotes, or Renniks Australian Coin and Banknote Values book, and you pretty much had as much information as the majority of the collectors you were up against.
Fast forward to 2015, and we now live in a very different age. Sales activity of Australian coins an banknotes not only occurs via "traditional" (i.e. non-online, bricks and mortar) numismatic auctions, but also via an increasing number of online-only auctions - some of which some collectors have not heard of, much less paid any serious attention to. When we include the regular sales of important Australian coins and notes that are held overseas, we can see that if the average collector these days wants to keep abreast of the majority of the activity in their chosen area of interest, they really need to have a fairly proactive market intelligence system in place.
The reason I bring a rather belaboured introduction to last week's auction, is because some absolutely stellar prices were achieved, and I don't see that type of activity easing up any time soon.
While Numisbid has been active for some years now, and while they've achieved some very strong prices for PCGS-graded condition rarities in the past, last week's results I believe are at another level.
Record Price #1 - 1955 Melbourne Proof Penny - PCGS PR67RD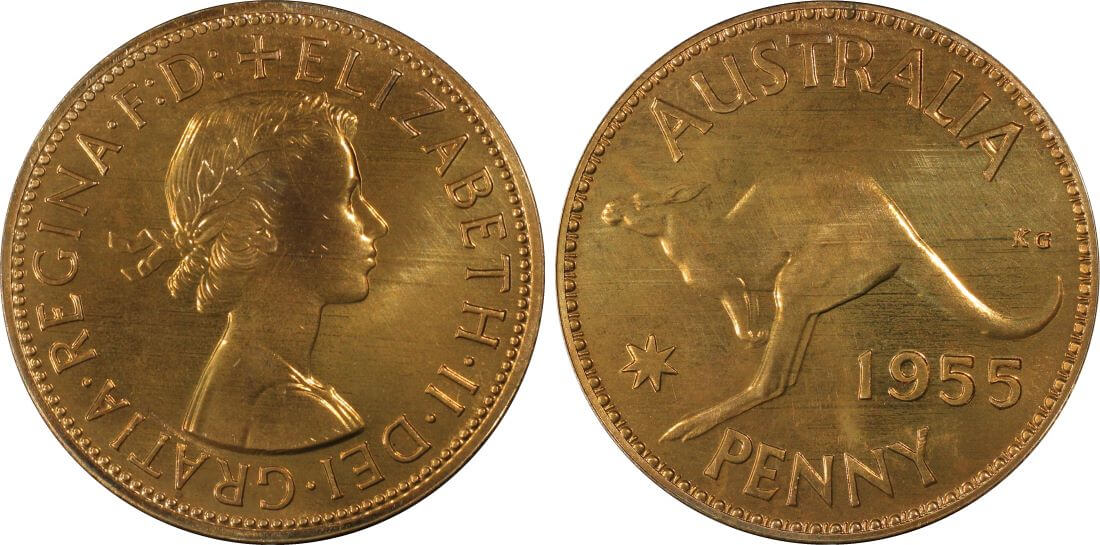 This particular pre-decimal proof coin has a mintage of 1,200 - the 2014 catalogue value by McDonald's is $1,400, the 2014 catalogue value by Rennik's is $1,000.
Despite those two figures, this coin made a final hammer price of $30,000, against a pre-sale estimate of $10,500 - $13,000.
This has to be yet another example of the lengths that collectors active on the PCGS Registry Set program will go to in order to build the finest known set in their area of interest.
Record Price #2 - 1957 Perth Proof Penny (Matte finish) - PCGS PR67RD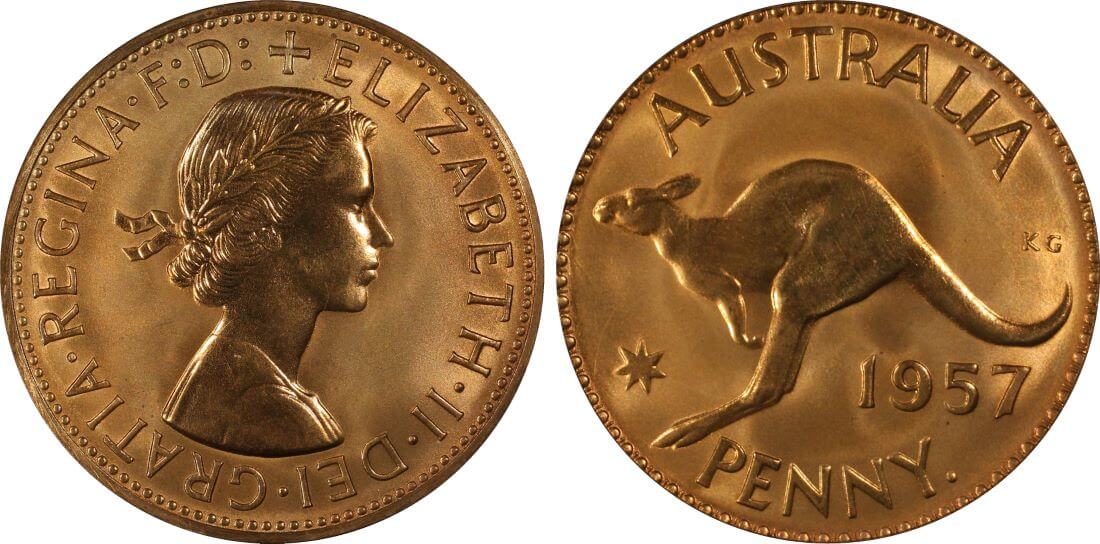 The 1957 Perth proof penny has a total mintage of 1,112 coins - that figure is comprised of coins struck with a matte finish, and coins struck with a bright finish. The matte coins are regarded as the rarer of the two types.
The 2014 catalogue value by McDonald's for this coin is $2,200, the 2014 catalogue value by Rennik's is $1,500.
Despite those two figures, this coin made a final hammer price of $22,300, against a pre-sale estimate of $10,500 - $13,000. (When I think of it, that seems an odd range to indicate, however that is by the by).
Record Price #3 - 1887 Sydney Jubilee Head sovereign PCGS MS66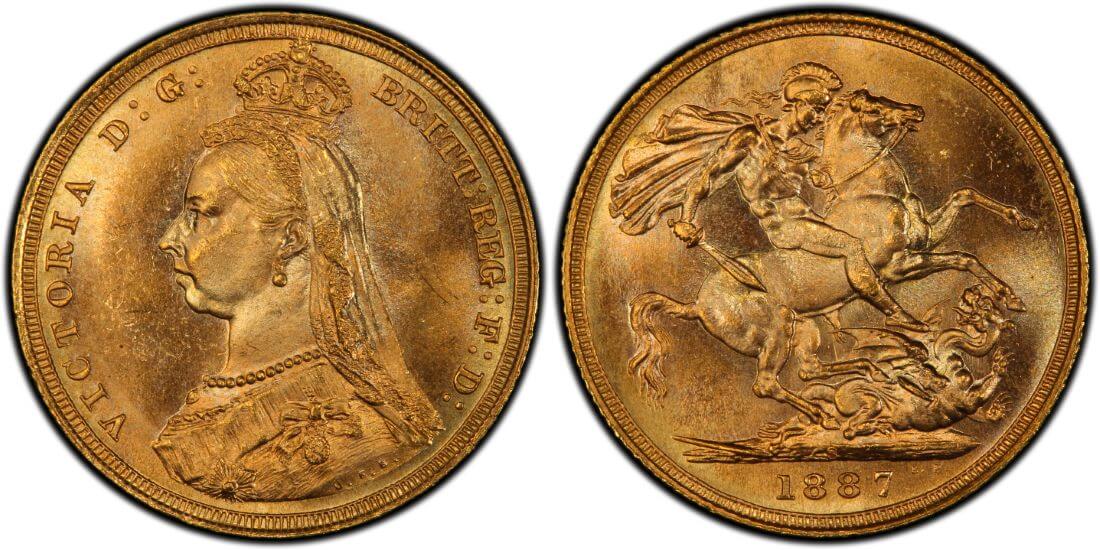 The 1887 Sydney has been regarded as the key date to the Jubilee Head sovereign series for as long as Jubilee sovereigns have been collected, so it isn't astonishing for a high grade example of this coin to make a strong price. This particular example was graded MS66 by PCGS however, ranking it as the equal finest known example graded by PCGS to date. It was sold by Heritage Auctions in the United States via an online last week, and made a nett price in USD of $18,800, or about A$24,700. This is very slightly higher than what the 1887 Sydney Jubilee sovereign made in the Quartermaster Collection, sold by Monetarium back in 2009.
There were a number of other results across both auctions that show me just how important it is for collectors in the current market to keep abreast of the latest auction activity, no matter where it happens. It is even more important for vendors to keep up to date with this activity as well - nothing worse than giving away a fortune for the sake of doing a bit of due diligence!
---
---