Status International Auction 310 and Sydney ANDA Show Reports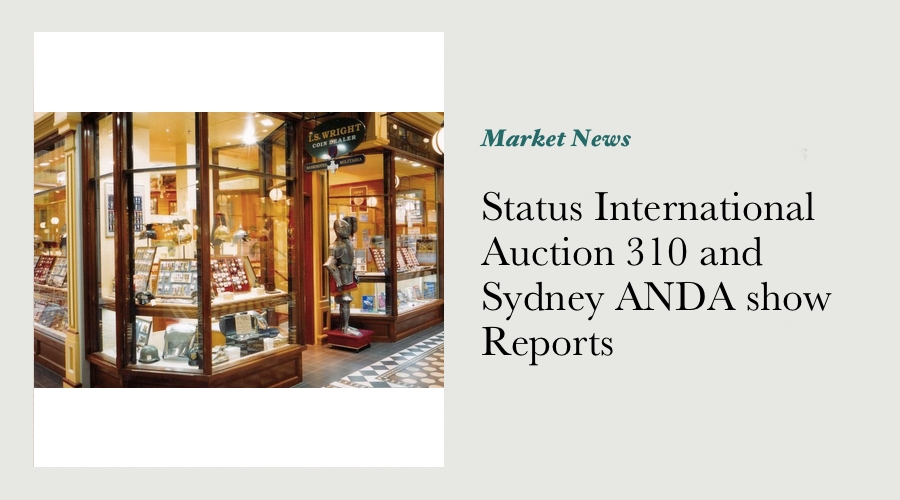 I'm now safely back in Perth after the better part of a week in the big smoke of Sydney - it's a fair distance from Perth and these days I'm always pleased to get out of the place!
Even though the last opportunity to view before the Status sale started at 8am, it turned out I was the first person to arrive at around 9am, and it took some time before the silence was interrupted by a fellow bidder!
I was able to review everything I needed to before the first session kicked off at 11am, after checking over everything I wanted to bid on "only" 16 lots, so I left those with the Status staff and headed back to my room to get some work done. There are some auctioneers I don't trust to execute my mail bids with my hip pocket in mind, however that's a story for another day!
The overall result for the coin and note auction was a headline sales figure of about $741,000 - 1434 out of 4249 lots sold, for a clearance rate of 33.75%, and an average lot value of a little more than $500. There were only 5 items in the entire sale that made more than $10,000 - 2 * 1930 pennies, a rare British milled silver coin, a Waitangi proof set and a rare Russian gold coin.
The feedback I got from the guys that did attend, and from the Status staff, was that the whole sale was reasonably quiet (that seems to go against the figures here, but never mind!) One point of interest was one bidder in the coin sessions that refused to be outbid on anything he had an interest in - a wonderful addition to any auction! His interest was rather wide and diverse apparently, I understand he spent a few hundred thousand at least, do keep in mind this is third hand information so can hardly be taken as gospel.
I mainly had interest in notes this time round, so didn't get battered about too much by the great whale…
Reading over the prices realized, I can see that some sections of the sale (coins and notes) were so quiet that not one single lot sold! Predecimal proofs, prefederation notes, half sovereigns and a few other areas were particularly quiet.
I don't read too much into this at all, it's not like the items that did get away were incredibly cheap, it's just that attendance was limited for the items on offer. Auctions like this leave opportunities for the hardy folks that do risk a day out of their calendar to attend.
The Sydney ANDA show was quite well attended both days - I don't know how people are able to get away from work to attend on a Friday, but sure enough I understand there were close to 400 people through the doors on Friday. Although we didn't set any sales records over the weekend, my impression was that there were more "quality" buyers knocking about the place than there has been in recent years.
I don't mean to say there were more people better dressed, or that they were wearing Chanel No 5, or anything like that, it was more that a number of the people we spoke with at least were expression interest in items and areas that haven't been as keenly sought as in the past. My take on this is that there is some confidence coming back into the market, if only for the reason that prices are getting to a level that knowledgable collectors see as being good value for money.
The thought from a range of people was that the bulk of the inventory that's been hanging over the market for the past 18 months or so has now been absorbed, that which hasn't sold has been put back in the cupboard, only to see the light of day in the distant future.
Dealer attendance still wasn't as strong as it was a few years ago, however there were more collectors through the doors than there has been, which is positive news at least.
---
---