The 2008 Melbourne ANDA Show - Pretty Darn Quiet Apart from the MIntmarks!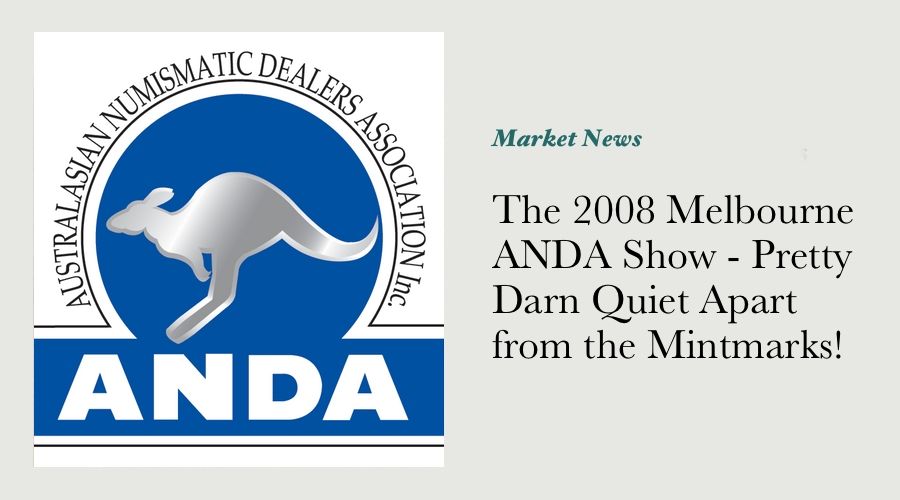 The last major numismatic trade show for the year got done on the weekend, and I gotta say that it was pretty quiet! There was a lengthy queue for the ever-popular $1 RAM "Mint Your Own" mintmark dollar coins, but apart from that it was rather tame. As evidence of the popularity of this series with collectors right across the country, a number of coins have sold via ebay for between $19 and $20 already - and it's only been a day since the show closed! The RAM cops a bollocking from collectors for the way these products are distributed, but given the way their staff conducted themselves over the weekend, I'd have to say they did a pretty good job under the circumstances.
Sales at the show reflected the drop in attendance, which in turn is reflected by the drop in retail trade the nation over. Nicole and I were able to get a few nice items away, although none of them were hugely expensive. Top quality items that are seldom seen are always in demand no matter what is going on, so that shouldn't be surprising. I picked up a number of truly superb Sydney Mint sovereigns on Saturday afternoon (key dates in impeccable condition!), so will be posting them online later this week.
Our next show in Melbourne is lookingn to be at Caulfield racecourse, with the cheaper venue ANDA hopes to get a few more dealers in attendance, which should bring more collectors in through the doors.
---
---