ANDA Show turns out better then expected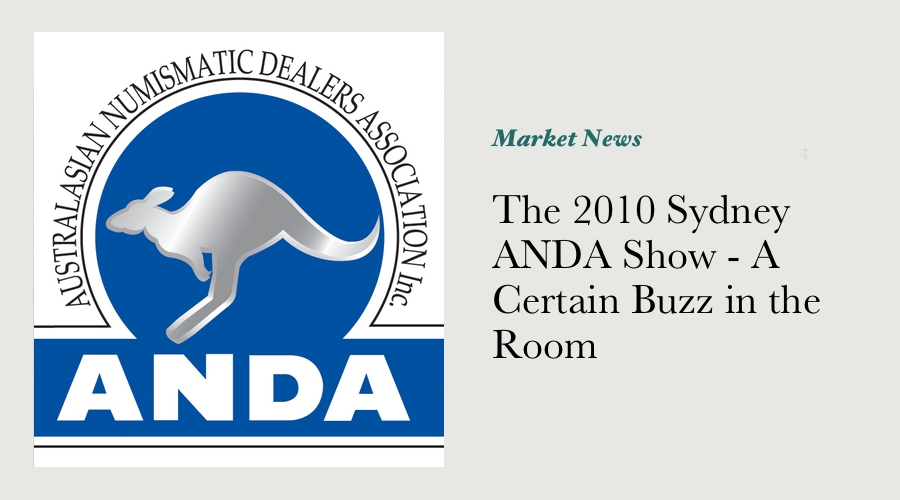 August 14th & 15th saw the 2010 ANDA Coin, Banknote and Stamp show held at Randwick Racecourse in Sydney, and it was pleasing to hear a certain buzz in the room on both days.
What with the Federal election, the recently negated threat of the Cooper Review's impact on SMSF spending in the numismatic industry and general economic uncertainty, one could be forgiven for thinking that circumstances weren't optimum for a bustling trade show.
Fortunately for those of us that attended, both dealers and collectors, that didn't turn out to be the case. Both of Australia's issuing authorities (the RAM and the Perth Mint) released new products over the weekend, and these were in strong demand with the collectors that made the effort to attend. Downie's also launched a limited-edition PNC to their own client base, and the combined result of this activity (with the accompanying advertising in the mainstream media by ANDA and the Perth Mint) saw attendance brisk all day Saturday, and in good sections of Sunday.
Although there may not have been numerous sales at the upper end of the market, most dealers that I spoke with were happy with their decision to attend, either because they sold and or bought well, or met new clients that they expect to do business with in future. Any experienced collector that attends these shows knows that when their shopping list is extremely specific, the chances of picking up something new aren't always high, however despite that I didn't hear any complaints from collectors about there being nothing to choose from.
I'm pleased that there was even attendance at each of the seminars that were held across the weekend, as I believe that there is a good role for education in supporting people explore the Australian numismatic market - the more knowledge and confidence someone has in their own ability to do what's right for them, the more likely they are to buy or sell. I had some positive feedback to the seminar I presented on "Trading Coins For Wealth", and although the subject or approach isn't of interest to everyone, it's pleasing to see the information being received well by those keen on learning more.
The upshot of the show is probably that the market for accurately-graded and well-priced coins and notes at lower to medium levels is quite liquid, although there may be a little way to go before the upper end of the market enjoys the same levels of confidence. Make no mistake, there is demand for top quality rarities that are priced right, however there is probably a little less competition for them now than there has been in the past. I'm quite confident that this will change with time as the election results are bedded down and SMSF trustees get back into the swing of things - we all know that the sector offers excellent value for money relative to other classes at the moment.
---
---