The ANDA Sydney 2008 Show - Not As Bad As We Thought!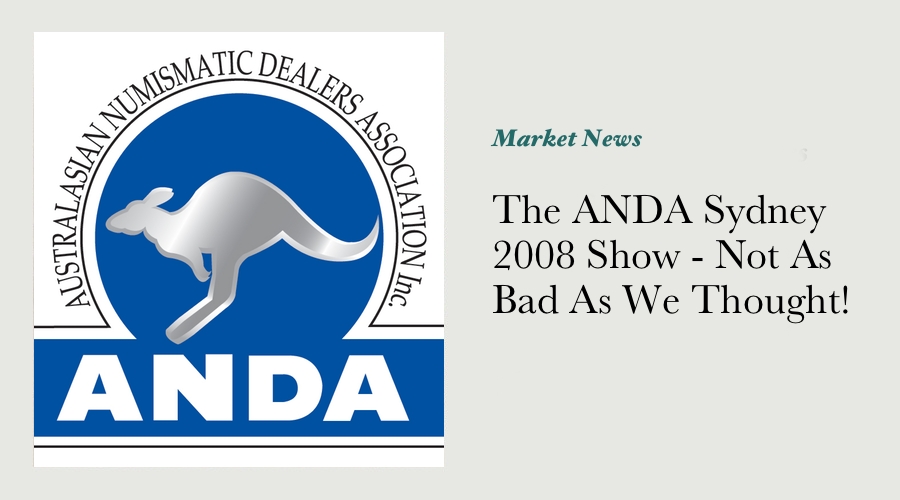 ANDA's 4th trade show for 2008 was held at Randwick Racecourse in Sydney last weekend, and despite a bit of gloom and doom about the state of the economy in the media, it wasn't as bad as we thought it'd be.
In fact, most of the people that attended I'm sure had the economy as the last thing on their mind, even if there was less than half the numbers in attendance than their was in 2007. To sum it up, although numbers were certainly down, the activity was pretty good considering. If you don't know it already, some coin and stamp dealers have a propensity to complain (OK, that includes me as well if you must know) and despite that fact I didn't have much of a chance to grumble myself, nor did many of the others I had the opportunity to speak to. No matter how full the room is, the afternoons can always be a bit trying when numbers thin out, and although that was the case with this show, the level of activity didn't reflect the doom and gloom that's in the media.
I didn't hear myself of any major rarities getting away, although I did see a bucketload (literally!) of circulated tradesman's tokens in the display cabinet of a certain happy auctioneer, and picked up a few interesting bits and pieces myself. People that aren't involved with numismatics (you know, those "laymen" or "the general public") often ask me if someone has ever found that's hugely rare without knowing what they had, and I can honestly count on one hand the number of times I've been party to it. A gent approached me on the Friday afternoon and asked if I bought coins, and then showed me three little plastic packets that had a penny, a halfpenny and a silver round 50¢ piece in them.
Big deal you say, however let me say the first two coins were proofs from the King George VI period, and the last was what I reckon just has to be some kind of specimen strike of Australia's first 50¢ coin. Three pieces a bit above and beyond the normal junque that's offered up at these shows, and it certainly made my weekend. I'm not sure how I'm going to find the time to find out what the hell this 50¢ coin is, I expect it's going to involve a rather decent sized number of hours poring over auction catalogues, and contacting custodians of public collections all over the place, however it will be worthwhile to know just how important it is.
We're off to Melbourne for the next ANDA show in 3 weeks time, let's hope it's as good as Sydney!
---
---