THE HONG KONG & ADELAIDE COIN SHOWS - JUST LIKE THE GOOD OLD DAYS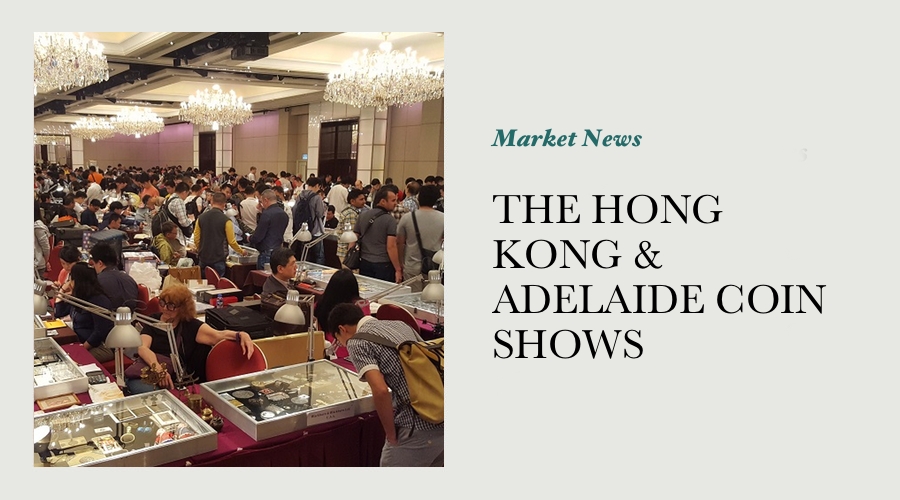 One of the reasons I haven't posted online in the past month is the fact that I did two coin shows in two weekends, one after the other. Early April saw Nicole and I at the Hong Kong Coin Show (at the Golden Mile Holiday Inn hotel in Kowloon), the weekend after that I was at the Adelaide Exhibition & Convention Centre for the ANDA show in Adelaide.
Without putting too fine a point on it, the contrast between the shows couldn't have been greater - the Hong Kong show was a melting pot of dealers and collectors literally from right around the world, with money from the dealers of China surging quickly into stock that could be easily sold at a profit in the dealer buildings of Shanghai and Shenzen. What surprised me was the breadth of their demand - sure, the hottest items were Hong Kong & Chinese coins in high grade (if you can get your hands on any of that stuff you'd be mad not to!), but we sure sold a wide range of world coins to folks that I wouldn't expect to.
This shows me that there really is a world market for top quality coins from around the world - good coins can literally sell anywhere! There wasn't much call for Aussie coins, however anything else of any stripe or colour was moving pretty quick. What staggered me was that all of this hand over first action took place without the participation of "the Russians", ie the collective of vest pockets dealers from the former Soviet states that journey around the world looking for bargains in the coin world. They are reknown for being decisive big spenders, so God only know how busy we would've been if they'd been there!
Adelaide (God bless it) on the other hand wasn't quite as hectic. The queue out the front of the venue at the opening time was short (3 people is rather short isn't it?), but the numbers picked up pretty quick once the doors were open. Although on population density alone an Adelaide show is never going to compare to Sydney, let alone Hong Kong, I did not that there were a decent number of quite serious collectors there either examining potential acquisitions or enquiring about material that wasn't on display. I don't know that ANDA will be rushing back to Adelaide any time soon, but it was good to put a face to a few names that I'd emailed or spoken to over the phone before.
I don't know that any major treasures were unearther over the weekend, although I did see an Olympic gold medal from 1908 (London) and was able to do enough business to make the trip worthwhile. The next show that ANDA holds will be in Brisbane in mid-May, this is always our busiest show of the year and I'm sure 2008 will be no exception.
---
---