The International Rare Coin Market - Moves Are Underfoot!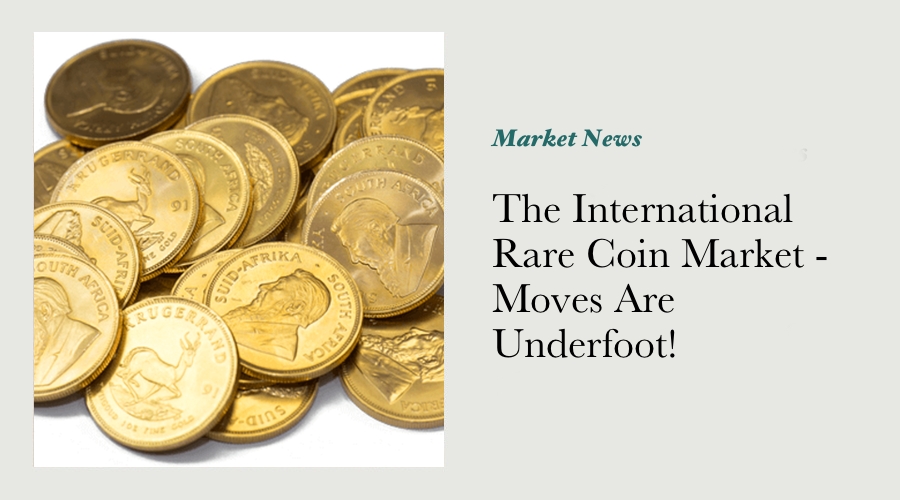 Two articles have appeared online in the past week that discuss the market for rare coins and bullion in other parts of the world, primarily the UK and the US. The first is by a gent by the name of Patrick Heller, a big wheel in the US bullion coin market. According to our mate Pat, "South African Krugerrands dated before 2009 have pretty much disappeared from the wholesale market", and "In reaction to these supply shortages, as you might suspect, premiums rose on just about all the lower premium forms of physical gold." He goes on to state that "I anticipate that premiums will rise further before the end of the year and that supply shortages will spread to other coins and ingots."
If you're still not sure how much demand there is for precious metal coins in the US at the moment, here is one of Mr Heller's final statements: "My company enjoyed the highest sales at any coin show since the 1979-1980 bullion boom, topping the previous best show by almost 25 percent!" Brisk business indeed.
Another online article by the owner of a popular numismatic website in the UK stated that "collectors are largely choosing not to sell their coins but to hold on to assets which are seen to be continuing to increase in value."
He further stated that "Another effect [of the UK numismatic market's recent strength] is that the more specialised collectors begin to diversify into areas in which they had previously shown little or no interest. For example, long-time collectors of British crowns might decide that there is not enough new material to buy so might look to other denominations instead to feed their interest and continue to spend their budget on coins. Furthermore, people who have been collectors for some time might put even more money into their collections as it makes little sense putting their money elsewhere and new collectors enter the market because the areas in which they would usually employ their capital were seen as too risky or low return such as property, shares and deposit accounts."
These last two trends I certainly do see here in Australia - I know many "advanced" collectors that are now looking further afield than their usual areas of interest for pockets of value. Others would much rather put their hard earned cash into a solid asset that they know from their own direct experience is rare and regularly in demand with collectors than hand it over to a financial planner or fund manager.
---
---