The Numismatic Run Home for 2014 - Roxbury, Status and Downie Auctions - All In A Fortnight!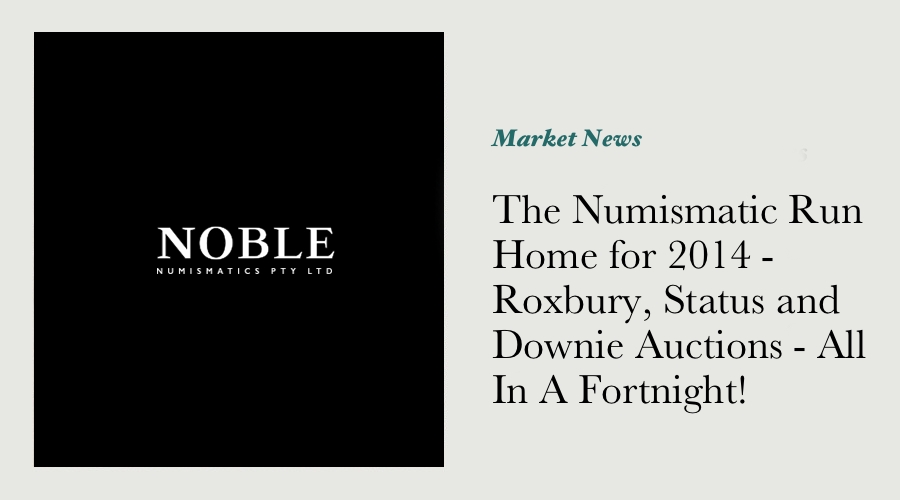 Given the numismatic auction and show schedule for October, it looks like I'll be accumulating a few frequent flyer points in the coming weeks - 3 auctions and a show are on in 3 separate states over a 3 week period!
While I expect I'll be homesick by the end of it all, there is plenty of material on offer across them that I wouldn't have it any other way.
Roxbury's Auction 92 Preview
Roxbury's sale 92 appears to have a bit of chatter about it already - there seems to be a good range of valuable items from across the board in it, and if the pre-sale estimates are any guide, they're "on the market".
Pre-decimal / Commonwealth coins these days really need to be in superb quality and PCGS graded before they bring truly strong prices, however the images of the items in this sale indicate they are well worth checking - I expect them to be keenly examined by dealers and collectors from across the country.
There's a decent range of British and world coins listed - some attractive milled gold coins that aren't often seen, as well as some world silver from across the globe. These markets haven't been affected one iota by any softness in the Australian market, so I expect biddiing to be competitive here.
There is a good range of rarer sovereigns and half sovereigns up for considation - a good number of them are from the Quartermaster Collection, so have a superb pedigree to boot. These coins will be a real test for the health of the Australian gold coin market, they're clearly estimated to sell, are being offered by an auctioneer that doesn't normally have good depth in this product area, so if they do get away it will be testament to the depth of demand these products have.
Paper and polymer decimal notes are next offered by Roxbury's, everything ranging from affordable polymers, right through to some rarer specimen notes. The estimates look to have these items in with a shot of finding new homes. There are a number of rarer pre-federation notes listed after that, and as with the decimal specimen notes, they look to be priced in line with the current market.
The pre-decimal notes include a couple of items that appear to be in incredibly high grade, this range of items will be well worth checking.
A small number of rarer pre-decimal have been added as late starters, while they have some tone to them, the published estimates seem to take them into account.
Status International Auction 310 Preview
Status International have changed the regular date of their sale to sneak in a day before the Sydney ANDA show, to be held the next day at the Sydney Town Hall. I expect this will lift interest in their sale, they'll be able to get a few more people in the door as a result.
The coin on the cover is the ever-popular 1930 penny. These seem to have picked up at auction over the past 6 months, I expect the coins here will be just as popular. The contents of this Status sale are very much in line with those that they've run recently - the early session includes a lot of affordable "junque" that dyed in the wool collectors love to sink their teeth into. Then there's a wide range of wreck coins, and a huge array of proclamation / colonial coins. I don't know there are any auctioneers in the country that offer the same range of colonial coins that Status does - if you collect in this series and can't find one coin in the 80 listed here that appeals, you're either too fussy or have extremely specific tastes!
Status International have been handling a range of items that have come from the estate of the late David Gee - Australia's most notorious coin forger. Gee was a prolific manufacturer of counterfeits, everything from Port Phillip patterns through to decimal copper patterns. While I find the morality of Gee's work was really beyond the pale, there's no doubt he was a numismatic enthusiast, and tried his hand at making some staggering items.
Gee' had a 's counterfeits seem to be in demand with collectors for what they are - mementoes of a man linked to some of the most salacious stories in Australian numismatics. When directly compared to the real thing, Gee's counterfeits don't fare particularly well, however I can't help but acknowledge the breadth of his work. You can count me among the collectors that are keen to have a small slice of his heritage - I won't pay thousands for a crude counterfeit, however they do have some value no doubt.
There's a wide range of Australian gold in this sale, however after reviewing the list, I have a feeling some of it has been seen in previous sales. There is a huge amount of pre-decimal coins listed for sale - just how many are going to be in line with current market preferences we'll need to see.
The notes section kicks off with a rather wide range of proof, specimen and issued pre-federation notes. The reserves appear to be on the stronger side for recent months, it'll be interesting to see how they fare. There doesn't seem to be as many pre-decimal notes in this sale as there has been in others recently, however I'll be reviewing the entire offering just in case.
The foreign coins and notes round out the Status sale - there are sure plenty of them included. Any collectors active in these series know perfectly well to check the Status catalogue just in case!
So there we have it - a road trip across 3 states and more than a few thousand lots on offer - I shall be interested to see how it all pans out.
---
---