The Quartermaster Collection - the Biggest Numismatic Auction in Australia - Ever!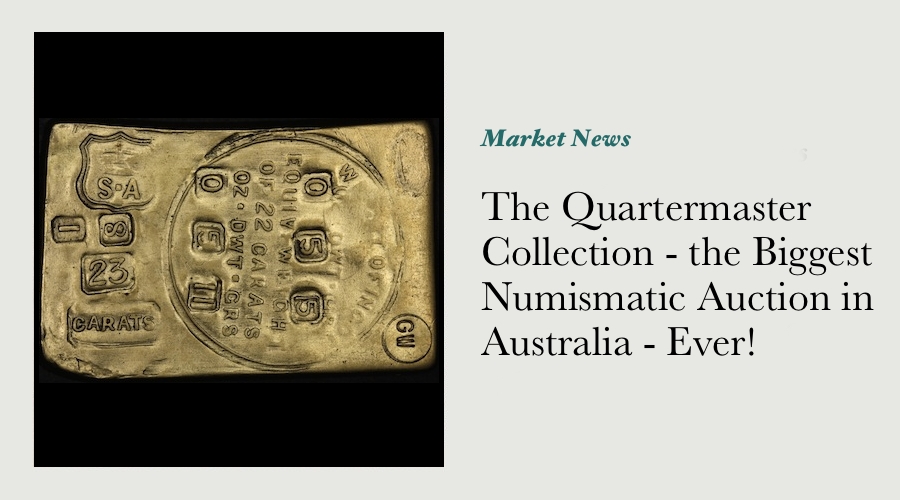 For those of you that have been living under a rock for the past 6 months, the most comprehensive collection of Australian gold coinage ever formed will be sold by auction next week. Entitled "The Quartermaster Collection", the sale is being handled by the gents at my previous employer, Monetarium.
The auction kicks off next week, and although I've been putting this particular posting off for a while (I don't know how long it's going to take to cover the whole sale in the depth I want!), now is the time to discuss it in detail.
There are 308 lots in the sale, here are the rough categories that they'll appear in:
The Adelaide Assay Office Ingots;
The Kangaroo Office (Port Phillip) Patterns;
Adelaide Assay Office Coins;
Pattern, Proof and Specimen Sovereigns;
Sovereigns Struck for Circulation;
Pattern, Proof and Specimen Half Sovereigns;
Half Sovereigns Struck for Circulation.
The total estimates for the auction run at around A$15 million, which, when you consider that the very largest numismatic auctions in Australia to date run at around $3 million to $5 million, is quite a large sum of money! Any one of the above categories alone will run into the millions! Here's how I see each section:
The Adelaide Assay Office Ingots: If I could have my pick of the entire auction, this would be the section. Above every other single item in this sale, nothing for me captures the raw essence of the Australian gold rushes of the 1850's than these two Ingots from the Adelaide Assay Office. Just 8 of these incredible rarities remain in existence, and both of the items in this sale are the only two in private hands. Both were produced by slightly different methods (a switch was made after a short period of time), and both have their own story to tell. You'll need to be either a public institution or have very deep pockets in order to own one however - pre-sale estimates run just shy of A$1 million apiece.
The Kangaroo Office (Port Phillip) Patterns: I'm not quite sure why, but interest in this unique chapter of Australia's numismatic history has increased markedly in recent years. Demand in the past has been held back by the lack of conrete information published on the subject, but eager collectors have eaten up every single minor contribution that authors such as myself have contributed. I believe that as the purpose and story of this venture has become more widely known, a deeper appreciated of the rarity of the items produced by it has been gained. I guess we've always known that these items were rare, we just didn't fully appreciate why! I expect there to be solid competition for each of the pieces included in this section, and won't be surprised if every single lot sells.
Adelaide Assay Office Coins : Purists may argue that we are being a bit liberal with the truth when referring to the products of the Adelaide Assay Office as "coins" - they were after all unofficial products of a Colonial government that were not authorized by the British government, and so therefore it could be argued that they are "merely" tokens! Despite this, there can never be any argument about their importance to Australian numismatics - they come a very close second to the Ingots as far as I'm concerned. Each of the three types included (1a; 1b and II) are either the finest known or darn close to it - you couldnt' ask for a better Adelaide Pound than one of these.
Pattern, Proof and Specimen Sovereigns & Half Sovereigns: There were a decent number of proof, pattern and specimen gold coins struck at various stages throughout the time that Australia's economy was backed by the gold standard, and without fail, all major types are represented in the Quartermaster collection. To own any one of the earlier patterns would be a lifetime achievement for the average collector - to get each one of a particular type is noteworthy (ie all those that demonstrate the switch from the Type I Sydney Mint Portrait to the Type II Sydney Mint Portrait), while to get all of them is truly amazing! The Quartermaster collection is littered with such coins throughout the catalogue (in both the sovereigns and half sovereigns), each one of them is breathtaking in its beauty and is of the highest rarity. Just which is the most desirable? Personal taste will attest to that, however I'd suggest that the key to the lot is the 1920 Sydney sovereign - a coin that most collectors have only ever heard whispers of, let alone seen!
Sovereigns Struck for Circulation: This is probably going to be the most popular series in the entire auction - in my experience the number of sovereign collectors relative to half sovereign collectors is about 5 to 1. The interesting thing about the circulation coins included within this sale is that many of them are not the finest known examples, however they are without doubt the finest known examples that were available at the time! This simple fact means several things - there will be numerous collectors that will own coins that are in better condition - forget the fact they will not come within cooee of owning any of the rarities included in this sale, the fact they own one coin that is better than the example in this sale will be something they'll dine out on for years! It will also mean that the circulation strike coins in this sale will be within the reach of the average sovereign collector, inasmuch as any sovereign is within their reach! The pre-sale estimates show that each of the coins in the Type II Sydney Mint; Young Head Shield reverse; Young Head St George reverse; Jubilee Head; Veiled Head; Edward VII and King George V types are all within the parameters set by recent sales activity for such coins. If you are a dedicated sovereign collector you would be crackers not to at least get prepared to bid in this sale - don't be put off by the value of the rarities this sale includes, as the circulation coins are all within your reach.
Half Sovereigns Struck for Circulation: This is the section of the Quartermaster Collection that emphasizes yet again just how dedicated Mr Hadley has been in building his collection. Many collectors are put off collecting half soveriegns altogether because they see the prices that individual coins sell for in premium grade, and since their end goal (of a complete set in any grade, let alone mint state) doesn't seem to be within reach, they don't embark on the journey. Mr Hadley had no such concern, as can be seen by the superb quality of the half sovereigns his collection contains. This sale will undoubtedly be a once in a lifetime opportunity to acquire one or more examples of the finest known Australian half sovereigns.
The $60,000 question now is, just how active and competitive will this auction be? The RBA auction back in 2005 may give us some indication - it attracted a number of "new" collectors to the market, and was very competitive indeed. The spot gold price was a good deal lower then than it is now, which may also mean that that there may be more buyers in the market now than there was then. Balancing these positive factors is the consideration that we are obviously still in a recession, and disposable income for the average collector is not exactly at record highs at the moment.
Collectors of Australain gold coins by and large are a counter-cyclical bunch, and although some collectors will regard their purchases as items they indulge themselves with then they have the extra cash, many, many more collectors regard their acquisitions more as a means of insulating themselves against the present and impending economic calamaties that surround us. This is the real X-factor in what the demand will be like - just how many cashed up sovereign collectors have been saving for this very occasion? I for one won't be arguing against them, I could think of many worse things one could put hard-earned cash into than a range of historic; attractive and rare Australian gold coins.
What will the end prices be? To the best of my knowledge, the Quartermaster collection won't be given away - it did have a pre-sale estimate of around A$15 million after all! We can appreciate the fact that as Mr Hadley has spent so many years (and dollars) building his pride and joy, he is now not at all likely to allow it to be cast to the four winds without being reimbursed for his troubles. Having said that however, each and every single item is on the market, and will sell at a price. I would not be surprised at all if demand for individual items within the Quartermaster collection comes from the four corners of the world, from private collectors and public institutions alike. It has been well publicized the world over, and the market for collectible gold coins is extremely strong in the US and Europe, so it stands to reason there will be at least some bids from those quarters.
If you have any interest at all in the history of Australian numismatics, or Australian gold coinage in particular, you would be passing up a significant opportunity to get your own slice of history by not participating in this sale.
I will be attending the auction, will be personally assessing the condition of each lot included in the collection, and will be happy to execute any commission bids that you might be interested in submitting. For a 5% fee (payable on successful bids), I will:
View the items that you have an interest in, and provide a perspective on the condition and rarity of the item;
Advise you as to recent marker activity for the item/s that you have an interest in;
Execute a bid on your behalf (to a pre-arranged level);
If successful, arrange for payment and delivery to be made;
Arrange for personal delivery to yourself.
Not all of us have the time and inclination to attend auctions, so this service gives many of my clients peace of mind that their plans for acquisition are reviewed by someone with a regular eye on the market, and that their bids are executed rigourously and professionally. Not only that, but all the fine details after the auction are taken care of by someone that is familiar with the process. I'll be happy to attend the sale with you, and will accept bids via the telephone if you won't be in Sydney on the day.
Don't hesitate to contact me by telephone or email if you wish to discuss this further. Our contact details can be found on the Contact Us page of our website.
---
---