THE REST OF THE NOBLE SALE FOR MERE MORTALS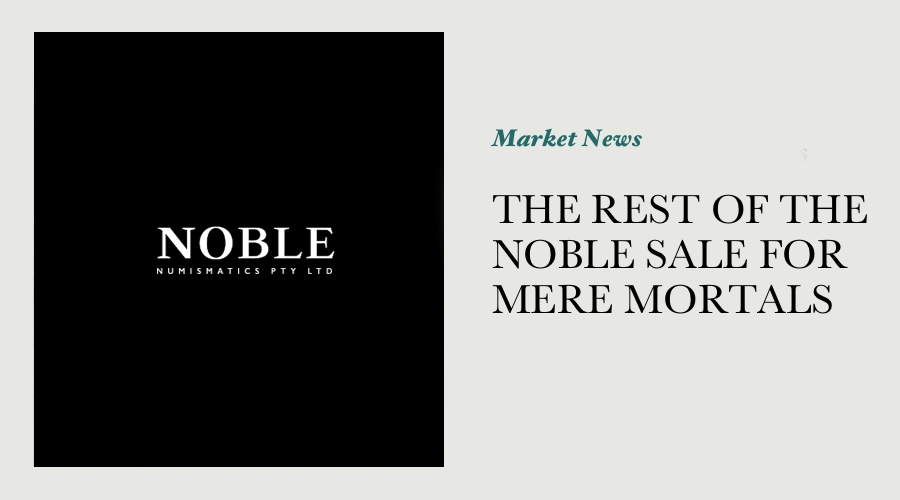 For those of us mere mortals that don't have a lazy million or so to plant down on a single banknote, here are the results for the rest of the Noble sale:

Commonwealth coins in all grades were strong. Not only were key dates in demand as always, top grade items were strong also.
The supply of decimal coins (ie modern issues) appears to be tight at the moment.
Sovereigns (correctly graded ones anyway!) were strong.
Tokens were strong (as always).
Colonial coins strong - this was a very comprehensive offering from an old-time collection.
Dumps (from 1813) were volatile, results were mixed. Have they risen too strongly too quickly?
The result for the Holey Dollar was strong (36% more than the last price realized for a coin in similar grade).
Veiled Head & Jubilee Head sovereigns are clearly and consistently up.
KGV & KGVI predecimal proofs remain strong.
QEII pre-decimal proofs are much less volatile than they have been, there appears to be strong demand across the board for them at present.
Melbourne Centenary florins are very strong (Try $700+ consistently for UNC coins!)
Prices for 1923 halfpennies in all grades less than A EF remain volatile.
Error & Varietes are rising in popularity (both coins and notes).
Bargains were to be had in the pre-decimal banknotes for those with the patience to view them.
Decimal specimen notes remain strong.


The best prices were undoubtedly made by "trophy" items - coins and notes that are impeccable for their history, rarity, quality or all 3. A few of other highest prices were made by:

The 1823 Silver MacIntosh & Degraves Shilling Token;
The 1813 Holey Hollar;
The 1858 Half Sovereign;
The polymer specimen notes.

Looking over these results, you could be forgiven for thinking that the market is moving ahead without hiccup across the board. Prices for certain items certainly are strong, however I wasn't the only person that attended the Noble auction to comment that the breadth of stock on offer wasn't as strong as it is always. This shows us that supply of collector stock is tight at the moment, let's see if it relaxes a bit in 2008.
---
---