Two Auctions in Two Cities in Three Weeks - Noble 117 and Roxbury's 100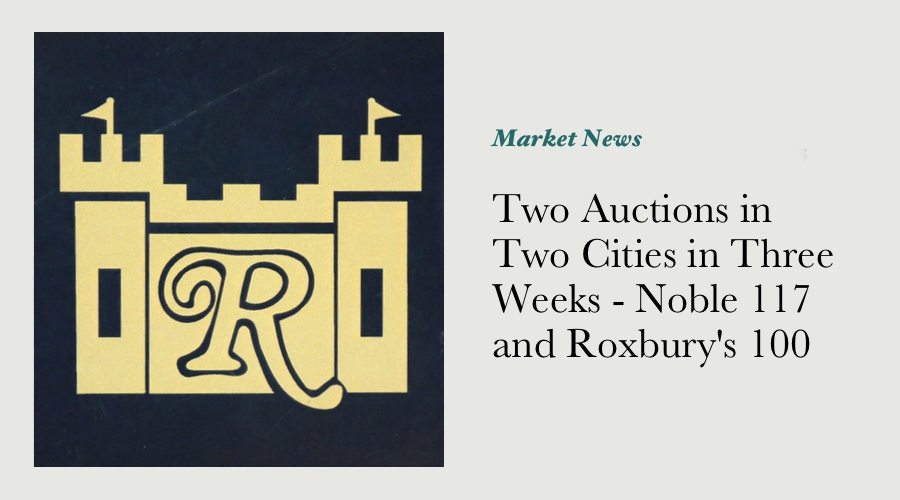 The upcoming month features two auctions in two different cities in two different states - April 17th sees Noble Numismatics kick off their 117th sale in Sydney, while May 5th sees Roxbury's hold their 100th auction. Both auctions contain material that is sure to get collectors across the country talking and getting their wallets out.
Noble Numismatics 117 - Headlined by Australia's Most Valuable Circulating Coin
The excitement surrounding this auction was kicked off a few weeks back when the Australasian Coin & Banknote (CAB) Magazine announced that Noble 117 would feature a "fresh" 1920 Sydney sovereign - Australia's most valuable circulating gold coin, and one of the great rarities of the British Commonwealth.
Very few of these coins are in private hands (only 5 at this stage), and amazingly for a circulating Australian coin, I believe there are less in public collections than the number held privately. An itemised list of the coins held in The National Collection by the Royal Australian Mint is not publicly available, however I presume one of these is held by it. Records of the Dixson Library (part of the State Library of NSW) indicate that one is held there.
The reasons why so few of these incredibly rare coins are known to exist were brought to light by Barrie Winsor via an auction catalogue for St James in 2014, where he explained that they were struck by the Sydney Mint for a NSW Member of Parliament as gifts for his family. Although the Royal Mint Annual Report for 1920 shows that 360,000 sovereigns were struck at the Sydney Mint in 1920, it is thought that no more than 9, and more likely 7, 1920 Sydney sovereigns were ever struck.
Although this is undoubtedly a rare and historic coin, several examples have changed hands in the past decade - 2009; 2012; 2014 and 2015. Prices have ranged between $844,000 for the Specimen held by the Quartermaster Collection to $1,216,391 for the example held by the Bentley collection.
There is little doubt that the market for Australian gold coins has eased since the auction of the Quartermaster Collection was held in 2009, so it will be interesting to see whether the increase in the known population of this by 25% has an impact on the allure that this coin has.
One of the dangers of an auction containing such a celebrity as the 1920 Sydney sovereign is that it completely overshadows all else that the auction contains - there are nearly 5,000 other lots in this auction however, much of it will appeal to collectors of different stripes.
Tuesday Early Sessions
Among the normal batches of circulated pre-decimal coins and decimal proofs etc, the early sessions on Tuesday contain a few surprises - prime among them are a few fairly extreme decimal error coins that I haven't seen examples of before. I've seen double-struck coins and off-metal planchet errors, however not these particular ones (as well as a double-sided $1 coin).
There are less coins from New Zealand and German New Guinea than is usually offered, ditto with the tradesman's tokens. There are some very attractive convict tokens in with the section covering the medals and medallions, it'll be interesting to see how they fare.
The miscellaneous section contains a rather large number of imported and hand-made coin cabinets - these really are what the discerning gentleman would use to store his coins in his library. There are more antique coin cabinets here than I've ever seen in one place before, so I can only imagine what the store-room at Noble Numismatics looks like right at the moment. These cabinets won't appeal to all collectors, however I don't see any problems with them getting away at all.
It's clear from the Australian gold sovereigns and halves on offer that several collections of fresh material are being served up from several different vendors. I fully expect these coins to be pored over by collectors and dealers who are looking to find any unidentified rare varieties, or coins that will grade well under the PCGS standard.
The same can be said for the Australian Commonwealth copper and silver coins - there will be a lot of viewing to be done by those collectors and dealers that are active in this area, I have no doubt some of the prices realised will reflect competition among those that took the time to view.
Tuesday Evening Session
This session starts off with a good range of proclamation and colonial coins - there doesn't look to be anything spectacular contained among them, however this is an active area of the market so I expect they'll sell well. They are followed by a cheaper Holey Dollar and Dump - I say cheaper despite the fact the Dollar has a pre-sale estimate of $40,000. Although this is still a huge sum of money for many people, it literally is a fraction of what the very best examples bring. This says to me the coin is on the market, so it should get away.
There are a number of Type II Adelaide Pounds that follow - one of which looks to have been considerably under-appraised and under-estimated by the auctioneer. These coins have been hard work in recent months, however the better example still looks to be rather light on.
The "better" Australian gold sovereigns and halves that follow again show that a wide range of coins are being offered from several different vendors. Unlike just a few years ago, collectors and dealers have again a wide range of coins to peruse and choose from. It'll be interesting to see how the market rates these coins - they were last handled "back in the day" when the PCGS standard wasn't even conceived of as being relevant here in Australia, so just how many coins are rated by bidders as being desirable under the new standard will be interesting to see.
A series of 1916 specimen silver and copper coins follow - the diagnostics that the most discerning collectors use to attribute these coins as specimens may or may not be evident with a physical examination, I expect the prices realised will bear this out.
The main section of the "better" Commonwealth coins again contains a wide range of coins from old collections that haven't been on the market during the period that the PCGS standard has been popular, which means I expects we'll see a small number of coins at least that are identified by the collectors and dealers with a keen eye for high grade and popular varieties.
Wednesday Sessions
Noble seems to be the go-to auction house for large collections of British coins within Australia, this auction contains more British coins than we've seen offered for some time. The inclusion of a few comprehensive old-time collections means there is a great range of material on offer here. British coins from the 18th - early 20th century are as popular as they are around the world, so these should be keenly contested. Noble 117 is lighter in British gold however, despite the inclusion of some late 19th and early 20th century proof sets that will no doubt sell strongly.
The range of copper and silver coins from other countries around the world is just as comprehensive as the British, there really is some exotic and attractive material on offer. The depth on offer in this section is reflected by the fact the session runs right into late Wednesday night, which I don't recall happening previously.
Thursday Sessions
World, New Zealand and Australian banknotes are on offer from Thursday afternoon and evening, given the material on offer here I'd suggest the specialists will be out in force to review the notes available. There is not the same depth of inventory being offered in this sale in the pre-Federation note series as we've seen previously, nor in the pre-decimal note section, however there are some specimens; star replacement notes and errors available that are seldom seen.
This is going to be an exciting sale, I expect there will be many excited collectors heading into it, and a few vendors with positive expectations. It will be interesting to see just what level of interest there is in the fresh example of Australia's most desirable circulating gold coin - it has quite a long way to go from the published pre-sale estimate to a record price, however I think the market will be satisfied if it sells within range to begin with - anything above that will be taken as being as very positive for the market indeed.
Roxbury's Auction #100 - Stronger in Sections than Noble Numismatics
In many ways, Australia's more remote capital cities often play Cinderella to Sydney and Melbourne, however that certainly shouldn't be the case when it comes to the Brisbane auction that follows Noble Numismatics 117. Roxbury's have turned out a major sale to rack up their century, in some sections it is in fact stronger than the material seen in the much larger Noble sale.
The first few hundred lots or so are made up of what can be loosely called "exonumia" - numismatic items that are not coins or notes. Think medals, tokens, chits and slips and that is what makes up the first 150 lots or so of this auction. This section is highlighted by a rare Queensland token issued by Bell & Gardner, it is a rarity that is seldom seen.
The cheaper Commonwealth coin section contains a large number of rolls, perhaps more than have been seen on the market for some time. The dates aren't particularly rare, however the PCGS devotees don't always concentrate on history and rarity alone, so I fully expect those lots to be chased by those having a tilt at getting them graded with the hope that a condition rarity emerges.
There are 300 individually-lotted Predecimal coins in the section that follows, which is a good run of dates, denominations and grades. The grades and estimates look to be conservative, which bodes well for activity here.
There are some quite rare decimal errors coins hot on the heels of the predecimal, they haven't been seen in a while and look to be estimated lower than market, so there should be some keen bidding on them.
The world note section is highlighted by a range of New Zealand specimen notes, and a quite rare issued note from the Straits Settlements (now Singapore). World specimen notes of all stripes remain popular with collectors across South East Asia, so they although local collectors may treat them with the contempt that comes with familiarity, if the notes are on the market they are sure to sell.
The Straits note will no doubt draw in interest from overseas, if such collectors are aware of the sale. There's no reason a "provincial" Australian auction should draw less interest than one held in either Sydney or Melbourne, however the reality is collectors overseas may not know to check the Roxbury catalogue for such items - the price realised should show whether that happened or not.
There is a good quantity of Australian gold coins in this sale, no 1920 sovereign to be sure, but there are some scarcer dates and others that look to be estimated to sell. The proclamation coins included next look quite attractive, the Adelaide Pounds appear to be fully valued. The 1916 specimen set of silver coins that was offered some time back by Roxbury's has been included again - it was passed in last time only due to a slight weakness in demand, so there were no question regarding whether the set was in fact a specimen or not. The other proofs included look to be fully valued - the Goose Dollar seems to have a very high estimate on it compared to what other examples have brought in recent years.
Then in the banknote section, there is a wide range of decimal notes, and far more decimal specimen notes than are seen in the Noble Numismatics auction. Ditto with the Australian pre-Federation notes, there are far more in the Roxbury auction than will be offered in Sydney, there are proofs, specimens and issued notes to boot.
The Australian pre-decimal notes appear to have been selected for their quality, there looks to be some very attractive items included here. The star note section should be interesting, as this area of the market seems to be trying to find a fresh level at the moment. Varied material in front of interested collectors should make for transparent prices.
All in all, even though Roxbury's follows Noble Numismatics and is in Brisbane rather than Sydney, there is plenty of material on offer to ensure it'll be attended by anyone with an interest in Australian numismatics.
---
---