BYZANTINE COIN HOARD FOUND IN JERUSALEM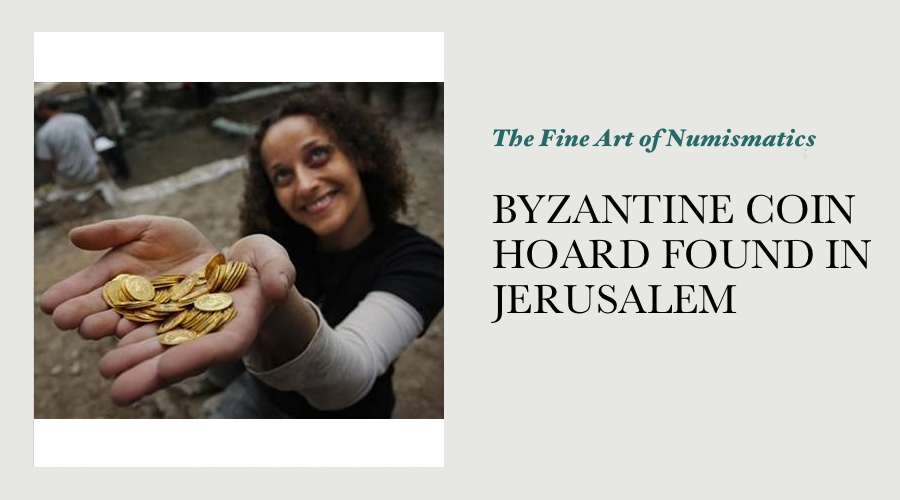 While passing through the kitchen this morning while getting ready for the day ahead I heard the newsreader on 720ABC receount the news that a hoard of "24ct" gold coins had been dug up in Jerusalem overnight.
If the beaming smile on the face of the lass photographed as part of the story is anything to go by, the coins look to be in fairly high grade and thus should be worth a few dollars. "Close to 300" coins were apparently discovered underneath a carpark - you can just imagine the effect that the cascade of gold would've had on the workers at the site! One might think that a find such as this would be worth an untold fortune, however you might be interested to know that most Byzantine solidii from this period cen fetch between $400 - $1,250 at auction. Incredible when you think that kind of money will only get you a pretty average 1923 halfpenny! That'd put the total value of the hoard at between A$120,000 and $375,000. Hang on, that is an untold fortune in these uncertain economic times!
The story shows just how the discovery of coins can contribute a great deal of information to an archeological analysis of a site such as this one. The coins apparently feature the bust of Heraclius, arguably one of the most important rulers of the late Roman empire / early Byzantine empire. As Heraclius ruled for the 30 years between 610AD and 641AD, and the report states that the presence of the coins have been taken as an indication that Jerusalem was "sacked" by the Persians in 614AD, one would certainly presume the coins are dated between 610AD and 614AD.
Byzantine coins don't do a lot for me personally - I prefer the sweeping majesty of the coins struck during the Classical Greek period, or the multitude of portrait styles throughout the Roman Imperial series. One fact that has always stuck in my mind about them however is that the depiction of the emperors during this period on coinage facing front on (as opposed to their depiction being in profile) was evidence of the emergence of "the Bicameral mind" - a significant transition in the way that human beings perceived themselves. That didn't necessarily happen exactly during the period of Heraclius, however every time I see a portrait in this style I remind myself that I must learn more about the concept of the bicameral mind!
---
---