A Kalgoorlie Brothel Token Circa 1900 - No Longer Redeemable!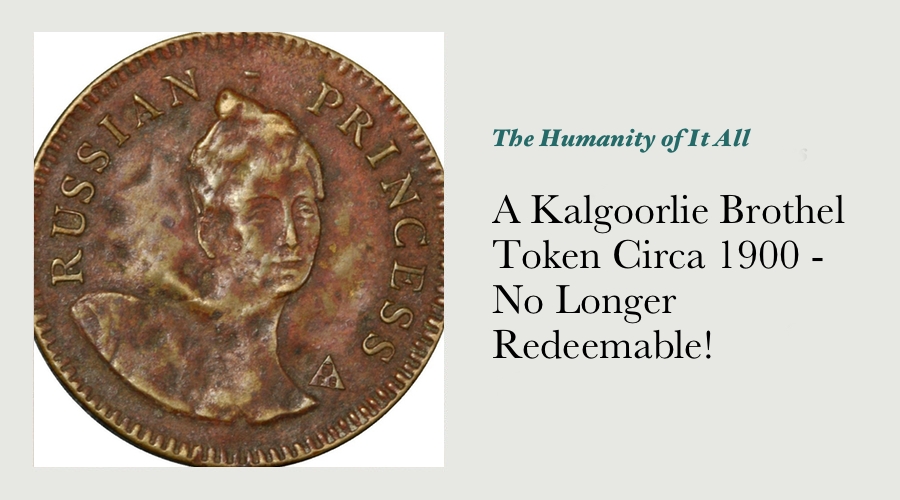 One numismatic item from WA that has a unique place in Australia is the brothel token issued by the Kalgoorlie madam that traded under the nom de plume of Russian Martha - I don't know of any other brothel tokens that have been issued anywhere in Australia!
An example of this token appeared on ABC TV some time back, the well-known Kalgoorlie identity Leigh Varis had this to say about how these tokens came about: "What I've been led to believe is that they used to give them to the local barber shop, the guys used to go in and have haircuts, shaves, whatever, buy their tobacco, and then they'd buy a token. They'd buy the token and then that night they'd go down to the working girl, hand the working girl the token, she would give her services. The next day they would get up and they would go downtown and they'd give it back to the barber and he would give them their cut."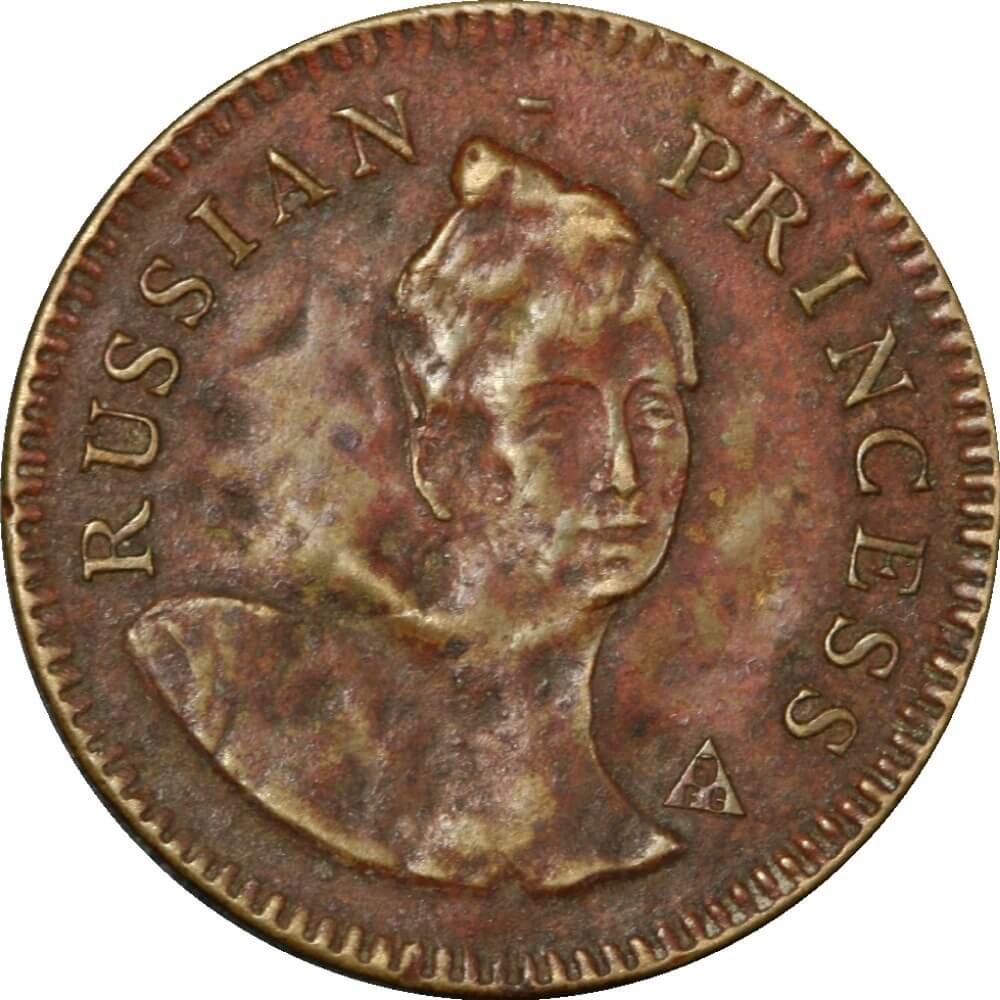 As to what the tokens were made of, and where they came from, Dr Terry Rafferty, of the WA Museum in Kalgoorlie stated that "They're actually hollow and they're believed to be made in Paris and there's...probably got a cardboard insert somewhere in between them."
A little bit of detective work by the journalist at the ABC determined that "Russian Martha" was in fact a Ms M Fragson, or more to the point a lady with the pseudonym of M Fragson owned 140 Brookman Street (the address on the token), as well as numbers 130, 132, 138 and 142 Brookman Street. Dr Raelene Francis, something of an expert in prostitution in 19th century Australia stated that: "Martha was, um, not Russian, as she suggested, but she was in fact French. Her real name, as far as I know, was Patureaux. There were a lot of French women in Kalgoorlie, but not too many Russians, so I guess she thought she had a bit of an edge by pretending to be Russian."
So not only does this little token tie in very nicely with West Australia's gold mining history, it has a titillating story attached to it as well. At this stage it appears to be the only "shell card" issued in Australia that I'm aware of, and certainly the only brothel token known.
The token is 22mm in diameter, and weighs 1.12 grams. A brief amount of research online has yielded the knowledge that this token is what is known as a "shell card" - a metal shell (which I presume was made in two parts via some type of electroplating process) wrapped around a cardboard inner core. I understand that they were in reasonably widespread production in the United States following the US Civil War, or more specifically between 1866 and 1876. Further research online shows that these items were also produced in France up until around the First World War, and that generic designs were not entirely unheard of.
The existence of this token (and presumably the wider range of shell card tokens produced by the same company around the same period for similar businesses to that which existed at 140 Brookman Street in Kalgoorlie) shows that the female figure on the obverse of the Kalgoorlie token may not have been modelled on the beauty of the entrepreneurial Ms Fragson after all. Logic confirms that it would be nigh impossible for Ms Fragson to have her portrait somewhow rendered in Kalgoorlie, then sent to Paris for production into tokens!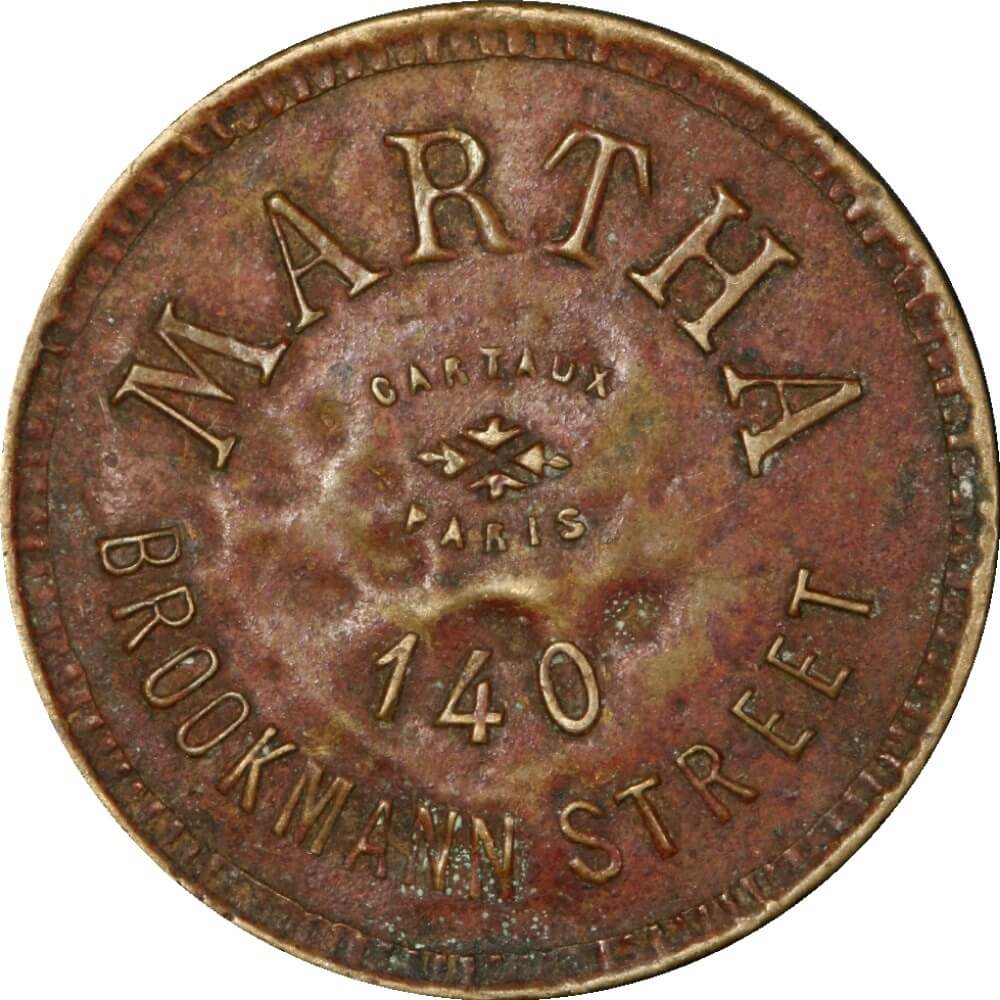 I don't believe that it is too great a leap of faith to conclude that Kalgoorlie's own Ms Fragson had either used or otherwise encountered these shell card tokens while plying her trade in Paris, and once established as a madam in the WA goldfields, then made use of her contacts in Paris to have a number made to promote her business and facilitate trade. The following description, taken from an eBay listing of a similar token issued in Paris at the turn of the 20th century, gives us an indication of the fuction that these tokens served (NB: The translation has been provided free of charge by Alta Vista's Babel Fish service!):
"THESE TOKENS, WERE PUBLISHED BY the HOUSES CLOSED SO D' TO AVOID ANY TRANSACTION OR EXCHANGES D' MONEY ENTERS THE CUSTOMERS AND THE PROSTITUTES. ONLY THE MOTHER BROTHEL-KEEPER HAD THE RIGHT TO SELL THEM, THUS AVOIDING WITH THE BOARDERS TEMPTATION TO DISSIMULATE PART OF THE RECEIPTS…"
Not a dissimilar description at all to those we've had from Kalgoorlie! I was curious what the address of 140 Brookman Street would have on it today, Google Maps shows us that it looks to be a business of some sort:
View Larger Map
Despite Google's fantastic service, I don't have enough local knowledge of Kalgoorlie to be able to say definitively that the above image shows the exact location of Russian Martha's brothel - I have a sneaking suspicion that when a large section of Brookman street was renamed, the street numbers were also rearranged so respectable folks didn't have an address in close proximity to a den of ill repute!
---
---