2023 The Layman's Guide To Australian Coin Values eBook
13 Chapters, 44 Pages
---
Contains everything you need to know to appraise your coins yourself.
Nearly all of the coins and notes that non-collectors have can be valued pretty easily when you know what to look for.
By the time you're finished with this Layman's Guide you'll know exactly what your coins and notes are worth, how to best sell them and where to go if you want more information.
If you would like to sell your coins and notes then please click this link.
I'm going to make a bold statement now - there's not one single book, magazine or website that has even half the practical information about the value of Australian rare coins that's in this ebook.
I've written it specifically for sellers of coins and notes, and if you buy it, you'll have impartial and accurate information on the value of your whole collection by the time you're finished reading it.
The Layman's Guide To Australian Coin Values will:
Help you identify all of Australia's most valuable coins & notes;

Give you an accurate idea of how much a dealer will pay you for it; and

Give you pointers on how and where to sell it.
If this sounds like the kind of information you're looking for, the book will cost you less than $20, just go ahead and order it by clicking the button at the top of the page and you can be reading it within minutes.
We know the information is 100% accurate, we back it with a money back guarantee.
With the Layman's Guide to Australian Coin Values, the average person can have access to information that's either only available to dealers, or to those dedicated collectors that spend hours; days and even months researching the market.
If you're completely new to the world of collecting coins and banknotes, don't worry - I'll walk you through step-by-step the best way of appraising and selling your collection to ensure you get the most you possibly can for it. I explain exactly what to do and how to go about it. If you aren't new, this ebook will save you a heap of time keeping track of where the market's at.
Here's a preview of the table of contents:
Introduction
Australia's Gold Coins: Sovereigns and Half Sovereigns
How To Tell Where Your Sovereign Is Made
Commonwealth (Pre Decimal) Coins
How To "Grade" Your Coins
Decimal Coins - Pocket Change Lottery!
Commonwealth (Pre Decimal) Notes
Condition: How to "Grade" A Banknote
Paper Decimal Banknotes
Polymer Decimal Banknotes
How to Get The Best Price When Selling Your Coins and Notes
The Leading Numismatic Dealers and Auctioneers in Australia
A Resource List (For Much More Information)
Clubs and Societies
How To Clean Your Coins
How To Get Your Coins and Notes Organized
Getting A Valuation - Informal or Written
ANDA Trade Shows: Australia's Leading Dealers Under One Roof
You'll have direct access to the pricing information that takes dealers and serious collectors months, if not years to come to grips with!
Once you've got access to the lists of "key date" coins and notes contained in the Layman's Guide, you can start searching your collection straight away to see just how much it's worth.
Now let's say you don't have a rarity in amongst your collection - what about the rest of them? A lot of people don't realize that just because they don't have the ultra rare coins, that doesn't mean their collection is worthless. A whole lot of common coins can still be worth good money.
If you've got more than a jarful of coins or notes, you'll do well to get your hands on this book.
Added Bonus - Collection Calculator.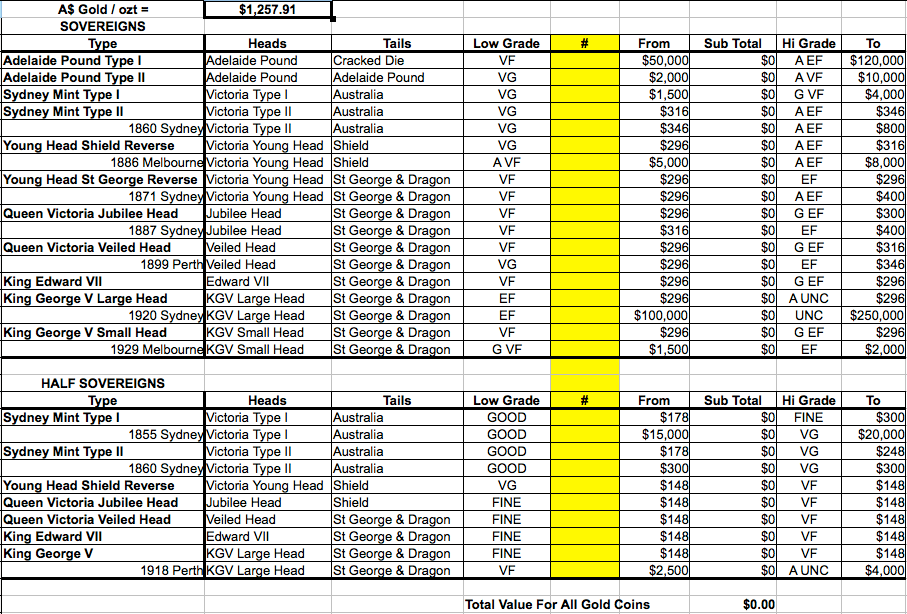 To make calculating the total value of your collection even easier, you'll receive our "collection calculator". It effortlessly adds up the value of each coin and note that you have - all you need to do is punch in how many you have of each coin and note.
Believe or not, this simple spreadsheet is going to be the one thing that shows you just how lucrative your collection really is! There are more than a few reasons why it's going to ensure you get as much as possible for your collection:
First of all, it makes the process easy. A lot of people put off a job like this because they believe it'll take forever to do - this spreadsheet makes it a breeze.

Secondly, one small mathematical mistake could result in an error that massively undervalues your collection. Leave the number crunching to your computer and it's done 100% correctly as soon as you've finished typing the numbers in.

Third, it'll make sure you keep track of every single item in your collection - you can't forget to include anything by using it!

Finally, adjustments can be made in seconds - if you negotiate a better price or the market changes over time, you can still use this calculator to value your collection.
Not only are you getting a Layman's Guide with all the latest figures; tips, hints and insights into how you can get the optimum amount for your collection ... but you are also getting your very own custom-designed collection calculator, which will add it all up for you.
With this Layman's Guide, the average person can have access to information that's either only available to dealers, or to those dedicated collectors that spend hours; days and even months researching the market. Download it now, and within minutes you can be checking your coins and notes to see just how much they're worth.
Good Luck!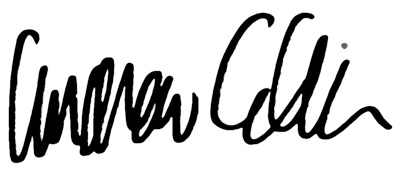 Special Note: This is a downloadable e-book.
The entire package will be immediately available for you to download and get started with straight away after you order it.

If you have a high speed internet connection, the downloads usually take less than a minute.
The e-book download and free bonuses will be in PDF format, so you'll need Adobe Reader installed on your computer to open the files.
Most computers already have Adobe Reader installed, but if you don't currently have it, a free download is available by clicking on the image below: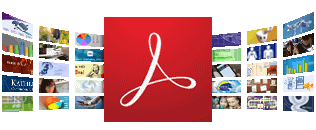 SKU: 16002
---
Standard Shipping
- $0.00
Signature is required on delivery
---
International Shipping
- $0.00
This is the courier service delivered via the world's postal system.
---
Express Shipping
- $0.00
Signature is required on delivery
---
Free pick-up from store
- $0.00
You're welcome to collect your order from our office (Shop 22; 27-35 William Street; Fremantle; 6160) during normal office hours. Please make sure to check we're open before you head on in!
| | |
| --- | --- |
| SKU | 16002 |
| Shipping Height | 0.001m |
We unconditionally guarantee the authenticity, title and grade of every item we sell. The tax invoices we supply ensure that you have these guarantees in writing.
Please review our Website Terms and Conditions for a complete explanation of the guarantees we provide.
All items ship within 24 hours of confirmed payment being received.
Please review our Website Terms and Conditions for a complete explanation of our availability guarantee.
All orders are delivered via trackable and insured mail at a flat rate of $9 for orders within Australia, and $25 internationally.
Australia Post Parcel Post within Australia can take up to 1 week to arrive, while EMS / ECI international mail can take up to 3 weeks.
Urgent orders can be sent via Australia Post Express Mail at special request.
Please review our Website Terms and Conditions for a complete explanation of our delivery guarantee.
Be The First To Review This Product!
Help other Sterling and Currency users shop smarter by writing reviews for products you have purchased.

---

I've taken my coins to Andrew a few times. Him and his staff are very nice people. Andrew is honest and down to earth. 👍

I have purchased several bulk lots of world coins from Sterling & Currency over the last few years. Not only are the selections I receive great (some duplication is par for the course), but the postage is truly cheap as chips. And I hope to be a customer for many more years. I've certainly never experienced any of the rudeness that other reviewers have mentioned. Read more...

I live on East Coast but prefer dealing with Andrew on the West due to his integrity, knowledge and prices, either buying or selling over many years. You will always do better buying from Andrew if your after quality and "real" coins.... If you take a coin to value and its a fake, he will tell you. If its valuable or mid range, he will be as honest with that valuation. After decades dealing with Andrew (and many other dealers as I have been collecting for well over 40 years), I am of the opinion that Stirling and Currency and particularly Andrew are the best numismatic dealers in Australia . Read more...

Just purchased a 1966 blue case decimal mint set. Andrew gave me a ring to ensure it had arrived and provided some very interesting and probably unknown information concerning these blue cases imported from South Africa during the apartheid era. Great service and a compendium of knowledge. Thanks! Read more...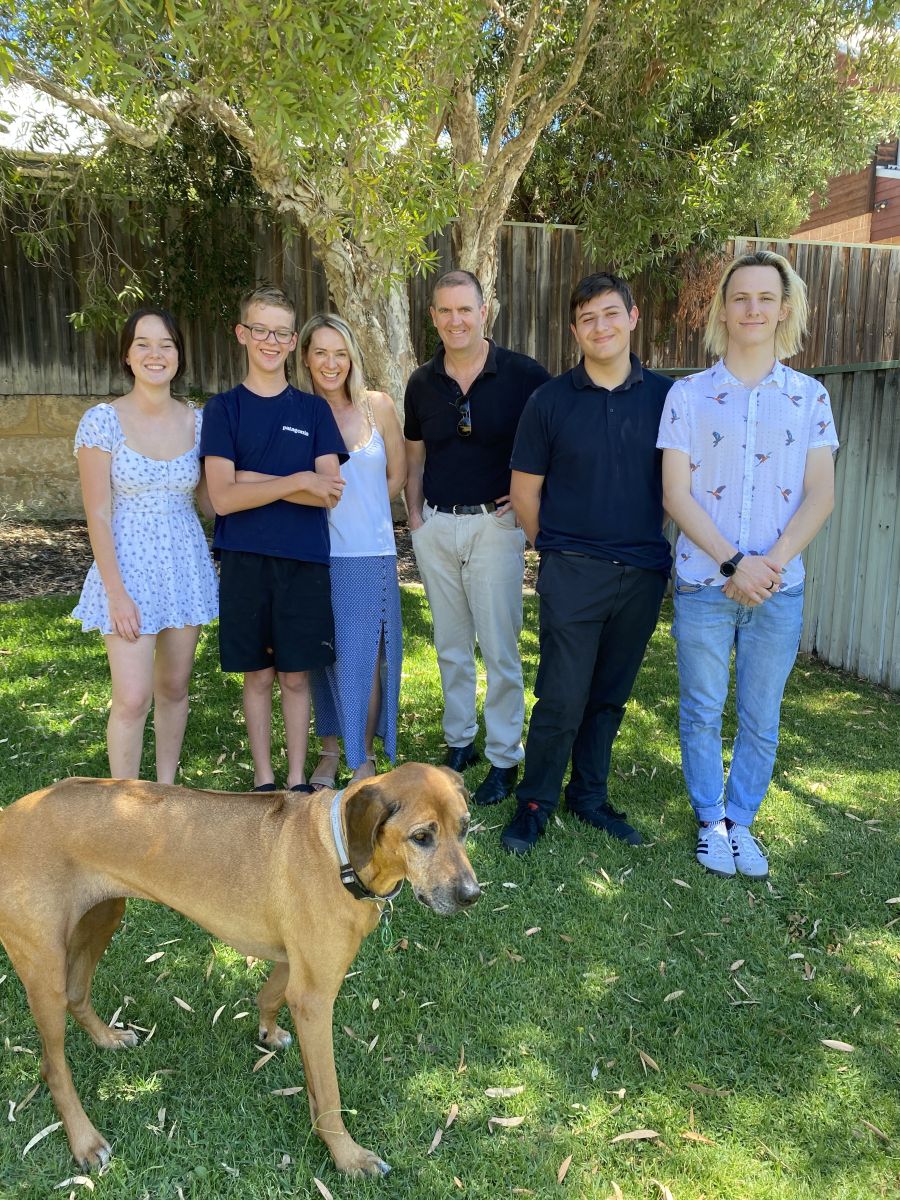 About the Sterling & Currency Team
The team at Sterling & Currency is a family affair – small but growing. Andrew Crellin is the main dealer in the business, click here to read this credentials and how he started with the Perth Mint; spent a decade in Sydney working with two leading dealers and relocated back to Perth in 2006.

Jo is our budding Numismatist, Chief Event officer, Photographer and Packing Extraordinaire. Natalie is our media creator and photographer. Nicole manages the accounts and is part of the Packing Team. A myriad of important duties are carried out by the team that include photography, website updates, office admin, and chocolate eating.

Ruby the Ridgeback quite frankly has learned nothing about coins, however contributes by barking at anyone wearing hi-viz.