Rennik's Australian Coin & Banknote Values Book 2022
Softcover 31st Edition
352 Pages, full colour
---
Includes stacks of new information for 2022, with a range of further enhancements.
There has been no shortage of controversy about the two main guides to Australian coin and banknote values in recent years - the Renniks guide was the first in several years to systematically address the adjustments in market values that took place since the Global Financial Crisis occurred in late 2007, more to the point the fallout that followed for the Australian numismatic market.
Flicking through the opening pages of the 31st edition, it's clear to see that this book has been designed and laid out by someone with an eye focused on good design and readability.
A well-structured document means that finding any coin or note in this book is a simple and straightforward process, which is essential if we're in a rush or are working through a large collection.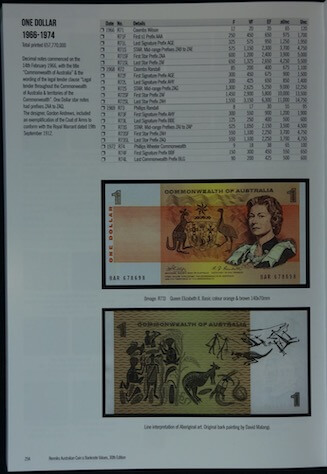 The 31st edition maintains the colour throughout that has been included previously - lots of photographs means this really is an enjoyable publication to refer to and flick through.
A new section explaining the terms used in the descriptive grading standard has been included, as has a page giving a rough guide to the relationship between the adjectival ("raw") grades and the numerical grading standard that is used by independent grading companies such as PCGS.
Although the page that attempts to match up each adjectival grade with an equivalent numerical grade isn't perfect, if it even introduces the idea of numerical grading to a new collector starting out, that is well worth the cover price alone.
The way the decimal circulating and NCLT coins has been laid out is clear and well-structured - this section just makes sense.
That attention to detail is carried right throughout the section covering the banknotes - all of the important prefixes for our paper and polymer decimal notes have been identified, including those to look out for in the new NGB $5; $10; $20 and $50 notes.
All of the above changes are good and well, however as we've said before, no matter how well-designed these books are, the rubber hits the road with the market values they contain.
The editors have responsibly included a caveat very early in the book explaining that the figures in this guide are a guide only. No matter how well-intentioned any guide might be, actual market values can vary according to the exact circumstances of a buyer or a seller.
This means that any of us that have a keen interest in coins and notes are responsible for the decisions we make when we're buying and selling - we can't just rely on a printed guide like this.
The Renniks 31st edition to Australian Coin and Banknote Values gives an excellent overview of the Australian numismatic market - it is an excellent first step in working out what a particular coin and note is worth but it certainly shouldn't be the last step.
If you are a keen collector of any type of coin or note, you can use a guide like this to get started. Once you have the numbers here, you can then look at online sales; auction sales and what dealers are asking for their own inventory.
We'd all love to have a printed guide that we can rely on 100% when buying or selling but the reality is a strategy like that is fraught with danger - if the market moves (up or down) after a book has been published, we can come unstuck really easily.
In the meantime, the 31st edition of the Rennik's catalogue remains essential buying for any collector with an interest in Australian numismatics.
SKU: 20236
---
Standard Shipping
- $9.00
Signature is required on delivery
---
Express Shipping
- $15.00
Signature is required on delivery
---
Free pick-up from store
- $0.00
You're welcome to collect your order from our office (Shop 22; 27-35 William Street; Fremantle; 6160) during normal office hours. Please make sure to check we're open before you head on in!
| | |
| --- | --- |
| SKU | 20236 |
| Barcode # | 9.78E+12 |
| Shipping Height | 0.001m |
We unconditionally guarantee the authenticity, title and grade of every item we sell. The tax invoices we supply ensure that you have these guarantees in writing.
Please review our Website Terms and Conditions for a complete explanation of the guarantees we provide.
All items ship within 24 hours of confirmed payment being received.
Please review our Website Terms and Conditions for a complete explanation of our availability guarantee.
All orders are delivered via trackable and insured mail at a flat rate of $9 for orders within Australia, and $25 internationally.
Australia Post Parcel Post within Australia can take up to 1 week to arrive, while EMS / ECI international mail can take up to 3 weeks.
Urgent orders can be sent via Australia Post Express Mail at special request.
Please review our Website Terms and Conditions for a complete explanation of our delivery guarantee.
Be The First To Review This Product!
Help other Sterling & Currency users shop smarter by writing reviews for products you have purchased.