1854 Silver Prize Medal Products of New South Wales
Obverse: (Personifications of ) Britannia introducing Australia to France
Reverse: Deep border featuring illustrations of scenes of rural and mining activities; ships entering the Heads; inscription in the centre
Diameter: 73mm | Weight: 163g | Alloy: Silver
Maker: Leonard C.Wyon, Royal Mint - London
Mintage: 48
---
This incredibly rare medallion is described as being one of Australia's most beautiful from the 19th century.
The Great Exhibition held in London in 1851 ushered in an era of Exhibitions; local, Intercolonial and International, which continued beyond the end of the 19th century. International Exhibitions such as this enhanced trade between the Colonies and other countries, and created a competitive spirit between the Colonies that helped increase their prosperity.
The Products of New South Wales Exhibition was an event held to select exhibits from New South Wales that would be displayed at the Paris Universal Exhibition of 1855. It opened at the Australian Museum on November 14th, 1854, and was the first-ever temporary exhibit staged at that venue.
First-class prizes in each category of exhibit were awarded one of these silver medals, just 48 were struck.
A very detailed article on the background to this rare, historic and attractive medal was published by the Numismatic Association of Australia (NAA) in 2006 and can be accessed via this link.
All of the prize medals awarded at horticultural and agricultural shows in the Australian colonies were usually hand engraved. The 1854 Products of New South Wales medal differs from them in that it was struck between two steel dies in a screw press. It is also notable that it was struck in London, and pre-dates the establishment of the Sydney Mint.
The 1854 Products of New South Wales medal also shows the beginnings of the creation of a local or Colonial iconography for official medals, which was based on current trends in British medallic art.
The obverse of the 1854 Products of New South Wales medal is modelled on the reverse of the official prize medal for the 1851 Exhibition designed by L.C. Wyon, where allegorical figures were used to represent various countries.
The design of the reverse of the 1854 Products of New South Wales medal, however, does not appear to have any British precedent. Rather, it is stated to reflect Australian Colonial landscape paintings of the period and was designed by a painter.
Notable recipients of these silver prize medals were Rev. W.B. Clarke, Messrs. James and William Macarthur and, interesting in numismatic terms, Mr Julius Hogarth.
We do not know the provenance of this particular medal as Davies (in the publication noted earlier) states "...for the medals are usually uninscribed..."
This is a perfect example of one of Australia's most highly regarded commemorative medallions. It remains in impeccable condition given its age - our images show that the surfaces both on sides remain original and free of any tone or patina.
Some striations are evident in the fields on either side (particularly on the reverse), we'd suggest that these hark from the original dies, and not from any enthusiastic polishing or mishandling.
It remains an incredible memento of formal efforts throughout the 19th century to showcase Australia's natural wealth on the world's stage.
SKU: 211323
---
Standard Shipping
- $9.00
Signature is required on delivery
---
Express Shipping
- $15.00
Signature is required on delivery
---
Free pick-up from store
- $0.00
You're welcome to collect your order from our office (Shop 22; 27-35 William Street; Fremantle; 6160) during normal office hours. Please make sure to check we're open before you head on in!
| | |
| --- | --- |
| SKU | 211323 |
| Shipping Weight | 0.1100kg |
| Shipping Width | 0.090m |
| Shipping Height | 0.030m |
| Shipping Length | 0.075m |
We unconditionally guarantee the authenticity, title and grade of every item we sell. The tax invoices we supply ensure that you have these guarantees in writing.
Please review our Website Terms and Conditions for a complete explanation of the guarantees we provide.
All items ship within 24 hours of confirmed payment being received.
Please review our Website Terms and Conditions for a complete explanation of our availability guarantee.
All orders are delivered via trackable and insured mail at a flat rate of $9 for orders within Australia, and $25 internationally.
Australia Post Parcel Post within Australia can take up to 1 week to arrive, while EMS / ECI international mail can take up to 3 weeks.
Urgent orders can be sent via Australia Post Express Mail at special request.
Please review our Website Terms and Conditions for a complete explanation of our delivery guarantee.
Be The First To Review This Product!
Help other Sterling and Currency users shop smarter by writing reviews for products you have purchased.

---

I've taken my coins to Andrew a few times. Him and his staff are very nice people. Andrew is honest and down to earth. 👍

I have purchased several bulk lots of world coins from Sterling & Currency over the last few years. Not only are the selections I receive great (some duplication is par for the course), but the postage is truly cheap as chips. And I hope to be a customer for many more years. I've certainly never experienced any of the rudeness that other reviewers have mentioned. Read more...

I live on East Coast but prefer dealing with Andrew on the West due to his integrity, knowledge and prices, either buying or selling over many years. You will always do better buying from Andrew if your after quality and "real" coins.... If you take a coin to value and its a fake, he will tell you. If its valuable or mid range, he will be as honest with that valuation. After decades dealing with Andrew (and many other dealers as I have been collecting for well over 40 years), I am of the opinion that Stirling and Currency and particularly Andrew are the best numismatic dealers in Australia . Read more...

Just purchased a 1966 blue case decimal mint set. Andrew gave me a ring to ensure it had arrived and provided some very interesting and probably unknown information concerning these blue cases imported from South Africa during the apartheid era. Great service and a compendium of knowledge. Thanks! Read more...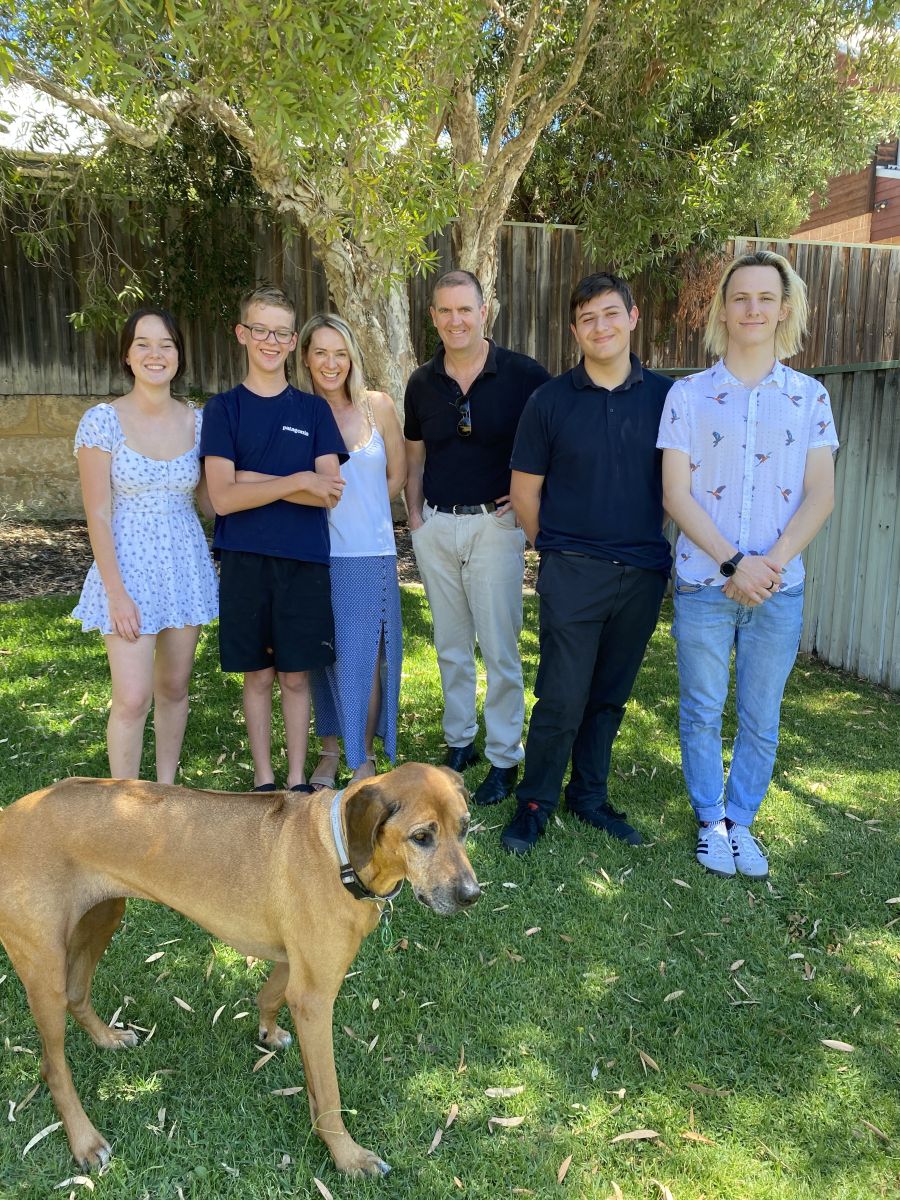 About the Sterling & Currency Team
The team at Sterling & Currency is a family affair – small but growing. Andrew Crellin is the main dealer in the business, click here to read this credentials and how he started with the Perth Mint; spent a decade in Sydney working with two leading dealers and relocated back to Perth in 2006.

Jo is our budding Numismatist, Chief Event officer, Photographer and Packing Extraordinaire. Natalie is our media creator and photographer. Nicole manages the accounts and is part of the Packing Team. A myriad of important duties are carried out by the team that include photography, website updates, office admin, and chocolate eating.

Ruby the Ridgeback quite frankly has learned nothing about coins, however contributes by barking at anyone wearing hi-viz.