Kangaroo Office Commemorative Medal, Struck circa 1854 by William Joseph Taylor
Reference #'s: Carlisle V/2, Andrews 784a
Diameter: 38mm
Weight: 17.43g
Composition: White Metal
Provenance:
Ex Gilbert Heyde collection (Part 3, Lot 446); GK Gray; Sydney; 23/3/1974. Hammer price: $190
Ex Syd Hagley collection
---
Believed to have been struck before the Kangaroo Office gold patterns, one of just two examples known.
The Kangaroo Office at Port Phillip was a bold attempt by several British entrepreneurs to convert the raw wealth of Australia's goldfields into tokens that could circulate throughout colonial Victoria and New South Wales.
Circumstances ensured that Australia's first private mint failed after just three short years, the vision of its founder is celebrated none the less for it. In fact, the 1853 Kangaroo Office Patterns of Port Phillip are among the rarest and most desirable of all Australian coins.
The list of private collections that have held even just one of the Kangaroo Office Patterns of Port Phillip read like a roll call of the finest holdings of Australian gold coins ever formed – the Murdoch; Montagu; Nobleman; Farouk and Quartermaster collections have all held Kangaroo Office Patterns.
The main man behind the Kangaroo Office was William Joseph Taylor, a medallist and die engraver in London. Taylor struck a number of tokens and medals in the name of the Kangaroo Office in London, while a wide range of tokens and medals were also struck on-site at the Kangaroo Office in Port Phillip (Melbourne).
As Rare As the Gold Tokens Struck for the Melbourne Exhibition
The exact date this check was struck isn't recorded, it is believed to have been struck for sale or distribution at the Melbourne Exhibition from December 1854.
We have sighted just one other example in private hands, making it as rare as the gold tokens that were struck at the same time.
This example was previously in the Gilbert Heyde and Syd Hagley collections - two of Australia's foremost numismatists of the 20th century.
First Recorded in 1895 by Dr Walter Edmund Roth
This medal was first recorded in 1895, in an article by Dr Walter Edmund Roth, one of Australia's most important numismatists.
Roth emigrated to Australia in 1887. He taught briefly at various schools in Brisbane, Adelaide and Sydney, then practised medicine with his brother Reuter in Sydney. Walter was a dedicated collector of tokens and coins and spent much time classifying and researching the items in his collection.
By 1893, Roth had prepared a "Catalogue of Australian Tokens".[1] Sections of Roth's Catalogue were published as a series of articles titled "A Numismatic History of Australia" in "The Queenslander" newspaper across 1895. Roth's second article (dated July 27th 1895) covered much of the history of the Kangaroo Office, many of the details of which were gained via a detailed conversation he had with Reginald Scaife in London in 1892. Roth's conversation with Scaife is a solid source of primary information on the Kangaroo Office.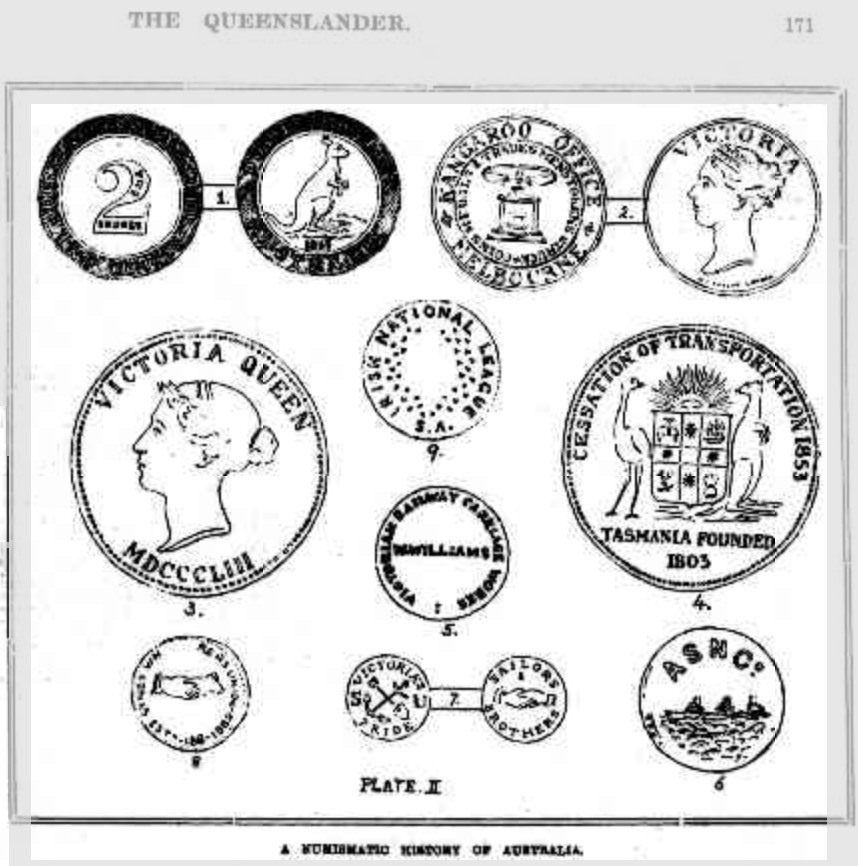 Roth's description of the output of the Kangaroo Office included the comment that "…besides the gold coins, the Kangaroo Office issued: a. a medal to commemorate its establishment. The medal is size 39mm, pewter and copper. Obv.: a hand-press in the centre, with "COINS MEDALS & TRADESMAN'S TOKENS STRUCK", surrounded by "KANGAROO OFFICE MELBOURNE" on a raised border. Rev.: Crowned head of the Queen to left, "VICTORIA" above, and "W. J. TAYLOR LONDON" under.[2]"
If we accept Roth's description of the purpose of the medal, this dates it to the middle of 1854 at the latest - when the shop was built, and the press began operations.[3] Scaife's letter to his parents in September 1854 indicated that he did not strike the gold Kangaroo Office patterns until close to the end of the Melbourne Exhibition, which opened on 17th October and ran until 12th December.[4] If the medal was indeed struck before the gold patterns, this could be another reason why it has been so highly prized by collectors in years past.
Ray Jewell - South Australian Numismatic Journal in 1962
Evidence of the appeal that this check has held in years past is an article written by the eminent numismatist Ray Jewell, published in the South Australian Numismatic Journal in 1962.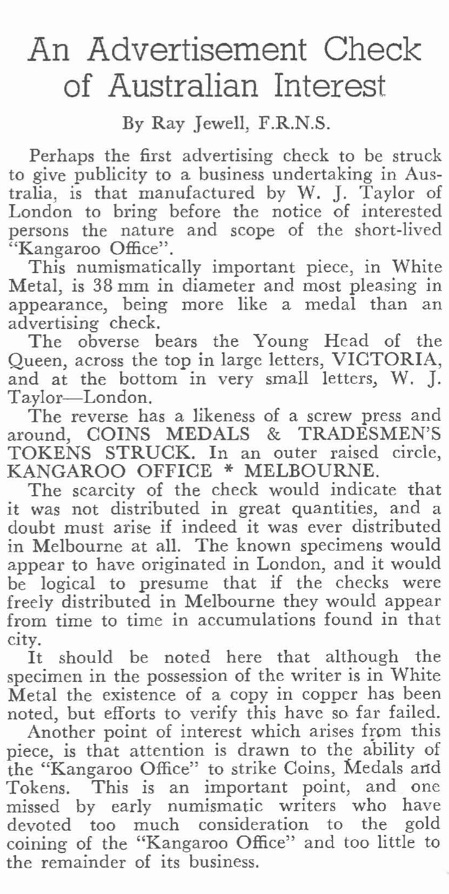 Compare the figures this check has made at auction in years past, you'll see that on occasion, it has sold for just as much as the pattern sixpences and shillings Taylor struck between 1855 and 1860.
When it was sold out of the Heyde collection in 1974, it made a price in line with a number of the pre-1955 proof coins that were included in the same sale.
It is an essential complement to any collection of Kangaroo Office patterns that aspires to be truly complete. When the relative values it has traded at in years past are taken into account, it is superb value for money.
Footnotes:
[1] Reynolds; Barrie, "Walter Roth and the Missing Manuscript" in the Journal of the Numismatic Association of Australia, 15, 2004, p 53.
[2] A Numismatic History of Australia. (1895, July 27). The Queenslander (Brisbane, Qld. : 1866 - 1939), p. 171.
[3] Sharples, John, "The Australasian Tradesmen's Tokens Project, The James Nokes Proof Halfpenny and Problems of the Kangaroo Office", in the Journal of the NAA, Volume 17 Number 7, 2005, p 29.
[4] https://guides.slv.vic.gov.au/interexhib/1854to55
SKU: 207747
---
Standard Shipping
- $9.00
Signature is required on delivery
---
Express Shipping
- $15.00
Signature is required on delivery
---
Free pick-up from store
- $0.00
You're welcome to collect your order from our office (Shop 22; 27-35 William Street; Fremantle; 6160) during normal office hours. Please make sure to check we're open before you head on in!
| | |
| --- | --- |
| SKU | 207747 |
| Shipping Width | 0.030m |
| Shipping Height | 0.001m |
| Shipping Length | 0.030m |
| Assembled Length | 0.030m |
| Assembled Height | 0.001m |
| Assembled Width | 0.030m |
We unconditionally guarantee the authenticity, title and grade of every item we sell. The tax invoices we supply ensure that you have these guarantees in writing.
Please review our Website Terms and Conditions for a complete explanation of the guarantees we provide.
All items ship within 24 hours of confirmed payment being received.
Please review our Website Terms and Conditions for a complete explanation of our availability guarantee.
All orders are delivered via trackable and insured mail at a flat rate of $9 for orders within Australia, and $25 internationally.
Australia Post Parcel Post within Australia can take up to 1 week to arrive, while EMS / ECI international mail can take up to 3 weeks.
Urgent orders can be sent via Australia Post Express Mail at special request.
Please review our Website Terms and Conditions for a complete explanation of our delivery guarantee.
Be The First To Review This Product!
Help other Sterling & Currency users shop smarter by writing reviews for products you have purchased.