1992 $5 Note Fraser/Cole R214 Uncirculated
Front: Elizabeth II at centre, Wattle at left
Back: Old and new Parliament houses
Period on Issue: 1992-1995
---
This was the very Australian first polymer $5 note issued into circulation.
The pale polymer Fraser Cole five-dollar notes were first released into circulation in July 1992, just 4 years after the polymer Bicentennial $10 note.
The Reserve Bank of Australia was keen to ensure that the new $5 notes would survive whatever test the general public would put them to, so it was fortunate that the only controversies that surrounded the new notes were the designs on the notes, rather than the durability of the notes themselves.
Mainstream media articles show that many Australians thought that the Queen no longer had a place on our circulating currency and that Caroline Chisolm should be retained.
In an incredibly rare display of political solidarity, both the Labour Prime Minister Paul Keating and the Liberal Opposition Leader John Hewson both made public statements to that effect in Parliament.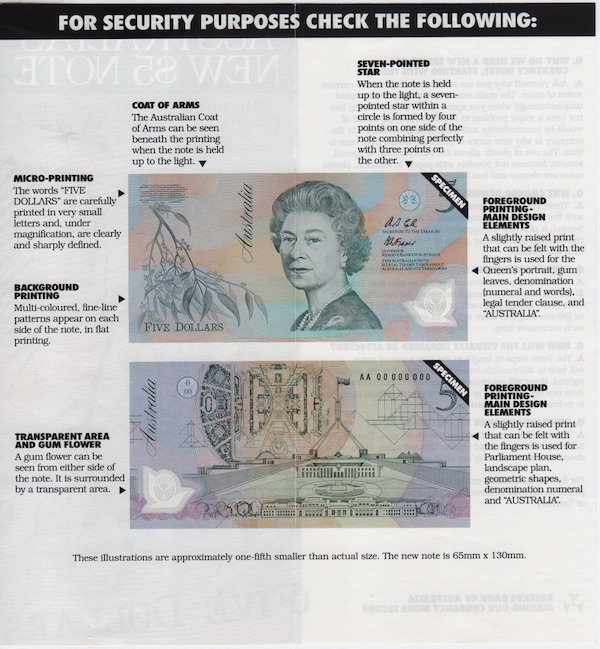 Publicity for the 1992 Polymer $5 Note
A statement issued by the Reserve Bank Governor, Bernie Fraser, said "the bank had to weigh the traditions along with the 'possible but unquantifiable' changes in community attitudes in recent years. Having weighed up all those factors, the bank has judged it appropriate to hold to the earlier decision to depict the Queen on the $5 note in the new note series."
The politicians quickly moved onto other controversies, and the note circulated throughout Australia with few complaints in the following months. That peace didn't last long, as when the new blue $10 note was introduced in November of 1993, some sections of the community apparently found it difficult to distinguish between the $5 note and the $10 note.
In an effort to help those with limited vision, in April of 1995, the RBA adjusted the main simultan colour used in printing the polymer $5 note - the mauve was deepened and made more vivid. The RBA also took the opportunity to increase the size of the number 5 in the top right corner either side. The pale polymer $5 notes were also the last Australian notes to have a "random" serial prefix - all notes released after this one included the date as part of the serial number.
Really keen polymer note collectors now distinguish between the different shades of ink used to print the serial numbers of the R214 $5 notes printed between 1992 and 1995 - many are prepared to pay a significant premium for notes that have pale serial numbers.
SKU: 3611
---
Standard Shipping
- $9.00
Signature is required on delivery
---
Express Shipping
- $15.00
Signature is required on delivery
---
Free pick-up from store
- $0.00
You're welcome to collect your order from our office (Shop 22; 27-35 William Street; Fremantle; 6160) during normal office hours. Please make sure to check we're open before you head on in!
| | |
| --- | --- |
| SKU | 3611 |
| Shipping Weight | 0.0500kg |
| Shipping Height | 0.001m |
| Assembled Length | 0.140m |
| Assembled Height | 0.001m |
| Assembled Width | 0.215m |
We unconditionally guarantee the authenticity, title and grade of every item we sell. The tax invoices we supply ensure that you have these guarantees in writing.
Please review our Website Terms and Conditions for a complete explanation of the guarantees we provide.
All items ship within 24 hours of confirmed payment being received.
Please review our Website Terms and Conditions for a complete explanation of our availability guarantee.
All orders are delivered via trackable and insured mail at a flat rate of $9 for orders within Australia, and $25 internationally.
Australia Post Parcel Post within Australia can take up to 1 week to arrive, while EMS / ECI international mail can take up to 3 weeks.
Urgent orders can be sent via Australia Post Express Mail at special request.
Please review our Website Terms and Conditions for a complete explanation of our delivery guarantee.
Be The First To Review This Product!
Help other Sterling and Currency users shop smarter by writing reviews for products you have purchased.

---

I've taken my coins to Andrew a few times. Him and his staff are very nice people. Andrew is honest and down to earth. 👍

I have purchased several bulk lots of world coins from Sterling & Currency over the last few years. Not only are the selections I receive great (some duplication is par for the course), but the postage is truly cheap as chips. And I hope to be a customer for many more years. I've certainly never experienced any of the rudeness that other reviewers have mentioned. Read more...

I live on East Coast but prefer dealing with Andrew on the West due to his integrity, knowledge and prices, either buying or selling over many years. You will always do better buying from Andrew if your after quality and "real" coins.... If you take a coin to value and its a fake, he will tell you. If its valuable or mid range, he will be as honest with that valuation. After decades dealing with Andrew (and many other dealers as I have been collecting for well over 40 years), I am of the opinion that Stirling and Currency and particularly Andrew are the best numismatic dealers in Australia . Read more...

Just purchased a 1966 blue case decimal mint set. Andrew gave me a ring to ensure it had arrived and provided some very interesting and probably unknown information concerning these blue cases imported from South Africa during the apartheid era. Great service and a compendium of knowledge. Thanks! Read more...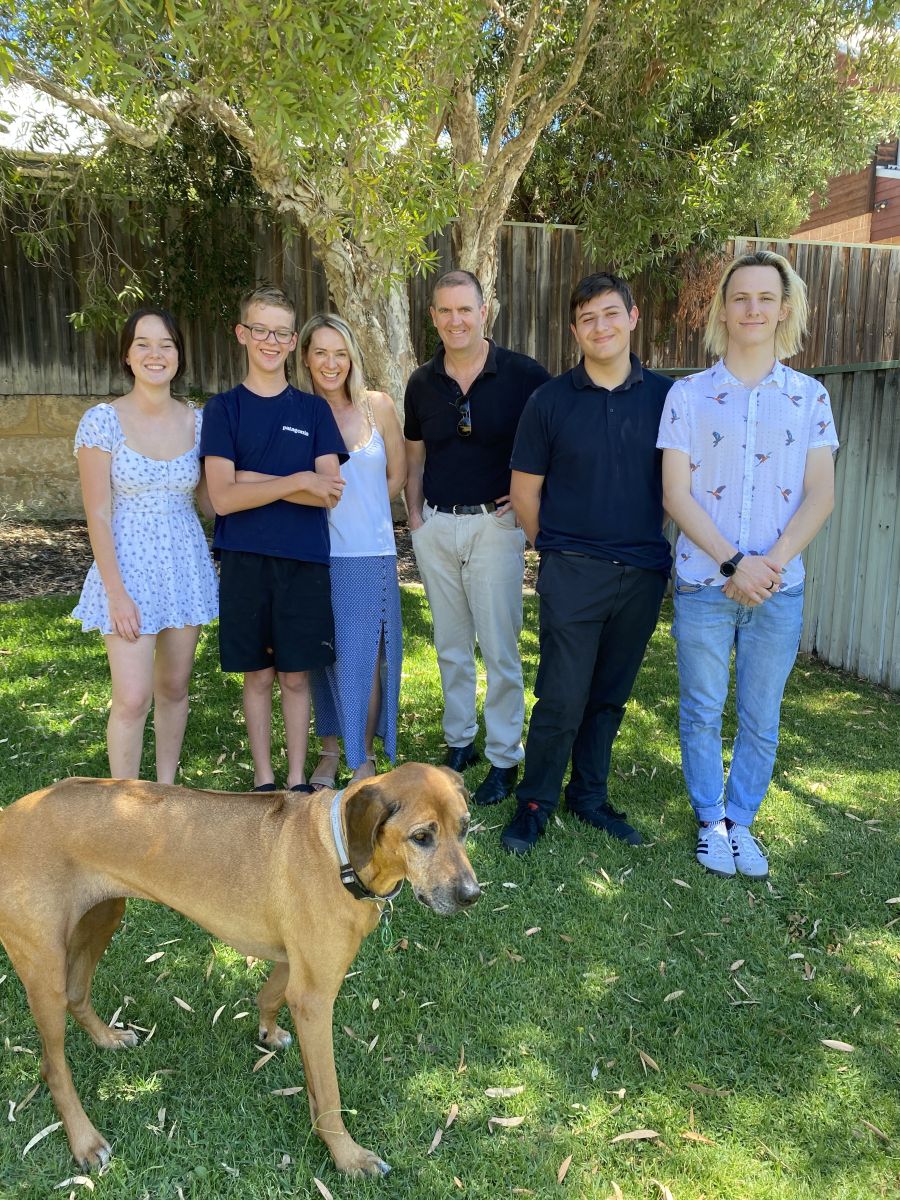 About the Sterling & Currency Team
The team at Sterling & Currency is a family affair – small but growing. Andrew Crellin is the main dealer in the business, click here to read this credentials and how he started with the Perth Mint; spent a decade in Sydney working with two leading dealers and relocated back to Perth in 2006.

Jo is our budding Numismatist, Chief Event officer, Photographer and Packing Extraordinaire. Natalie is our media creator and photographer. Nicole manages the accounts and is part of the Packing Team. A myriad of important duties are carried out by the team that include photography, website updates, office admin, and chocolate eating.

Ruby the Ridgeback quite frankly has learned nothing about coins, however contributes by barking at anyone wearing hi-viz.