Australia's Next Generation Banknote $5 - 10 New Security Features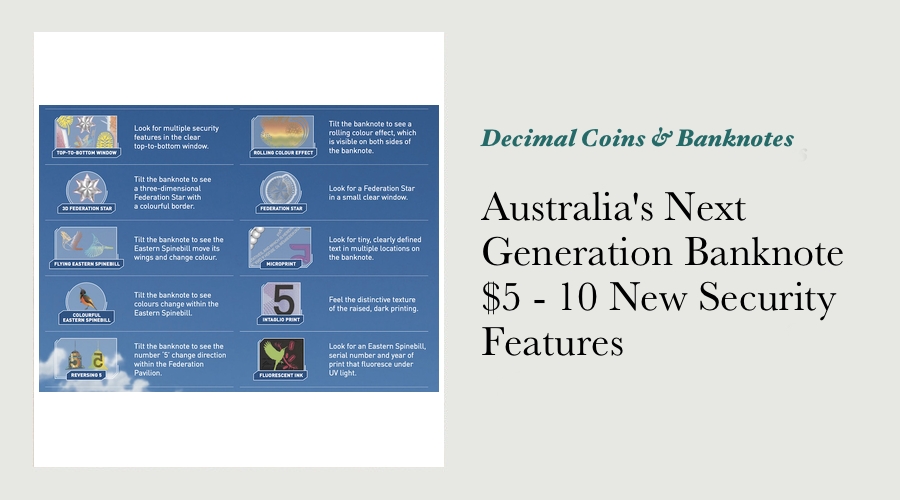 Australia's Next Generation Banknote $5
Well, September 1st 2016 has passed, and the Reserve Bank of Australia (RBA) has issued Australia's Next Generation Banknote (NGB) $5 into circulation.
Although keyboard warriors across the nation frothed at the mouth when the designs were first shown just a few short months ago, I heard hardly a peep in the media last Thursday (mainstream or social). Crickets could be heard chirping in the silence, and tumbleweeds rolled down the street!
So it seems that although us collectors will examine the new note with some interest, once the general public gets used to the new security features the notes have, it'll be business as usual. I have little doubt though that the introduction of the NGB banknotes will cause a lot of Australians to start collecting banknotes in some way or form. Sure, most folks will simply grab a few of the smaller denominations out of their change and stick them in a drawer at home, but if the past is any guide at all, others among us will really run with it and start building complete sets in mint condition, while others will hunt down first and last prefixes, and so on.
What Are the New Security Features of the NGB $5?
The RBA lists 10 different characteristics, most (but not all) of which were identified by us banknote geeks back in April:
New Security Features of the NGB $5

Top-To-Bottom Window

Microprint

Rolling Colour Effect

Colourful Eastern Spinebill

3D Federation Star

Intaglio Print

Federation Star

Reversing 5

Flying Eastern Spinebill

Fluorescent Ink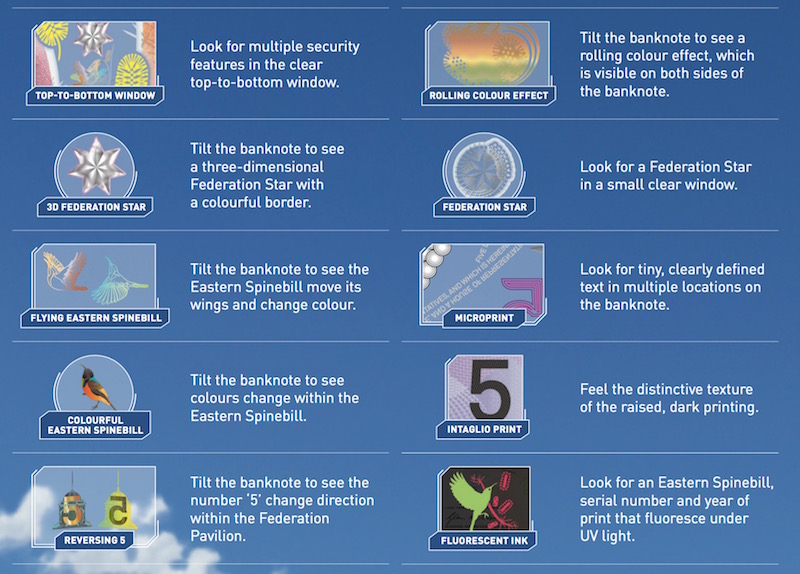 We can see from the above list that two design elements have been used several times in different ways - the Federation Star and the Eastern Spinebill.
The element I was looking forward to learning about was the much talked about "tactile element" that had been introduced - the publicity released in April was less than forthcoming about how exactly this was going to be implemented. There was some thought that it could be hidden in the top left corner of the back of the note.
I'm convinced that the launch of the new $5 note will stimulate interest in collecting decimal notes - the hand-wringing hysteria of the Twitterati has faded already, and people are back to relating to their banknotes "just" as money.
---
---