STATUS 246 RESULTS - STRONG WITHOUT BEING CRAZY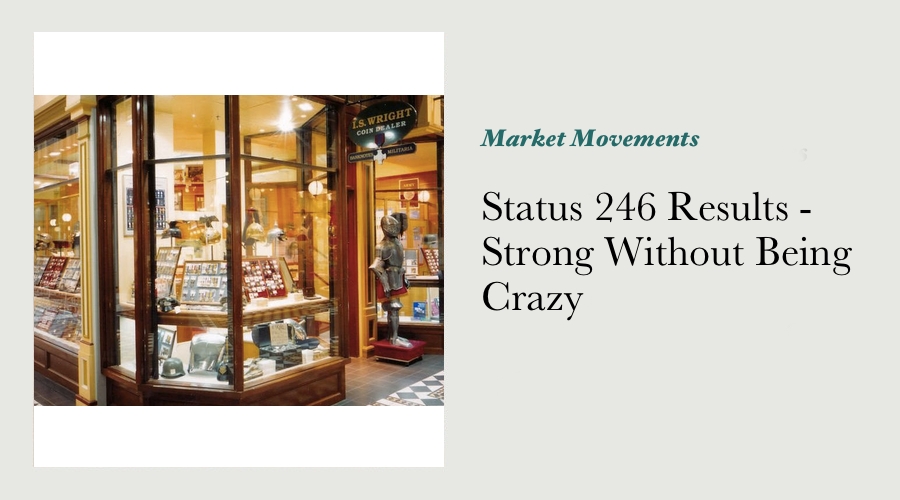 How I made it onto my flight on Friday night is still a marvel to me - I was standing out the front of my hotel at Darling Harbour at 18 50, when I had to be checked in at Mascot at 1920. Somehow the heavens aligned and even though I had a taxi driver more interested in listening to the greyounds going around at Dapto than staying in one lane and getting me to the airport on time, I got checked in with time to spare and made it home.
The auction itself was pretty much the same experience - tense waiting for a few key items to come up, and not a lot to do in the meantime. I often try to pick up cheaper decimal proof coins etc at auction to resell them on eBay, but there wasn't a lot of love for Sterling & Currency at this sale in that market I can assure you. I don't know if it is a structural change to the market yet or if it's just happenstance that is occurring more regularly, but decimal proofs and the like can regularly be bought cheaper on eBay for less than they sell for at auction!
While this may not sound like a trend of any interest, it is to the extent that many enterprising numismatists (this not so humble hack included) have been buying off auction in order to sell at a profit on eBay since the late 1990's, and earning a reasonable living while doing so. Although this still obviously happens, it is becoming apparent to me that there could be an opportunity to trade back the other way - to buy on eBay and sell via the traditional auctions.
How can this happen? eBay buyers have in the main traditionally been less experienced buyers that act on impluse, and they've paid premiums for the "must have" items they've been after. I believe there've been a number of factors that have not only reduced the number of buyers on eBay, but also reduced the spend per head on eBay. Rising living costs (fuel, interest rates, food etc); dissatisfaction with eBay policies and the ordinary buyer life cycle (how many $10 proof coins can a guy sensibly own?) have combined to reduce a lot of competition for items on eBay, particularly at certain times of the week or day.
Just whether this means items can be bought on eBay and resold for a profit via auction remains to be seen. After all, postage costs need to be taken into consideration; it takes a lot of time to find unimpaired ebay items, then bid and pay for them; and there can be significant lead times when it comes to auction sales. Fertile minds will no doubt be at work on this potential opportunity even as we speak however.
The balance of the auction was solid without being crazy - good quality items were picked up by collectors and the trade as they became available, off grade stuff and junk was left well alone, while exceptional items made strong money. Anyone that doubts that the decimal note market is an active one should take heed that the R402 in this sale (listed as UNC and which it was), made around $7,800 - very close to the current catalogue value. Not bad for a note that's just had it's 40th birthday!
One surprise to me was the fact that the much vaunted R11 million serial note (complete with pen marks and "air holes"), was passed in at $3k hammer. Despite the grade, I would've thought that it would have found a home to a collector with an eye to rarity, let's see if it is sold after the event.
---
---