IAG Auction 75 - 2011's Penultimate Rare Coin Auction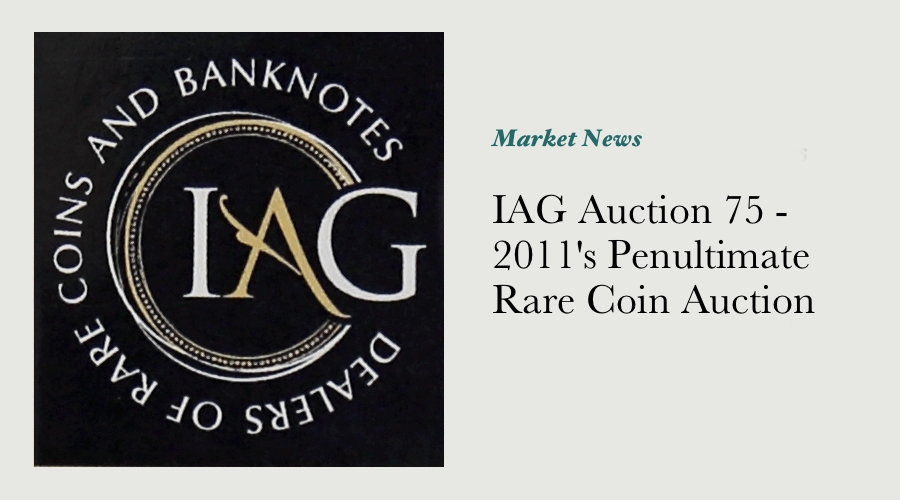 Although I wasn't able to attend the most recent IAG sale on the Gold Coast, I did lodge some mail bids and have reviewed the prices realised. Unfortunately I didn't get everything that I lodged bids on (I resigned to the sad fact that the world doesn't revolve around me some time ago), however I was successful with a few bids and was OK with the results of the items I missed out on.
From what I can see of the prices realised, the trend for 2011 has continued on unabated - quality items in all categories remain in demand with collectors, as do "interesting" coins and notes that are inexpensive and well-priced.
The world, colonial and lower end Commonwealth coins in the first session look to have been keenly contested, and although a number of Pre-Federation notes did not find new homes, there was a pattern to those that did sell - each was rare, historic and desirable. Although the pre-decimal notes look to have been chased less than they were a few years ago, the A UNC R67a Fifty Pound note made it's mark, hardly surprising given it's unparalleled history and rarity. The star replacement notes (both pre-decimal and decimal) showed a higher clearance rate than their standard counterparts, showing they remain popular with collectors that appreciate just how seldom they turn up in good grade.
The gold sovereigns weren't met with universal enthusiasm, however I believe that the coins that were fresh and offered value sold. As usual, the error and variety sections (both notes and coins) were contested - largely because the folks chasing these are generally well educated when it comes to their rarity and value. Would you believe someone paid over $9,300 for a $2 banknote missing all of it's colour both sides? That's a rare error on that denomination apparently and it raced well above it's upper estimate of $6000.
A few of the key rarities in this sale got away - the VF Holey Dollar made the better part of $130,000, and the Taylor Pattern shilling in silver hit it's high estimate.
Top quality Commonwealth coins continued to be in demand with collectors - the finest known 1911 threepence made it's high estimate, thus realising a price more than 6 times the current McDonald price guide in that grade! It truly was a superlative coin, showing that there are plenty of collectors keen on forming sets in the finest known grade. The UNC 1925 penny, plus the 1930 pennies found new homes, these results alone should show anyone that there are buyers still keen on the unique value that rare coins provide in the current climate. The key date florins in this sale that were in top grade (mint state or better) made good prices, and although the Hay Internment tokens were perhaps a little quieter than usual in this sale, we can perhaps put that down to the quantity of items offered.
---
---