The Best Laid Plans of Mice & Men - Noble Sale #84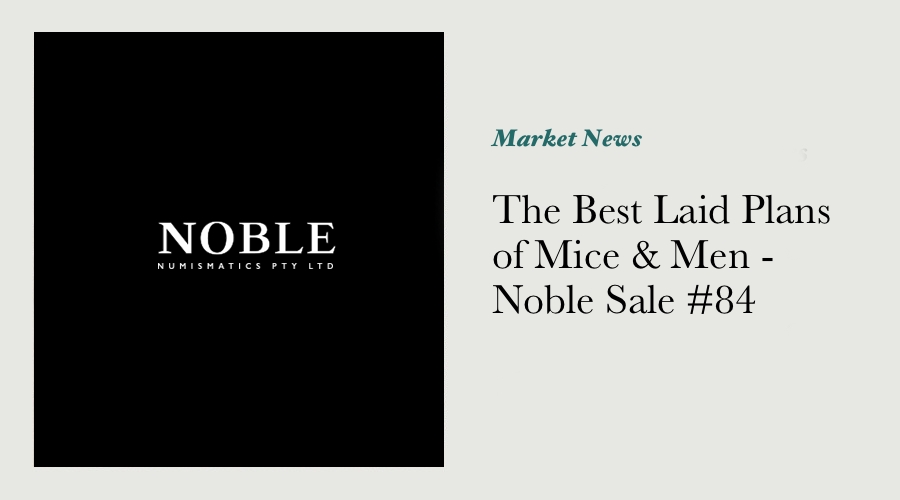 In his famed poem "To A Mouse", the Scottish poet Robert Burns wrote words to the effect that no matter how well prepared a person is for an event, things can still go awry. Burns actually said "The best laid schemes o' mice an' men / Gang aft-a-gley", but as that last bit probably only makes sense in the wee hours of the morning once you've imbibed the better part of a bottle of single malt whiskey, I thought it better to translate for you.
This was definitely the case for the last Noble auction - certain signs were showing that good buying could be on the cards for those buyers with the readies available to compete, but that just wasn't the case across the board. (For this exercise, I'll define "good buying" as being picking up quality items for 70% to 80% of full value.) There was still plenty of good buying, it was just at record price levels!
The Wednesday kicked off with very strong bidding for modern issues (both from the RAM and the Perth Mint), with many dealers commenting that they couldn't understand how those buying could make money at the prices being paid. How can it happen then? I'd say that a number of the larger eBay dealers are getting more efficient with the margins they can operate on, either that or someone's done their dough! The early Commonwealth session showed that demand for these coins even in lower grades is very solid - VF 1934/5 Florins were making at least $300 apiece!
Prices in the English coins showed just how much of an impact the new trust fund over there is having on both supply and demand - several of the key hammered gold coins made two to three times their estimate. Mint state British coins are in strong demand both in Europe and the USA, which makes it a perfect market for Australian collectors to be a part of - plenty of liquidity, rising demand and it relates to our heritage. There were a couple of crackerjack Russian coins in the world section, they made incredible prices and will no doubt make their way back to Europe in short order.
The key items in the entire sale were the"Previously Unknown Holey Dollar Test Strike" and the Holey Dollar in the next lot - needless to say, both items made solid prices, with the Holey Dollar making from what I can see is a record price for a HD at auction in Australia by a long shot. The test strike was keenly contested by several bidders, and ended up going to either a mail / fax / phone bidder through the auctioneer.
Although the Type I Adelaide Pound was passed in, it had several qualifications regarding it's grade, so that was no surprise. The Type II Adelaide Pounds made good money for their grades, the gold coins that had reasonable estimates (given the market) sold well. It was pleasing to see two of the more desirable sovereigns in the auction (the 1886 M Shield and the 1880 S "Inverted A" shield) both made strong prices - this just goes to show that there is an active market for sovereigns, it's just that the prices most coins are trading at is lower than the catalogues indicate.
The proof and specimen coins made exceedingly strong prices across the board - the 1926 Sydney Specimen made around $77,000 (considerably more than the last one traded at while I was at Monetarium), the Canberra Florin made around $37k nett - around $10k more than the current catalogue, which can hardly be regarded as being out of date! The other pre decimal proofs made prices 10% to 30% above catalogue, very strong indeed.
The Commonwealth coin market continues to show strength - many strong prices were seen relative to the estimates. Part of this can probably be explained by several different points of view when it comes to grading (some buyers will view a coin in a better light than others), while the demand for key coins in high grade is obviously pushing prices higher. I'm going to cover off the appeal of this market in more detail in a future post, it certainly has legs in my opinion.
The pre-decimal notes were another story altogether for some reason - the prices realized, even for key items was not only at estimate (below in some cases), but well below market value in most cases. Does this mean the note market is "stuffed"? Absolutely not! The only way auctions work is by finding buyers for the items they have for sale from among those at the auction on that day. There was no shortage of bidders in the room at the evening banknote session, but unfortunately it's not possible to buy everything - even if it is dirt cheap! Prices are higher than they have been in recent years, no doubt but there are still plenty of note collectors out there keen to build a collection. I'd say they'll be ruing their missed opportunity more than wondering if the market is faltering. Let's see what happens at Status and Roxbuy's in May before jumping to any hasty conclusions.
---
---