First and Last Prefixes - Are they REALLY First and Last? (Inconceivable)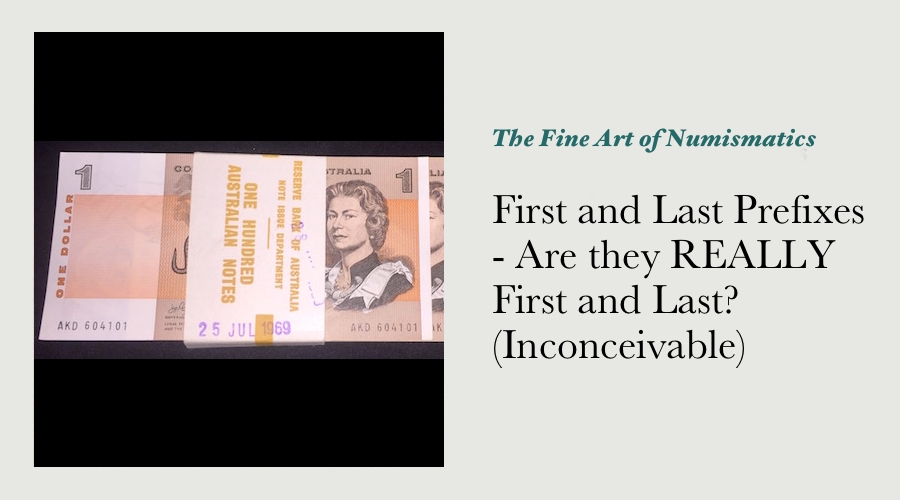 It's now been a few weeks since the NGB $5 notes were released into circulation, and although a lot of people are yet to see them in their change, they're slowly but surely making their way around the country.
It's been 15 years since the last note was issued into circulation in Australia, and although I was actively involved in buying and selling all the different types of the Centenary of Federation $5's when they came out in 2001, I have to say that 2016 is probably is the first time I've been conscious of how notes are printed and distributed while it's actually happening.
I wasn't at all surprised that the first notes that I saw in circulation had regular prefixes, missing out on first prefix notes is par for the course for most of us, the first notes printed will only land in certain regions or cities according to which retail banks happen to have orders pending on the release date. What threw me was the fact that last prefixes were available in the first few weeks of the notes entering circulation - inconceivable!
I now believe that my confusion about how the NGB $5's were being distributed and what I expected to happen was caused by a misunderstanding of what the terms "first prefix" and "last prefix" mean. Up until a few weeks ago, this is what I took them to mean:
First Prefix: one of the very first notes printed of a particular denomination, signature combination or year
Last Prefix: one of the very last notes printed of a particular denomination, signature combination or year
Over the past few weeks however, I've come to question those definitions. Here's why:
All notes have a serial number of course, and are printed in sequential order. Take a look at any bundle of banknotes, and you'll see that each note in a bundle has the same prefix, and consecutive numbers (generally speaking anyway).

Up until now, for some reason I've believed that note production starts with the first serial prefix, and runs continually through all prefixes until the end of the production run is reached. This is why I thought first and last prefixes were popular - that they marked the beginning and the end of each production run. Even non-collectors can understand why a collector might pay a premium for one of the very first notes printed, or one of the last notes of their type, first and last prefixes have long appeared to be a simple way of identifying those key points.
When we look at the composition of an uncut sheet of banknotes however, we get a different perspective not only on how banknotes are printed, but also on which notes are printed first.
The image below is of an uncut block of 4 polymer $20 notes. Although this product was printed solely to sell to the collector market, it was printed in exactly the same manner that circulating notes are printed. The important point to appreciate is that each of the notes on the block has a different serial prefix, but has the same serial number. This sheet composition shows why first and last prefixes can enter circulation at the same time - they can be printed at the same time.
If first and last prefixes are printed at the same time as all the other prefixes, I'm wondering - why do we aspire to own them?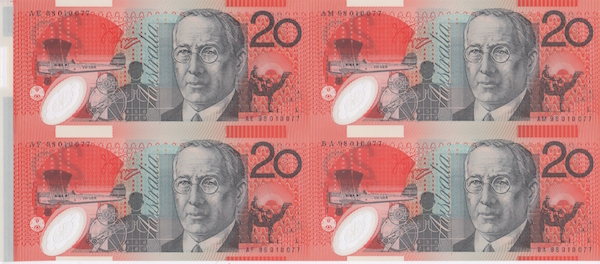 By coincidence I recently saw a good example that showed prefixes aren't the only area that collectors have an interest in. If you read my review of the IAG auction on the Gold Coast a few weeks back, you'll remember that I mentioned the apparently incredible prices that two early decimal notes brought:
The last significant auction results were for a $1 and $2 note from 1966 that had unusual serial numbers. Anyone without deep knowledge of the way in which decimal notes were printed would have simply thought these notes had interesting, but not incredible serials - each was numbered 000001. There was plenty of bidding activity on the notes via the internet before the auction started, most folks in the room put that interest down to those kooky error and variety note collectors, who are a law unto themselves in many ways. It wasn't until after the sale had ended that the reason for their keen interest emerged - these notes had been taken from the very first sheets of paper decimal notes issued into circulation. The interesting thing was that despite the very low serial numbers, the serial prefixes didn't immediately highlight the importance that these notes had.
Click this link to see the actual notes that sold for slightly more than $7,000 apiece - the lot numbers are 505 and 506, and are on page 54. Keep in mind that a standard AAA first prefix 1966 $1 note currently sells for around $1,000 in Uncirculated condition, while the FAA first prefix 1966 $2 note currently brings closer $3,000 in the same grade, so what that auction result showed was that low serial numbers can be valued much higher than certain prefixes.
The fact that two notes with standard prefixes and incredibly low numbers sold for premium prices at the same time as last prefix notes were being released into circulation at the same time as last prefix notes has made me question - should I be collecting by serial number rather than prefix? Should I be collecting both?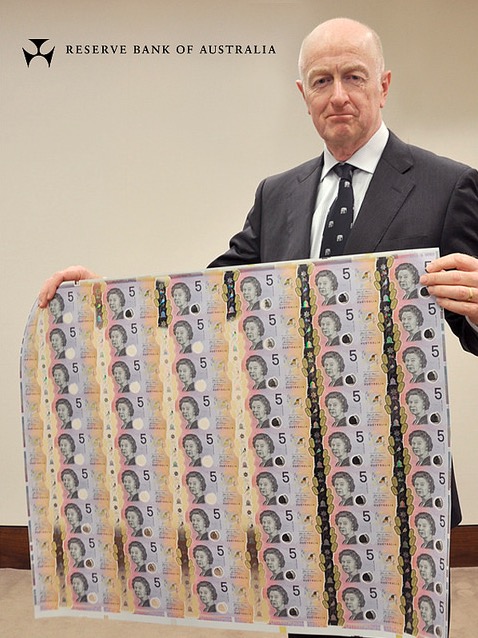 Up until 2016, the mintage of nearly every Australian decimal first and last prefix note is 1 million notes. When we keep in mind that the NGB $5 notes are printed 54 per sheet (up from 40 per sheet for all of the previous polymer $5 notes), that means that if we get an NGB $5 note with a serial number lower than 186186 (with any serial prefix), it will be one of the first million notes printed. It is public information that 172 million of the NGB $5 notes have been printed so far, that leaves us with a current mintage of around 3.185 million notes with each serial prefix.
In the absence of a defined collector market for extremely low (or extremely high) serial numbered notes, first and last prefix notes remain the simplest way of establishing the boundaries for the production run of the NGB $5 note. It may not be the most satisfying way of collecting, but it is easily the most pragmatic way of collecting them.
Just as Winston Churchill said "Democracy is the worst form of government, except for all the others", collecting by prefix will most likely remain the most popular collecting strategy for note collectors for decades to come, even if only because better methods haven't emerged yet.
I'm interested to hear what you think of the idea of collecting by prefix - does it make more sense than hunting for certain serial numbers?
Also, what is the lowest serial numbered NGB $5 that you've seen so far?
---
---